NBC Insider Exclusive
Create a free profile to get unlimited access to exclusive show news, updates, and more!
Sign Up For Free to View
Jay Hernandez Says Watch Out For These Original Magnum P.I. Easter Eggs
"Fans of the original show love that kind of stuff," Hernandez said. Watch Magnum P.I. on NBC.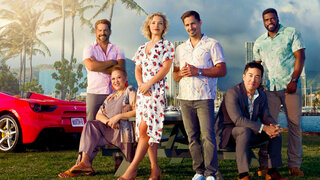 Jay Hernandez gave fans of the original Magnum P.I. even more reason to tune into the new version on NBC. The two shows are alike in many ways in terms of both entertaining plots and charming characters. Better yet, they also have multiple similarities when it comes to items on set, both obvious and subtle. But what are the set pieces in the new Magnum P.I. that are inspired by the original show? Hernandez, who plays the titular character, gave us the details.
Magnum P.I. Easter eggs
Firstly, what would Thomas Magnum be without his red Ferrari? The vehicle gives the private investigator his undeniable cool factor as he drives through the streets of Hawaii to track down some action-packed cases. And in the new Magnum P.I., Hernandez gets to cruise in a car that is strikingly similar to Tom Selleck's character's prized possession.  
Hernandez is just as enthused about the proverbial red Ferrari as fans are. "I get to drive it all the time. It's a really fun car. People love the car; it's like it's a character on the show," he said in an interview with NBC Insider. "Hawaii is such a big piece as a backdrop. The beach, the weather, the surf, the people. I know it's a big deal because when tourists come in to Waikiki and we're doing scenes on the beach, everybody wants a picture with the car. Everybody loves that it's iconic—not only from the original show, but also the from us, from the reboot."
But the connections don't stop there. Another Easter egg that honors the original Magnum P.I. can be found in Magnum's costumes, more specifically, the signature Hawaiian shirts.
"There was a red one I think that was the exact pattern that Tom Selleck wore on one of the original episodes, and then there was a purple one that I believe was the exact same print that he wore, and it was a really beautiful shirt. It's just kind of like a callback to it, and fans of the original show love that kind of stuff when we do things that are pulled directly from the first installment," Hernandez said.
Hernandez also gave a nod to one man on set who has proven his dedication to the Magnum P.I. universe. "I gotta give Stephen Hill props," he said, referencing the actor who plays Theodore "T.C" Calvin. "Because he'll, like, watch all the episodes and mine little quirks, little character things [and] stuff that most people wouldn't catch. I don't even catch half of the things he does, but he'll find ways to infuse that into his character, and he's been great with that since day one."
Watch Magnum P.I. on NBC Sundays at 9/8c and next day on Peacock.