NBC Insider Exclusive
Create a free profile to get unlimited access to exclusive show news, updates, and more!
Sign Up For Free to View
Get a First Look at Peacock's LeBron James Origin Story Film, Shooting Stars
LeBron James' story includes a high school championship win alongside his three best friends, which is the subject of the upcoming Peacock original movie Shooting Stars.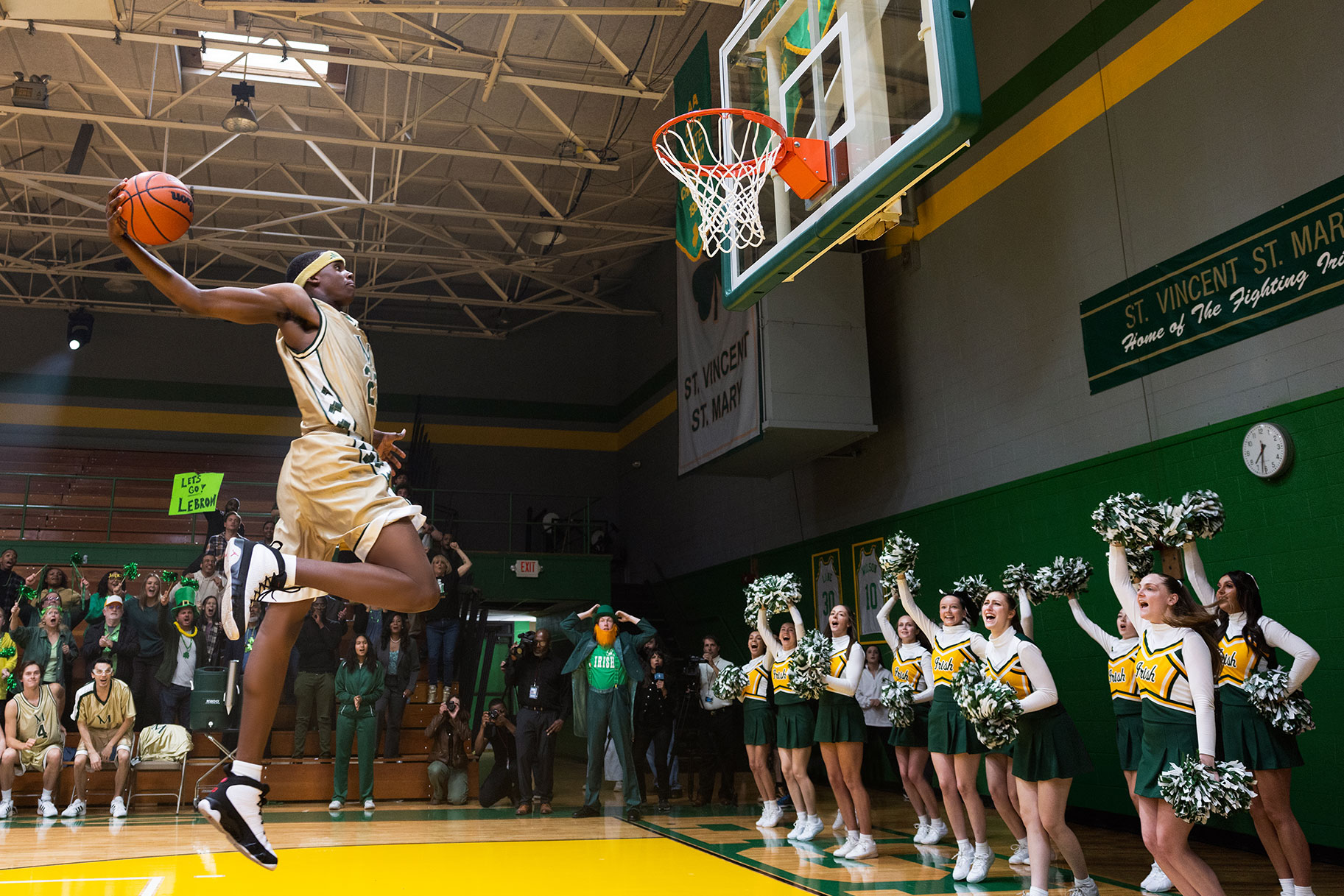 It's an exciting day for fans of basketball legend LeBron James. We now have a first-look teaser trailer for Shooting Stars, the upcoming Peacock film about LeBron's rise to prominence within the sport alongside his childhood best friends.
"People think they know my story, but this is our story," the real-life James says in the opening narration. "This is how I met my brothers and how we became family."
Shooting Stars is based on the book by James himself alongside the Pulitzer Prize-winning author of Friday Night Lights, Buzz Bissinger. It tells the inspiring real-life story of how James and his three best friends from childhood overcame many incredible obstacles to become the number one high school team in the country, eventually launching James' stratospheric career in the NBA. 
The movie, directed by Chris Robinson (Beats, Grown-ish), stars five-star high school small forward Marquis "Mookie" Cook as James in his film debut. Joining him are Caleb McLaughlin (Stranger Things) as Lil Dru, Avery S. Wills, Jr. (Swagger) as Willie McGee, and Khalil Everage (Cobra Kai) as Sian Cotton. 
Set in the 1990s, the film is a dramatization of the years when James and his three best friends declared themselves the "Fab Four" of their team. Their bond is so strong on the court because it was a brotherhood off the court. So, when their partnership is threatened by Lil Dru being forced onto junior varsity, the whole gang switches schools to be able to play varsity together. 
Tested by their new team at a predominantly white Catholic school, the Fab Four have to overcome an unwelcoming community and more just to keep playing the game they love with the teammates they love. Fortunately, they're helped along the way by their new coach, played by Dermot Mulroney (August: Osage County), as well as a former rival Romeo Travis (Sterling "Scoot" Henderson). Shooting Stars is the perfect film for those who want insight into the personal struggles James and his friends had to endure before he was crowned a four-time NBA Champion, two-time Olympic Gold Medalist, and the NBA's all-time lead scorer.
The screenplay for Shooting Stars was written by Frank E. Flowers (Metro Manila) and Tony Rettenmaier (Space Jam: A New Legacy) & Juel Taylor (Creed II).
Catch Shooting Stars on June 2 only on Peacock.