NBC Insider Exclusive
Create a free profile to get unlimited access to exclusive show news, updates, and more!
Sign Up For Free to View
Glenn Fleshler Says It Was 'a Gift' to Talk to the Real Russ Faria
The Thing About Pam cast member plays the man falsely convicted of murdering his wife in the now-infamous 2011 murder.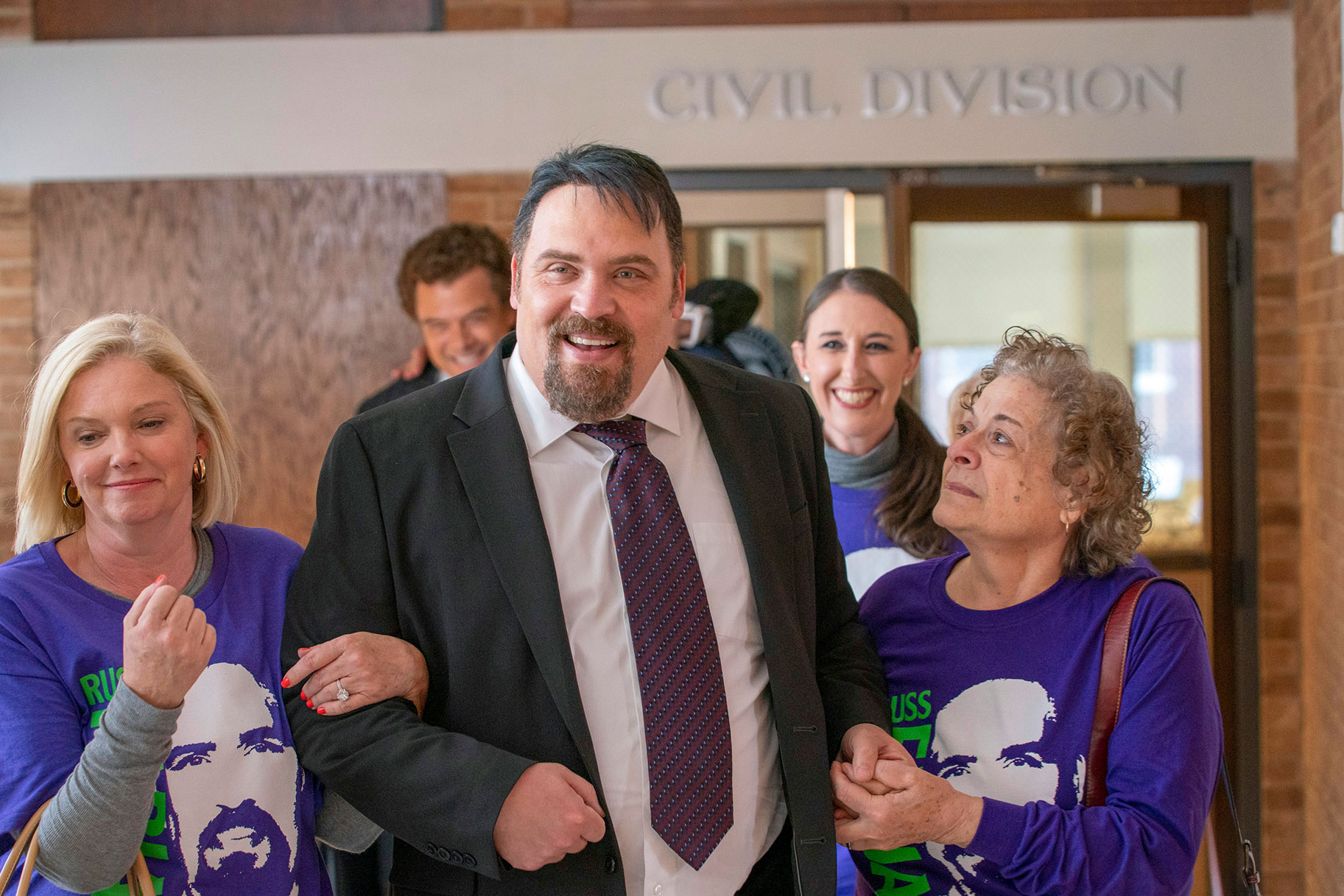 The thing about Pam Hupp is... we just can't help but talk about her. Portrayed by Oscar winner Renée Zellweger in NBC's miniseries, The Thing About Pam, Hupp's sensational antics surrounding the December 2011 murder of Betsy Faria are unbelievable. And that's true whether you follow the actual events surrounding the true crime case or keep up with the drama on your TV screen. 
But the other person at the center of it all? Betsy's husband, Russ Faria, who was falsely convicted of killing his wife in 2013. Russ was the person who found Betsy's body after she was stabbed 55 times. He called 911, telling a dispatcher he believed she committed suicide because of her cancer. However, law enforcement felt they had enough evidence to charge Russ with her murder, despite his profession of innocence.
Actor Glenn Fleshler, who portrays Russ in the show, was put in contact with the real life Russ in preparation for the role.
"I thought of it as a real gift. Even though I was wary at first, but he made it super easy," Fleshler tells NBC Insider. "We had many, many long talks...He was so forthcoming with his story, including all of the painful details of what happened to him, which is just, his whole life was upended in an instant. It kept kind going down this incredibly tough road for a long stretch of time. So he just has a great perspective on it all. And he was very generous in sharing all that with me."
With the help of his lawyer Joel Schwartz (played by Josh Duhamel in the series) Russ was eventually granted a retrial and found not guilty in 2015. Suspicions then turned to Hupp, who was charged with Faria's murder in 2021. She's currently awaiting trial and has pleaded not guilty. (She's serving a life sentence for a separate conviction.) 
Fans are no-doubt curious how Russ handled what many saw as confirmation bias in his case. As you watch The Thing About Pam, you'll see the way law and enforcement officials paint him as a scorned husband who murdered his wife, despite evidence that suggests otherwise.
"[I asked him] how could he not ask for a lawyer? How could he be interrogated for 24 hours and not know what's going on? How could he think that it was a suicide when she was stabbed so many times," Fleshler says. "It was because he believed in his innocence and he believed in the truth and that the truth would come out. I don't want to just portray him as this wide-eyed innocent, but a lot of it was just kind of his faith. Something so shocking and traumatic happens to you, you go to this sort of other place."
In 2020 Russ filed a civil lawsuit against three officers who conducted the investigation of his wife's murder. He eventually received $2 million in an out-of-court settlement. As for what Russ thought about Fleshler's Hollywood take on his ordeal? "He gave me a nice shout-out when he started seeing the trailers and stuff and said that his friends thought that I was him," Fleshler says. "He's very excited about it."
The Thing About Pam airs Tuesdays at 10 p.m. ET on NBC.