NBC Insider Exclusive
Create a free profile to get unlimited access to exclusive show news, updates, and more!
Sign Up For Free to View
Watch David Eigenberg Visit the Real Life Firefighters of LA Fire & Rescue Crew
He showed up to support the brave team.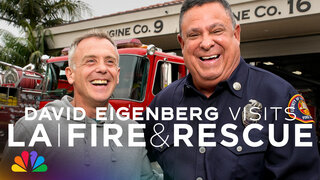 The best of both worlds, firefighter edition! 
Recently, David Eigenberg (Christopher Herrmann) of Chicago Fire visited the firehouse of those featured in the new NBC docuseries LA Fire & Rescue. In the clip, Eigenberg is greeted with cheers from the LA team Station 16 before he has a sincere moment with Captain Dan Olivas. 
"They're got a wonderful show coming up. It's the real thing," Eigenberg said. "The sincerity of terrible situations they're serving in their communities, that's an amazing gift to watch. It's been a gift for me to tag along with the real firefighters. They're amazing, and they have seen things that other human beings should never have to see, but yet somebody does have to see it. And they do it. And we don't," he added with sincerity. 
The team fully embraced the Chicago Fire star's presence as they posed with him for photos, and one firefighter even picked him up in the air in a lighthearted moment.
What is LA Fire & Rescue about?
LA Fire & Rescue is a brand new docuseries that chronicles the real life actions of firefighters from the Los Angeles Country fire department. The show follows the heroes while they handle ultra high-stakes, life-or death missions. It highlights nine different firehouses in the LA region, including Station 8 in West Hollywood, Station 16 in Watts, Station 37 in Palmdale, Station 41 in Compton, Station 101 in Claremont, Station 125 in Calabasas, Station 172 in Inglewood, along with Air Operations and Lifeguard teams. 
"Unprecedented access to the inner workings of the Los Angeles County Fire Department. Responsible for protecting the lives and property of four million residents living in 59 cities across Los Angeles County, the LACoFD's 2,300 square miles of service is unlike any other in the United States. From helicopter mountain rescues and lifeguard beach SOS, to fireboats, hazmat units and California's raging wildfires, the department does it all. The series documents real calls and real drama while giving faces to the passionate firefighters who risk their lives in the name of service. These real-life heroes and their compelling stories are told alongside the unpredictable dangers they face on the front lines of life and death," NBC said in an official press release. 
How do I watch LA Fire & Rescue?
The series premiere of LA Fire & Rescue aired June 21, 2023. New episodes air on Wednesdays at 8/7c, and will be available the next day for streaming on Peacock.