NBC Insider Exclusive
Create a free profile to get unlimited access to exclusive show news, updates, and more!
Sign Up For Free to View
Aram Mojtabai Made a Shocking Return to The Blacklist
The Season 10 premiere of The Blacklist featured a brief visit from the fan favorite.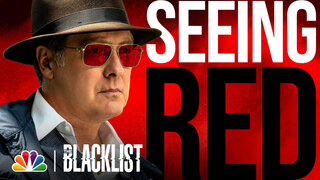 The Blacklist has seen many beloved characters come and go, but there will always be a special place in fan hearts for Amir Arison as the endlessly lovable Aram Mojtabai. And in the final season premiere of The Blacklist, viewers got a chance to say hello to the former Task Force member. 
Aram was a member of the FBI Task Force led by Raymond Reddington (James Spader) from Season 1 to Season 9 of The Blacklist. Aram's intelligence, wit, and unique skill set in computers and technology made him a valuable resource to Red, despite his tendency to get anxious and overwhelmed around the man. Aram preferred to help take down infamous Blacklisters from the comfort of a computer screen, less helpful in the field and more reliable with tracking targets and hacking criminal databases.
Aram's time in the Reddington Task Force came to an end during the Season 9 finale of The Blacklist. But fans are happy to learn at the start of Season 10 that Aram still maintains contact with the criminal-busting crew. Read on to learn everything that happened to Aram Mojtabai on The Blacklist and his shocking return as the curtain closes on the series.
What happened to Aram Mojtabai on The Blacklist?
While most of Season 9 focused on Red's journey for revenge for Liz Keen's murder, many moments highlighted Aram's inner turmoil. Aram went through some serious introspection in Episode 19, "The Bear Mask," when he attempted to treat his anxiety and depression with experimental hallucinogenic therapy. It became clear that Aram blamed himself for many of the bad things that have happened throughout the events of the series, and something needed to change. 
Aram made his first strides toward change in the Season 9 finale when he informed the Task Force that he was taking time off. In honor of the third anniversary of Keen's death, they all gathered at her gravesite and shared fond memories of their time together. During this emotional standstill, Aram told his friends he was leaving for a while. 
"It's been three years since we lost Elizabeth. In some ways, it's gotten easier. But in most ways, it still hurts. There goes my hope of doing this without crying... And this part won't be any easier," Aram admitted. "After a lot of careful reflection, I have decided to take some time away. I do not know how long, but I do know…away. My plan is no plan. I found a cool place in Brooklyn. I'm gonna go up there and just, you know, ride my bike, do New York, eat lots of pizza, look at the people, maybe a Broadway show. Anyway, I know we are here to talk about Elizabeth, but I've been wanting to tell you guys."
Arison teased fans with a potential return to the series, and in the action-packed Season 10 premiere of The Blacklist, he did just that. His cameo is brief, but for fans who have loved Aram since the very start, it was a long time coming. Better yet, Arison had the honor of kicking off the nail-biting episode. 
While enjoying a sunny day in New York City, Aram notices something strange while leaving The Met. As Aram grabs his bicycle, he sees a man wearing Red's iconic fedora and sunglasses combo frantically walking down the street. Believing the man to be Reddington (who has seemingly grown a disheveled beard), Aram waves hello but is ignored as Red enters a cab. 
Aram gives Harold Cooper (Harry Lennix) a call after the mystifying encounter. Aram tells him he is settling down and doing well in NYC and guesses that the Task Force is in Manhattan after seeing Red there. But Cooper clarifies the Task Force isn't even up and running yet, and that he hasn't seen Red in over six months. 
"Well, Mr. Reddington is here," Aram says nervously before telling Cooper that he spotted him outside the museum. "He was, uh, he was just walking."
"By himself?" Cooper asked, knowing this isn't Red's M.O.
"Yeah," Aram says. "No security and no car, either. I called out to him, and he saw me, and then he just got in a cab."
"Aram, are you sure?" Cooper asks, confused. "Are you sure it was him?"
"Yeah, it was him," Aram confirms. "He looked kind of different, but it was, it was definitely him."
Cooper is taken aback by this news, as he believes he and Red left each other in good graces when they last spoke. But Aram's spidy senses are tingling, and from the moment he locked eyes with Red, something seemed off. Still, Cooper can't comprehend why Red would return without telling the Task Force.
"If he were back-"
"He is," Aram insists.
"OK," Cooper agrees. "But if you're right, why was he there? What was he doing-"
And before Cooper can finish that question, his answer arrives in the form of a massive explosion on Aram's street. The location of the blast? Exactly where Red was high-tailing away from, confirming his involvement with the explosion and his NYC whereabouts. 
Aram was right, and it looks like Red is already up to no good. Nothing gets past the man! Fans love seeing that Aram is doing so well in the Big Apple, even if he briefly brushed paths with the concierge of crime. But how will Red's NYC vacation play out for the members of the Task Force?
Find out by watching The Blacklist Season 10 on Sundays at 10/9c on NBC and later stream episodes on Peacock.