NBC Insider Exclusive
Create a free profile to get unlimited access to exclusive show news, updates, and more!
Sign Up For Free to View
Bring on the Sparkles with 9 Must-Have Trolls Bands Together Toys
With the release of Trolls Band Together also comes a rainbow of gift ideas for all your Pop Troll and BroZone fans.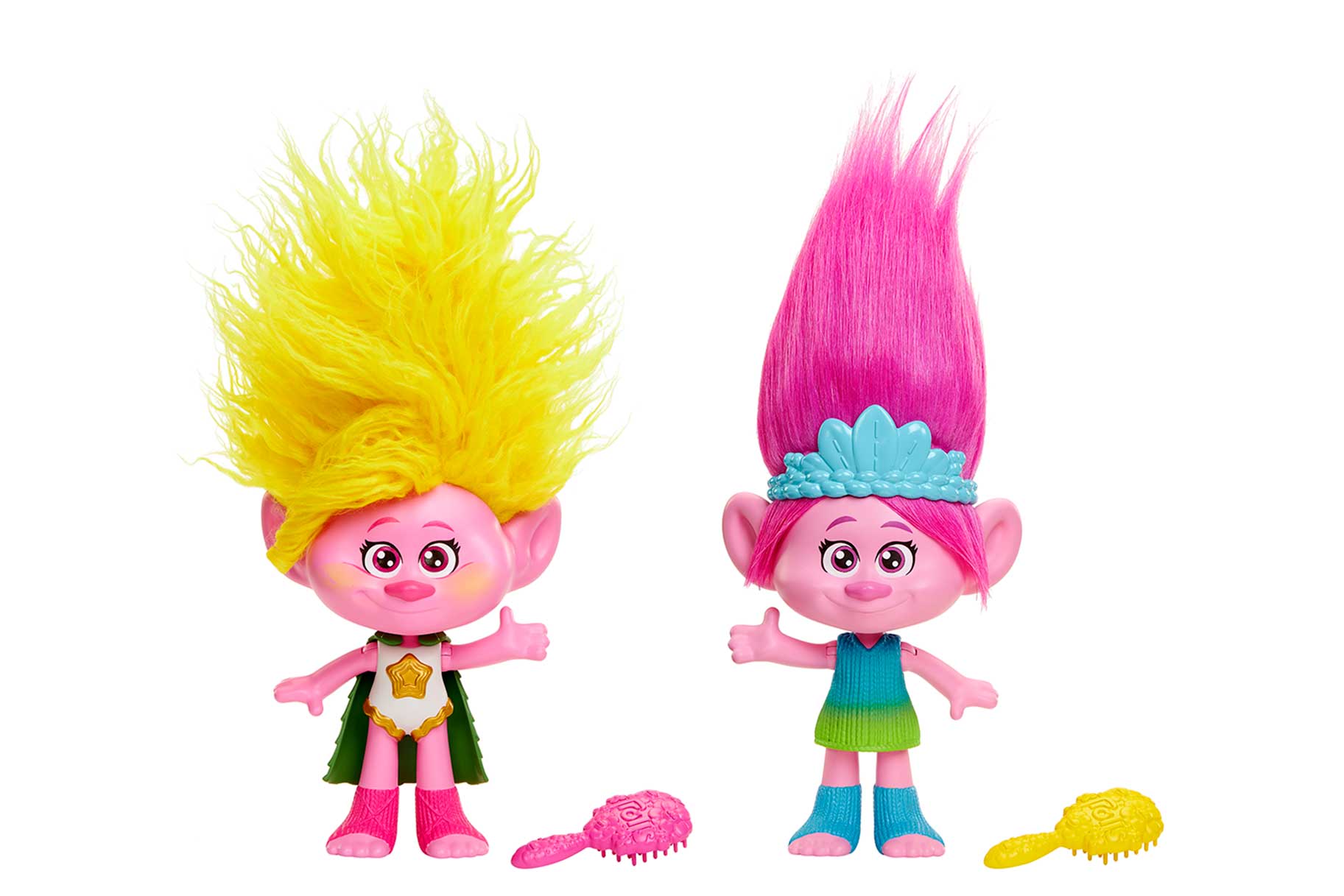 If you're of a certain age, then the fuzzy, real-haired Troll dolls have been popping up in your life since childhood. In fact, the smiley-faced critters with the colorful coiffes have been a perennial toy store purchase in the United States since 1959. Trolls were the "it" toy of the '60s, then they cycled through generations by getting hot again in the '70s and the '90s.
RELATED: How Trolls Band Together Turned into a Full-on NSYNC Reunion
But for Gen Z and Gen Alpha kids, it was the 2016 DreamWorks Animation Trolls movie that reimagined the dolls into their latest iteration of instantly recognizable sparkly, singing and dancing creatures. It certainly doesn't hurt that actual singers extraordinaire Anna Kendrick and Justin Timberlake voice the now beloved trilogy characters of Queen Poppy and Branch, respectively. Their energies add a whole other level of celebrity to the characters and their toys.
With Trolls Band Together now exclusively in theaters, there's going to be a lot of excited kids clamoring for holiday gifts that bring the songs and sparkle. Don't panic because NBC Insider has collected some of our favorite Trolls items that will earn screams of delight from fans of those Pop Trolls or BroZoners.
Mattel's Hairsational Reveals Dolls
Going back to their toy origins, Trolls dolls have always been about the hair. Back in the day, the OG dolls used to have crazy, frizzy hair that was hard to tame. But now the DreamWorks Animation iteration of the dolls have glossy, shiny hair tailor-made to tame, clip, braid and re-style with all of the glam. Mattel's Hairsational Reveals Dolls give you the choice of Queen Poppy or Viva. 
eKids Trolls Band Together Karaoke Machine
If your kids have been singing every song from the Trolls trilogy non-stop, channel that energy into the eKids Trolls Band Together Karaoke Machine. It's got a a Bluetooth speaker to play those Karaoke favorites from your devices, and a wired microphone so the whole house becomes your stage. Ear plugs not included.
RELATED: Trolls Band Together Star Anna Kendrick Gives Us a Behind-the-Scenes Look
Little Live Pets Scruff-a-Luvs Trolls Band Together
If your kids love surprises, then these Little Live Pets Scruff-a-Luvs Trolls Band Together Reveal dolls are a fun way to gift a mystery Trolls doll with no disappointment. Grab a blind box with a little ball of fur inside, and once you wash and dry these plush, that's when you discover if you got Poppy, Viva or Wedding Poppy. Each come with hair clip accessories, a comb and adoption certificate.
eKids Trolls Toy Guitar with Built-in Music
For the little musician in the making, this Trolls-branded Toy Guitar with Built-in Music is decorated with characters from the latest movie. It also lights up when you play, with a whammy bar that adds sound effects. A great first step to see if your music loving kiddo wants to invest in the real thing. 
Trolls Band Together Mineez
Miniaturize anything and it's an instant hit. The Mineeez line of Trolls Band Together figures come in all kinds of packs, from full band lineups to ultra glam versions. There are over 100 different iterations to get in the various collector packs. And the extra fun is that there's a special secret character in every package, like a chase figure, that kids can collect or swap. 
Hallmark Ornaments Queen Poppy 
Hallmark's official 2023 Queen Poppy ornament is wearing her newest outfit from Trolls Band Together. She's only made for this year's holiday so grab her quick before she disappears. 
Mattel's Imaginext Lights and Sounds Rainbow Treehouse
A great holiday memory that lasts is getting gifted a play set that finds you parked in front of it for hours. The Trolls Rainbow Treehouse is made for ages 3-8 and comes with Queen Poppy. There are lights and sounds inspired by the Trolls movies. There are also two projectile launchers, a spiral elevator for Poppy to ride up and down, and a secret hidden party room.
RELATED: DreamWorks & CAMP Partner for Immersive Experience to Celebrate Trolls Band Together Release
eKids Trolls Bluetooth Wireless Headphones
As much as everyone loves the Trolls world, maybe a little quiet can be appreciated too. If your ears need a break from your little rocker, then these ekids Trolls headphones might be your savior. They have a fuzzy-haired adjustable headband with soft padded ear cushions. They also hold up to 37 hours of continuous playtime charge. A gift for everyone!
Mattel's Hairtunes
A step-up for the Trolls dolls, the Rainbow HairTunes dolls feature light-up hair, music, and phrases from the latest movie. Either Queen Poppy or Viva both come with a brush to spark magical play with music and phrases. 
Get inspired for your holiday gift-giving by watching Trolls Band Together first, in theaters as of November 17 (Get tickets here!).