NBC Insider Exclusive
Create a free profile to get unlimited access to exclusive show news, updates, and more!
Sign Up For Free to View
Tracy Spiridakos Shared a Throwback Upstead Pic From Chicago P.D.'s Early Days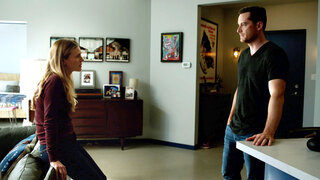 Season 10 of Chicago P.D. has been an emotion-filled watch. 
The midseason finale finally brought Upton (Tracy Spiradakos) some satisfaction when she arrested Sean O'Neal and ended his sex trafficking ring, despite his brush with death  (it was a close call). If this wasn't  enough, Upton has been reeling over Halstead (Jesse Lee Soffer) resigning and leaving Chicago. Now that the case has been closed, a big question remains: Can Upton be satisfied at all during this challenging time?
Despite their current circumstances, many fans have their fingers crossed for Upstead's success. Very much off-screen buddies, Spiridakos took to Instagram to give fans a throwback photo with her former Chicago P.D. costar. Spiridakos captioned the post, "Okay, you guys asked for a picture of Halstead so here it is! An oldie but a goodie. I think this was one of my first days on set, outside the bank where Upton makes her first appearance." With six seasons together creating one of Chicago P.D.s most cherished love stories, it's wild to look back at the stars before everything crazy went down. 
Now that she has taken care of O'Neal, fans are perched to find out how Upton handles her husband's sudden departure. Chicago P.D. showrunner Gwen Sigan tells NBC Insider that once Season 10 of Chicago P.D. returns, Upton will be forced to face what life is like without Halstead, and considering how well she has distracted herself, she's due for a reality check. "We really see what that home life is like now that he's not there," Sigan explains. "And also it's just this big open question of: What does it mean for her and what does it mean for her marriage? She's still married to him and yet he's living overseas. And she doesn't know when he's coming back."
Learn how Upton is holding up by watching Chicago P.D. Season 10 when it returns with new episodes on Wednesday, January 4. Get your fix by watching previous Chicago P.D. episodes now on  Peacock.