NBC Insider Exclusive
Create a free profile to get unlimited access to exclusive show news, updates, and more!
Sign Up For Free to View
Upton Will 'Struggle' With Her Marriage to Halstead When Chicago P.D. Returns
Chicago P.D. showrunner Gwen Sigan breaks down the hard road ahead for Hailey.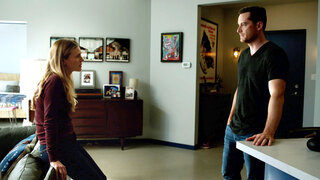 For nearly the entirety of Chicago P.D. Season 10, Upton (Tracy Spiradakos) was dedicated to solving the case of Sean O'Neal's sex trafficking ring. And by the series' midseason finale, titled "Proof of Burden," she does just that and arrests Sean despite him nearly losing his life.
Remember, this happened on the heels of Halstead (Jesse Lee Soffer) resigning and leaving Chicago in Season 10, Episode 3. That, plus the Sean storyline, took Upton to "such a bad place," showrunner Gwen Sigan tells NBC Insider. It's obvious that she's been using the investigation to distract from her husband's absence.
"The thing that [Sean and Upton] have is this obsession that she wants to get him. And because of that, she's allowed herself to fully get into his headspace," Sigan says. "I think she knows everything about him up to that point... And so it's just this twisted relationship that's really interesting to write. It put Hailey in this complicated and dark headspace and also she's so avoiding everything that's going on in her life and her emotions and just locking in on this other thing."
However, Sigan reveals that once the series returns on January 4, reality will come crashing down on Upton. Episode 12 will solely focus on the detective as she finally faces her "abandonment issues" and is on her own.
"She's been living in her car, basically, following this guy around. Obsessed, not going home from work," she explains. "And now she's got to go home and deal with it... We really see what that home life is like now that he's not there. And also it's just this big open question of: What does it mean for her and what does it mean for her marriage? She's still married to him and yet he's living overseas. And she doesn't know when he's coming back."
It looks like we'll be ringing in the New Year with even more Upstead angst! 
Chicago P.D. Season 10 will return with new episodes on Wednesday, January 4. Get your fix by watching previous Chicago P.D. episodes now on  Peacock.