NBC Insider Exclusive
Create a free profile to get unlimited access to exclusive show news, updates, and more!
Sign Up For Free to View
Chris Geere Just Gave a Preview of What the Final This Is Us Scene Will Be
"I think that's 'gonna be quite an emotional day," the actor, who plays Phillip on the show, says.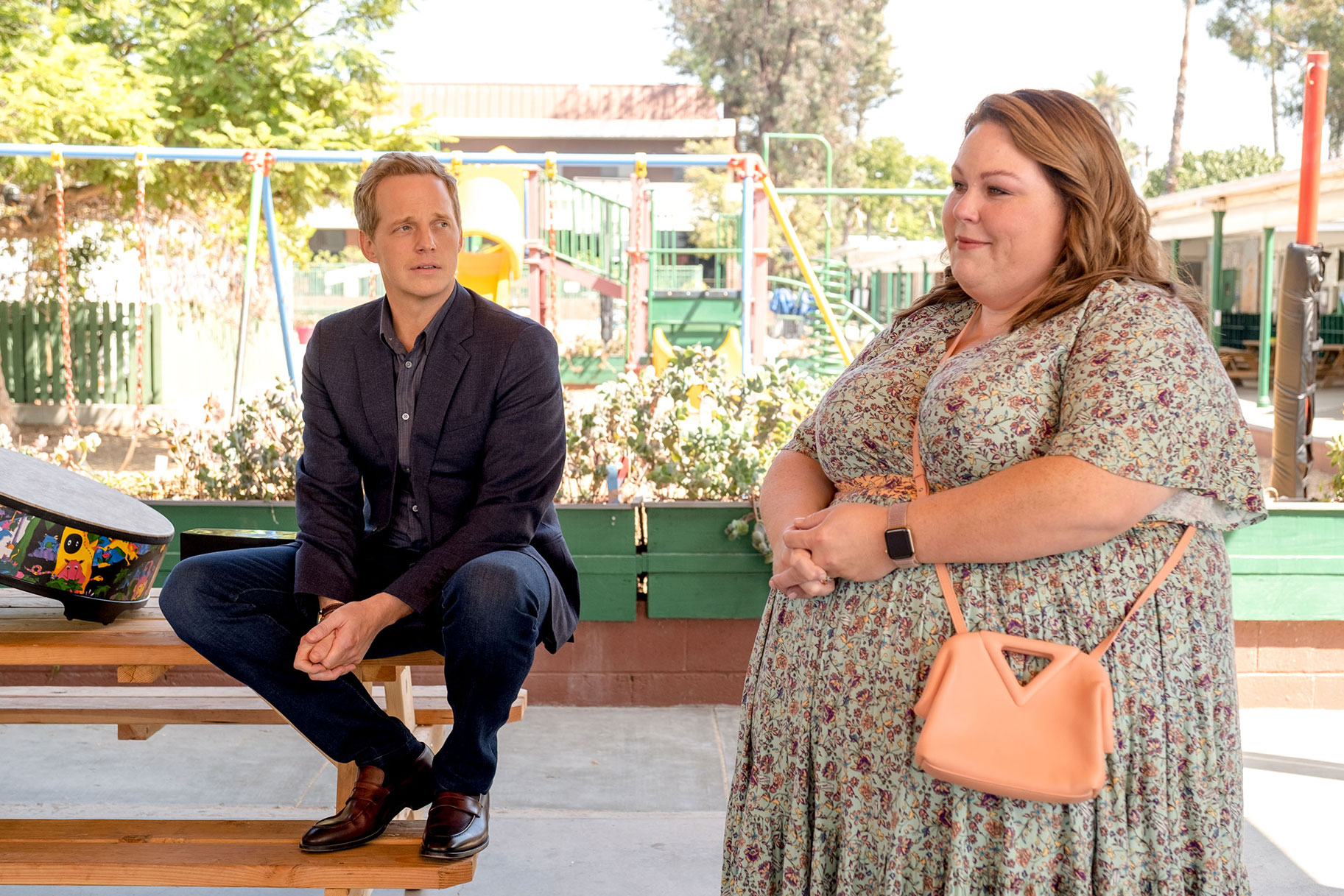 Phillip (Chris Geere) played an important role in This Is Us Season 6, Episode 13, titled "Day of the Wedding." The episode centered on his and Kate's (Chrissy Metz) wedding (naturally), but so much ground was covered. Amidst the nuptials, fans saw Rebecca's (Mandy Moore) Alzheimer's take shape like never before and Kevin (Justin Hartley) complicate his love life with three potential suitors. Phillip was a calming force in the chaos, keeping Kate level-headed throughout the day—particularly as she worried about Rebecca performing a song at their reception. 
It turns out, Geere has taken on a similar role off-screen, looking after Metz as emotions surrounding the end of This Is Us run high. Geere opens up about that, his character, and what fans can expect from the show's final episodes in his interview with NBC Insider. Read on. 
NBC Insider: You're now a part of this beloved, iconic show's end. How does that feel? 
Chris Geere:  Sometimes when I'm sitting in between set-ups, and we're sitting on our chairs in the green room equivalent of wherever we are on the stage, I feel like I've won a competition. To hang out with all the cast, we all get on so well now. They've been so welcoming, overly welcoming, from the beginning. I sit there and I ask them questions like, "Do you remember the first scene that you ever filmed?" And, "What was your favorite group scene?" Sterling [K. Brown, Randall], Justin, and Chrissy, they're all kind of reminiscing together. It's just a wonderful thing to be a part of, you know? 
What has been the best part about working with Chrissy Metz?
She is just generous in every way, generous on and off set. She's beautifully kind of normal. She's not starry and there's no egos or anything. We've kind of guided each other through this thing, because I was super nervous at the beginning. I said after speaking with Dan [Fogelman showrunner], I knew that I only had one, maybe two episodes to completely change people's opinion of Phillip.I knew I wasn't 'gonna have much time. I needed the audience to feel like I was now a part of the family, even though it's happening all quite quickly. Working that out with Chrissy was a joy. 
How do you think Phillip has been changed by Kate? 
Because Kate has so much going on in her life, she reminds him not to be so selfish, in a way. Phillip, at the beginning, was very kind of self-centered and arrogant and had a lot of baggage that manifested itself in a negative, acerbic way. But there's so much other stuff going on that he stops focusing on himself so much. He can put his energy into looking after her. 
In Season 6, Episode 13, we see Rebecca's Alzheimer's take shape in a way that we really haven't before. What can you tell us about what's to come and specifically how Phillip helps Kate through it?
He's making sure that Kate's alright. But at the same time, he's very aware that Rebecca doesn't really know who he is, and that's quite hard to take. It's quite hard for him to comprehend that he will never imprint on his mother-in-law's memory, so he's got his own stuff going on. The dynamic with the family is fascinating to watch, seeing the Big Three become more aware than ever that she's declining. This is the new normal. 
What will we see with Kate and Phillip beyond the wedding episodes? 
There is the obvious: the decline of Rebecca's health. There's also some wonderful family scenes in the future. I have a wonderful scene with Beth [Susan Kelechi Watson], and you wouldn't imagine Phillip and Beth having a scene together. I loved it—and not only because Susan's just a terrific actress, she's amazing to watch. But there are little things that we've started doing. Beth calls him Big Phil, which is something we found so funny when it first happened that ever since then, when I'm in the room, she calls me Big Phil. It was a really sweet choice by the writers and Susan to do that, but it also made me feel like I was part of a family.
Phillip's focus, as always, is to make sure that Kate's alright, I think he does a pretty good job, actually. I can say Episode 17, the fans are just 'gonna go crazy. It's one of the sweetest, saddest episodes of TV I've ever done—so much so, people are genuinely crying their eyes out during various takes. It's somber, but there's so much gratitude on set at the moment. Everyone's really aware of where we're at in terms of nearing the end. It's just a wonderful energy, and there's a lot of scenes with all of us together, which I think has been really nice.
We just got our schedule for the end, and the last day will be everyone in the last scene. So, I think that's 'gonna be quite an emotional day. I've taken on the task of looking after Chrissy, as Phillip is looking after Kate. I can see that the emotion is very present in all of them. 
What do you think Phillip and Kate's relationship can teach us about love and relationships?
I think there's something to be said for allowing patience in your relationship and an understanding of each other and knowing that once you get together, it's not like you get into a relationship and that's it. Your greatest accomplishment in your life is sustaining that understanding and that love for each other and trying to find new, exciting ways to support and encourage each other. There's a lovely little flash-forward later on in the season about what Kate is now doing with her career–and the influence Phillip has obviously had on her to do that is fantastic...Despite all the worries that are going on, if the two of them are together, it's 'gonna be alright. 
This Is Us airs Tuesdays at 9 p.m. ET on NBC. Catch up now on NBC.com.