NBC Insider Exclusive
Create a free profile to get unlimited access to exclusive show news, updates, and more!
Sign Up For Free to View
Terry Crews' Most Hilarious Moments From Brooklyn Nine-Nine
Everyone loves Terry. See more of the larger-than-life actor-comedian on America's Got Talent.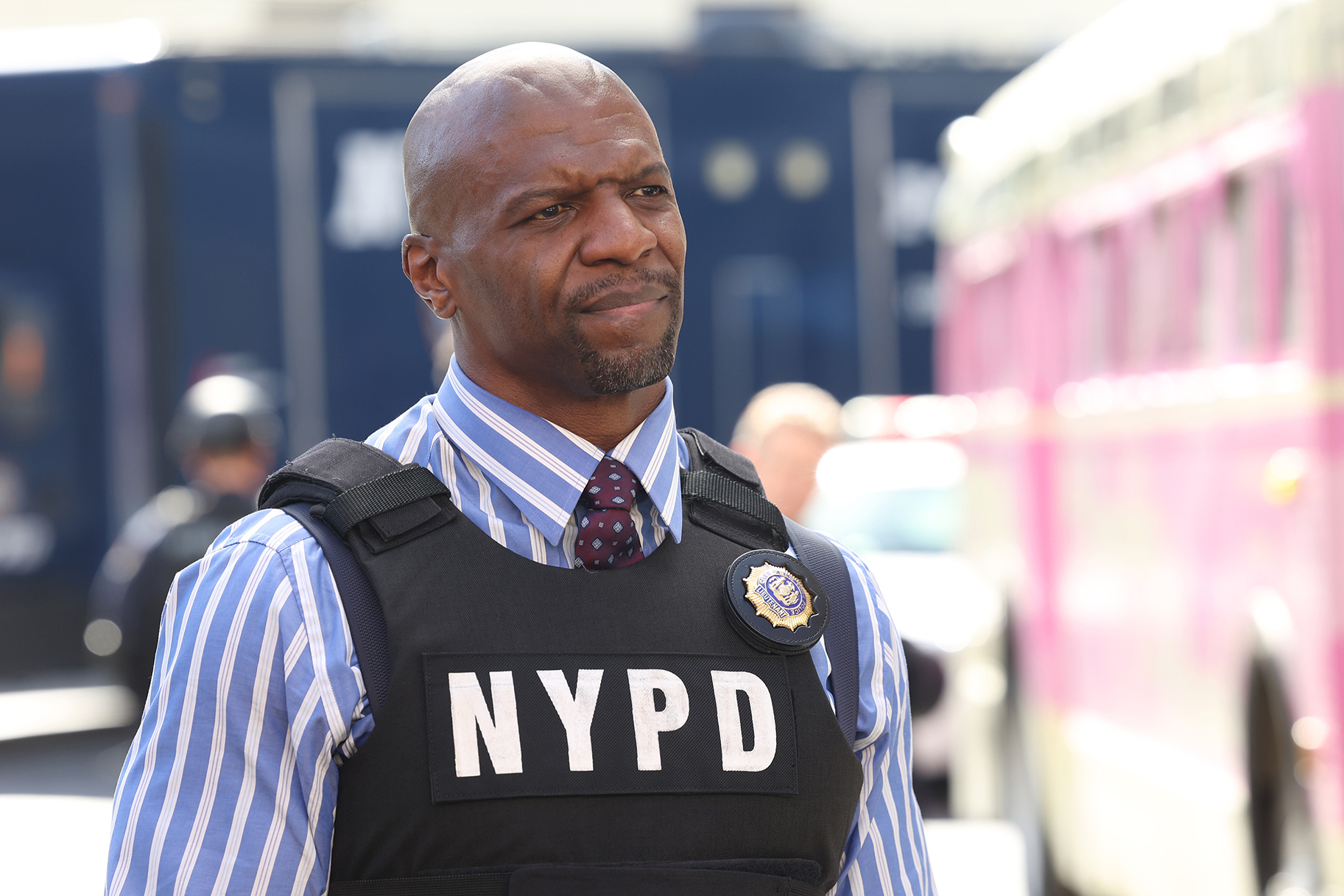 He eats 10,000 calories a day to maintain muscle mass, frequently speaks in the third person, and loves yogurt: Terry Jeffords, played by America's Got Talent Host Terry Crews, is a comedy treasure on Brooklyn Nine-Nine.
Terry Jeffords was based on Crews himself, so it's no wonder he became such a fan favorite amongst Nine-Nine fans so fast. Despite his massive size and intimidating strength, Terry is a cuddly teddy bear of a man who loves to sip from the finer things in life. Terry is a proud father and happy husband, and when he puts his mind to something, he does it, regardless of how ridiculous he might look. Terry's the source of dozens of running gags on Brooklyn Nine-Nine and is truly the heart of the beloved comedy series.
Crews may be changing lives as the Host of AGT nowadays, but no one could forget his hilarious role on Nine-Nine. Here are some of Terry Jefford's best moments from Brooklyn Nine-Nine!
Terry's mannequin incident
Season 1, Episode 1 ("Pilot")
From the moment we meet Terry in the pilot of Brooklyn Nine-Nine, he led the cast on a hilarious journey. After introducing the freshly-minted Captain Holt to the squad, he opens up about an unfortunate accident that happened in a department store shortly after he became the father of twins. Terry got scared, lost his edge, and the mannequin didn't stand a chance. 
When Terry got high on pain meds
Season 2, Episode 2 ("Chocolate Milk")
As the pinnacle of fitness and well-being, it was hilarious when Terry got high on pain meds after his failed vasectomy. The doctor's office realizes they don't have enough anesthesia for the operation due to Terry's incredible size, so the operation is paused. Jake takes Terry home in a state of delusion, which leads to countless iconic quotes, such as: "Sometimes I can't tell my twin baby girls apart, so I call them both booboo!"
Terry's predictable laptop password
Season 2, Episode 13 ("Payback")
After Jake accidentally reveals Terry is expecting another kid to the entire precinct via email, the squad goes on a hacking mission to open Terry's email. Guessing Terry's password initially seems difficult, "big muscles" and his wife's name give no dice, but the group guesses correctly on the fourth try: "yogurt." Why? Everyone knows Terry loves yogurt.
Terry's litter of hated kittens
Season 3, Episode 19 ("Terry Kitties")
After Terry becomes the butt of a rude prank from former coworkers, he ends up with a pile of adorable kittens on his hands. If that wasn't a hilarious enough image, it's made even funnier by Terry hating the cute babies, calling one of the kittens an "evil little turd." There's just something humorous about seeing Crews screaming at a lovable little kitten, "Shut up, stupid!"
When Terry started feeling old
Season 4, Episodes 11 & 12 ("The Fugitive")
Terry prides himself on his impressive physique and emotional wellness but goes through an existential crisis in Season 4 after he becomes convinced he is getting old. "The TV's always too quiet! I don't like how baggy basketball shorts are. I even shook my fists at some skateboarders the other day. And there's something worse, way, way, worse..." he tells Rosa. "Terry needs reading glasses!"
That time Terry's laptop was hacked
Season 4, Episode 22 ("Crime and Punishment")
One of the best parts of Terry's character is his illustrious yet mind-boggling backstory, notably the year he spent studying abroad in Japan. This hilariously comes to light after Terry's laptop is hacked, and the hacker unveils that Terry used to be a catalog model while in Japan. "I was a starving student!" he defends. "Terry needed the yen!"
When Terry tried yoga
Season 5, Episode 17 ("DFW")
After finding out Holt and Boyle have started yoga, Terry goes on a mission to prove he isn't only muscle after they assume he wouldn't be interested. "You're a muscler," Boyle tells Terry, before adding: "I'm a boner." Terry gives the warrior pose his best shot, but as his colleagues predict, Nine-Nine's warrior's back takes a mighty beating from the strain. Terry can't be good at everything!
Holt and Terry's failed undercover mission
Season 6, Episode 9 ("The Golden Child")
Speaking of things Terry is not good at, he isn't the most convincing bad guy. After getting a perp in custody, Holt and Terry go on an incredibly unsuccessful undercover mission to get answers and quickly learn they suck at pretending to be criminals. Boyle's confusing stage directions surely don't help, but watching Terry get increasingly panicked is endlessly entertaining.
Terry's superhuman strength
If it wasn't obvious by his enormous size, Terry is easily the strongest member of the Nine-Nine and often doesn't understand his own strength. Terry is so strong that his talents could easily be interpreted as superhuman, easily crushing everyday items in his massive hands. 
A few of Terry's favorite things
If there is anything Terry loves, it's telling people what he loves. Some of Terry's most loved things include fresh fruit yogurt parfaits, lavender, foreign films, becoming Scary Terry (his yelling alternate persona), communicating emotions in the third person, and responsible agricultural practices, to name just a few. And the feelings are mutual because Brooklyn Nine-Nine fans love Terry.
Watch Brooklyn Nine-Nine by streaming all 153 episodes on Peacock, NBC's streaming service.