NBC Insider Exclusive
Create a free profile to get unlimited access to exclusive show news, updates, and more!
Sign Up For Free to View
9 Teen Singers from The Voice Who Are So Good, They Sound Like Adults
We are absolutely *speechless.*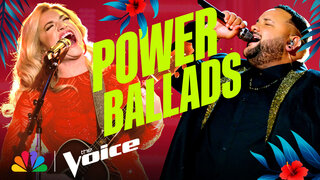 Anyone who watches The Voice knows there's no shortage of jaw-dropping musical talent each season. However, few things wow the Coaches like the teenage competitors who bring their A-game. Under the best of circumstances, taking the stage as an adult can be daunting — so it's easy to see why teenagers on The Voice who sound like seasoned performers would leave a lasting impression on the panel. Here are some of the most memorable performances by teens on the singing competition show. 
The Cunningham Sisters, "Never Alone"
Macie and Marie Cunningham (known as the Cunningham Sisters) quickly established themselves as Season 21 favorites. At just 14 (Marie) and 15 (Macie) during their Blind Audition, the Coaches were blown away by their soulful rendition of Tori Kelly and Kirk Franklin's "Never Alone." Sadly, the duo was sent home after performing in the Knockouts.
Hailey Mia, "You Broke Me First"
New Jersey native Hailey Mia was just 13 years old when she auditioned for The Voice Season 21. Mia's impressive performance of Tate McRae's "You Broke Me First" earned her a spot on Team Kelly.
Peedy Chavis, "Heartbreak Hotel" 
Peedy Chavis took The Voice stage by storm when he channeled his inner Elvis with a first-rate version of the blues classic "Heartbreak Hotel." The then 19-year-old Georgia native joined Team Blake and sailed through to the first Live Show of Season 21, before his shocking elimination. 
Keilah Grace, "Never Tear Us Apart"
New Yorker Keilah Grace wrapped up her Blind Audition performance of INXS's "Never Tear Us Apart" with three chair turns from John Legend, Kelly Clarkson, and Ariana Grande. The then 15-year-old was brimming with vocal talent, which ultimately carried her to Battles Week 2. 
Kennedy Holmes, "Turning Tables"
Kennedy Holmes of Season 15 sent ripples through the Coaches panel after a pitch-perfect rendition of Adele's "Turning Tables." It's no wonder the incredibly talented 13-year-old received a Four-Chair Turn and made it all the way to fourth place with the guidance of Coach Jennifer Hudson. Watch here.
Britton Buchanan, "Trouble"
Britton Buchanan was a standout Contestant on The Voice Season 14 after garnering a Three-Chair Turn with his silky smooth take on Ray LaMontagne's "Trouble." The then 18-year-old high school senior joined Team Alicia and made it all the way to the Live Finale, ultimately, placing second. Watch here.
Jacquie Lee, "Back to Black"
New Jersey native Jacquie Lee shocked the Coaches with her stunning performance of Amy Winehouse's "Back to Black" on Season 5. After joining Team Christina, Lee belted her way through the competition week after week and ended up claiming the title of runner-up. Watch here. 
Wé McDonald, "Feeling Good"
Wé McDonald brought her amazingly unique vocal quality to The Voice Season 11. The Coaches were absolutely floored to discover that the powerful singing voice, which effortlessly captured all the nuances of Nina Simone's "Feeling Good," belonged to a 17-year-old. McDonald landed in third place with the help of Coach Alicia Keys. Watch here. 
Gina Miles, "The One That Got Away"
Eighteen-year-old Gina Miles instantly captivated the Coaches with her Season 23 Blind Audition of "The One That Got Away" by Katy Perry. Coaches Kelly Clarkson and Niall Horan were astounded by Miles' powerhouse vocals matched with her soft-spoken speaking voice. "That was incredible to see you get up there and really hit those notes with proper control," Miles' eventual Coach, Horan, told her. "Like, for such a young girl, it's incredible." Miles' incredible vocals and magnetic stage energy led her to The Voice Season 23 finale where she was crowned the champion.