NBC Insider Exclusive
Create a free profile to get unlimited access to exclusive show news, updates, and more!
Sign Up For Free to View
Gina Miles' First and Last Performances on The Voice Show How Far She's Come
The soft-spoken singer quickly became Season 23's vocal powerhouse.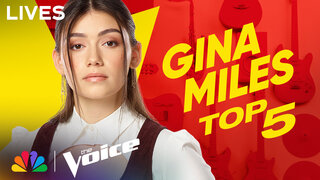 The Voice Season 23 has come to a thrilling end as vocal powerhouse Gina Miles becomes the next champion. Coach Niall Horan also secured his first win as a Coach, further cementing his place in the red chair after Blake Shelton made his heartfelt farewell to the competition. 
Miles delivered passionate performances at every stage of the competition, adding something new for each nail-biting stage. The soft-spoken vocalist kicked it off with a palpable case of nerves, but Horan was eager to help her combat the anxieties of performing. After Miles' life-changing Voice win, it's safe to say Horan accomplished that goal. Miles' journey on The Voice is truly remarkable, and watching the soft-spoken singer become a vocal force to be reckoned with is a testament to what makes the NBC competition such a thrilling watch. 
Below, we break down Miles' first and last performances on The Voice to see how far she's come. 
Gina Miles' explosive Blind Audition of Katy Perry's "The One That Got Away"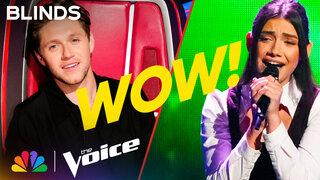 Miles first blew The Voice crowds away during her Blind Audition of Perry's "The One That Got Away," and her haunting vocals instantly struck a chord with first-time Coach, Horan. After giving a powerful slowed-down version of the hit, Miles earned two chair turns from Horan and Kelly Clarkson. As soon as she introduced herself, the Coaches were blown away by her soft-spoken speaking voice compared to her stadium-ready register while singing. 
"Wait, you have that small speaking voice and this giant singing voice? What just happened?" Clarkson exclaimed.
"I'm not super crazy confident normally, but when I sing, I'm a very different person," Miles told them. "A lot of people are shocked by the contrast of my singing voice and my normal voice."
"I love voices with so much like character, like you've got," Horan told Miles. "That was incredible to see you get up there and really hit those notes with proper control. Like, for such a young girl, it's incredible."
Horan told Miles that he sensed nerves throughout the set, which he can relate to as a former contestant on The X Factor.
"I can see you holding the mic with like two hands because I used to be like barely able to go on stage, gripping the mic stand, holding onto the mic like you were doing right now and you're going to grow into this competition," Horan said. "[I] feel like you've got so much more to give. This is very exciting." 
"You went for the big chords, but you were so amazing in the early moments of the song," Horan gushed. "They are the moments that are like, oh God, you know when you hear a good verse sung by someone who really means what they're singing, there's no better feeling. I've been there, I've walked through a competition like that."
Horan ended up having the Season 23 winner on his roster, and Miles' Voice journey had only begun.
Horan and Gina Miles' rousing rendition of Billy Joel's "New York State of Mind"
It's always heartwarming when The Voice finalist take the stage alongside their Coaches for a final performance to commemorate their fantastic journey, and Horan and Miles delivered a truly bewitching set. Miles' powerful vocals were the perfect choice for Joel's "New York State of Mind," perfectly catering to her lower register while still giving her time to shine during the track's crescendo. 
Horan effortlessly harmonized with Miles' unique sound, and it made for a truly mesmerizing duet. Her soft-spoken nature seemingly dissipated as soon as she grabbed the mic, and it was gratifying to watch Horan help her find her voice throughout the competition. Miles' Season 23 win was well-deserved, and it was an honor to watch the journey from start to end.