NBC Insider Exclusive
Create a free profile to get unlimited access to exclusive show news, updates, and more!
Sign Up For Free to View
Niall Horan's The Voice Finale Outfit Was Covered in Colorful, Bejeweled Flowers
Horan's impeccable style continued to shine into the Season 23 finale.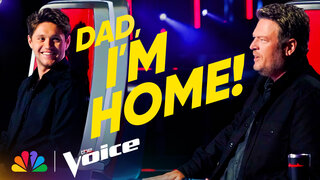 Niall Horan had a lot to celebrate during The Voice Season 23 finale. His Artist, Gina Miles, won the competition, securing the Irish pop star his first-ever victory. It's a great place to start, seeing as how Horan will actually return to The Voice Season 24 as a Coach alongside Reba McEntire, Gwen Stefani, and John Legend. This newbie may have given the veteran Coaches something to worry about! 
"I'm excited to be joining this season of The Voice as a Coach," Horan said before Season 23 began. "I'm looking forward to meeting and mentoring the new crop of talent while we battle it out with the other teams!"
Horan finished The Voice Season 23 in style — literally. For Night 2 of the finale, he wore a matching black top and pant set bejeweled with multicolored flowers. It was a moment, for sure. 
See the outfit for yourself, below. 
Horan has been Gina Miles' biggest cheerleader since the show's jump. 
"I love voices with so much character, like you've got," Horan told Miles after her Blind Audition, in which she performed "The One That Got Away" by Katy Perry. "That was incredible to see you get up there and really hit those notes with proper control. Like, for such a young girl, it's incredible...You went for the big chords, but you were so amazing in the early moments of the song. They are the moments that are like, oh God, you know when you hear a good verse sung by someone who really means what they're singing? There's no better feeling."
Miles went Team Niall, and she stayed there throughout the whole competition. 
"You know when you hear a unique voice on the radio, and you know that's that person?" Horan asked Miles at one point during the competition. "You've got that distinct tone to your voice that you don't hear often."
Miles seemed completely stunned when she was announced as winner of The Voice. The competition came down to her and Grace West (Team Blake). West ultimately placed second followed by D. Smooth (Team Kelly), in third, Sorelle in fourth, and NOIVAS (Team Blake) in fifth. 
We're excited to see what's in store for Niall Horan next season on The Voice — and for Gina Miles in her career!