NBC Insider Exclusive
Create a free profile to get unlimited access to exclusive show news, updates, and more!
Sign Up For Free to View
Stella Made a Big Decision About Severide on the Chicago Fire Finale
She's taking matters into her own hands.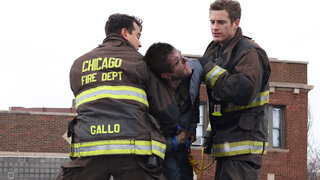 Stella (Miranda Rae Mayo) received a rather perplexing update about her husband Severide's (Taylor Kinney) whereabouts in Chicago Fire Season 11, Episode 21. Up until that point, she was under the impression he was in Alabama completing an arson investigation program. However, it turns out the program ended a while ago, and now Severide is helping out with an actual ATF investigation at an undisclosed location. He didn't give anyone at Firehouse 51 this update, not even Stella. 
So, naturally, she's worried. Where is Severide actually? And why is he being so cage-y about his situation? Stella decides to call him and get to the bottom of things. 
"I asked him about why he didn't tell me about the new job details. He told me it came up too suddenly. He kept telling me it was no big deal and not to worry," Stella tells Violet (Hanako Greensmith) and Brett (Kara Killmer) at the top of Season 11, Episode 22. 
"It doesn't sound like it worked," Violet says, to which Stella replies, "He was just so vague about everything. And not just about what exactly he's up to there but also how it affects when he comes home. He said that's a little up in the air right now. I don't know what's going on with him. " 
Stella spends the majority of Episode 22 worried about the future of her and Severide's relationship. She keeps thinking about Severide's father, Benny (Treat Williams), who Boden (Eamonn Walker) describes as a "wanderer": "He never stayed anywhere for very long, and it caused him as much pain as it caused the people that he loved, even though he never showed it." Stella worries  Severide may be cut from the same cloth as his father, and that's why he's gone M.I.A. 
Words that Severide's mother told Stella a few years ago start ringing in her head. She recounts the quotes to Brett in a very vulnerable scene. "[Severide's mom] told me Kelly is destined to become his father and that is not a man I should marry," Stella says. "...Maybe Kelly really is a wanderer at heart. Now that we've been apart for a while, he's slipping right back to that. We're losing our connection no matter how hard I try." 
But Stella doesn't give up easily. At the end of the episode, we learn she's made a huge decision about Severide: She's going to leave Chicago and find him, no matter where he is. 
"I am taking the next few shifts off," Stella tells Carver (Jake Lockett) as she zips up a duffle bag. "I'm going to get my husband and bring him back to Chicago." 
Fans will have to wait for Chicago Fire Season 12 to find out if Stella manages to track Severide down. And if she's able to, how will their reunion go? Will he come back to Firehouse 51? Looks like we'll have to keep these thoughts on ice until fall 2023.