NBC Insider Exclusive
Create a free profile to get unlimited access to exclusive show news, updates, and more!
Sign Up For Free to View
Vance Walker Talks His "Insane" Total Victory on ANW Season 15
"It's all of us against the mountain," the 18-year-old Ninja told NBC Insider after winning the $1 million.
The Season 15 champion of American Ninja Warrior has been crowned: Vance Walker!
From the moment Walker took the stage during Qualifiers, it was clear he was a Season 15 frontrunner. The 18-year-old Ninja fell in love with ANW as a young kid and quickly became an American Ninja Warrior Junior superstar, winning the first two seasons. Diagnosed with cerebral palsy as a child, fans were instantly captivated by Walker's dedication to the sport and ceaseless passion for improvement.
It takes ferocious commitment to reach the peak of Mt. Midoriyama in under 30 seconds, but the gravity-defying Walker completed the climb in 26 seconds. Beyond impressive! 
Season 15 ANW winner Vance Walker opens up about his victory
Walker's sky-high victory is the result of tireless training and a love for the ANW community. In an interview with NBC Insider, he opened up about his historic Season 15 experience. Read on, below. 
NBC Insider: First and foremost, congratulations! 
Vance Walker: Thank you. 
We'd love to know about your American Ninja Warrior journey. When did you know you wanted to try out?
I first saw the show back in Season 6. It was [ANW veteran] Kevin Bull doing the backflip off of the Cannonball Alley at the Venice City Finals. I saw it eight, nine years ago, and I thought it would be the coolest thing ever to do that. I thought it was the most insane thing I'd ever seen. I was over at my friend's house, and we both looked up if there were any Ninja Warrior gyms near us, and there was one 10 minutes from our house. So we went there for a summer camp, started training, and fell in love with it.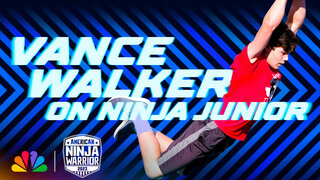 I had [fellow S15 Ninja] Brett Simms as my coach. He taught me all of the basics of Ninja, and I just thought it was awesome. I immediately dropped everything I was doing. I told my parents, "This is what I want to do." And I won my first national championship within the first year of training. A couple of years later, American Ninja Warrior Junior came around, and I submitted for that. I got called, and I was able to win that. I won both seasons and thought it would be a long time until I'd be on American Ninja Warrior. But they lowered the age limit for us, so I have been on three seasons.
RELATED: Every Last Ninja Standing on American Ninja Warrior Through the Years
This season you were on a redemption tour after Season 14's "Mr. Perfect to Mr. Imperfect" run. How does it feel to go from all that anticipation to the peak of Mt. Midoriyama? 
Yeah, so I won my first few seasons of Ninja Junior. I never lost a race. I never fell in the water. In Season 13, I came into Qualifiers at the Mega Wall buzzer, came into [Semi-Finals], and got first place in the Power Tower win. I cleared Stage 1, and then I went out on Stage 2. My first run, I had to use the Safety Pass, clear the second time, then went out on Stage 3, so I got out two courses in a row. And then, [in Season 14], I fell on every single course that I tried. I went from Mr. Perfect to Mr. Imperfect real quick. And I had those really good seasons and then a very disappointing one where I got pretty much everything wrong. I was able to learn from both of those.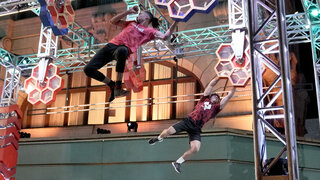 I learned all the things that I did right in the past and all the things that I did wrong last season. And I was able to come in with a new mindset. I switched my training, moved down to Tampa, and started to train with the Bergstrom family. Started just doing everything differently and refocused on having fun and learning the basics of Ninja again. Instead of just being in it to win it. I think after getting accustomed to being perfect for so long, my mindset changed to, "I need to come in and win." And when that didn't happen, that was devastating, and I had to come back and switch to having fun and enjoying it again. 
What did you do to prepare for Season 15 to make sure your head was in the game?
Yeah, so I've been strong enough to win it for a long time. I think if I got to Stage 3 last season, I think I could have won it then too. And the mental aspect is definitely what took me out. 'Cause after my first fall, it was just fall after fall, and it just kept going on. I wasn't able to recover. And I think that change of mindset was the thing that I needed to do this year. And I think last year, although it sucked falling in the water every single race, I think that needed to happen to have my focus re-shifted onto having fun and enjoying it again. And that was definitely the biggest motivator and the biggest change coming into the season that helped me to win it all. 
RELATED: Here's Exactly How American Ninja Warrior Works
Looking at Season 15, it was an incredible performance from you every course. Which obstacle, from Qualifiers to Finals, was your favorite? 
Ooh. I would say my favorite course is probably still Stage 3. It's the one that knocked me on my rookie season, which was devastating because that's usually my best course. Stage 3, that long grip endurance, that's what I've always been best at. But I think even though I fell in that my rookie year, that's by far my favorite course. When I finally got to get back there and got my redemption on it, and finally cleared the course that I'd been looking up to for so long, that was definitely my favorite moment. 
On the flip side, which course or obstacle were you dreading this season? 
The hardest stage for me is definitely Stage 1. It's all the speed and flexibility, and that's all the stuff that I struggle with, with my lower body. And especially with the cerebral palsy in my legs, I'm not very flexible, and when I'm on the course for that long, on all lower body obstacles, my legs get very tired very quickly. So by the time I'm at the end of the course, there's the Warped Wall, and then there's an agility obstacle after the Warped Wall. That obstacle is so hard for me because my legs just do not want to move at that point. 
Oof. 
There's also the Jumping Spider, which is the obstacle that knocked me out last year. It's where you need to have that flexibility to spread your legs throughout the wall. And yeah, I've struggled with that obstacle in the past. I have to work constantly to be able to do that obstacle, to be able to spread my legs that far. And it took me out last year.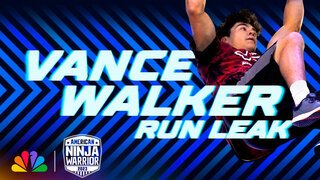 [Jumping Spider], along with Pipe Dream in Stage 3, is another obstacle where you have to spread your legs throughout that gap. And that was the one that I struggled with in Season 13. I was on there for two-and-a-half minutes. That's the obstacle that made me fall on the obstacle after it in Stage 3. Usually, that's my best stage, but I was on that obstacle for so long that when I finished it, I had absolutely nothing left. All those lower body and flexibility obstacles are a challenge for me. 
We witnessed a lot of changes in Season 15. Viewers saw intense head-to-head races between Ninjas, which hadn't been done before. How did it feel going up against some of your buddies this season? 
Yeah, that was definitely the hardest part of the season, going up against some of my best friends. Especially on Stage 2, when a chance at Stage 3 was on the line. And there, there was no guarantee that both of us made it through. That was very difficult because I was racing one of my best friends of all time [Ethan Bartnicki], one of the people I've been on this journey with the whole entire time. I've been training with Ethan for eight years. And going up against him was terrifying. Luckily, we ran late enough that we knew if we both got to the last obstacle, one of us would for sure make it. And the other one would still make it into the Runoff Races.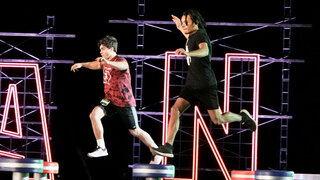 So we had that plan of just boom, get to that last obstacle, and then if we both get there, that's when you can try to make big moves, try to get ahead of the other person. And we both made it to the last obstacle, both tried to link it, tried to get ahead of the other person. We both ended up falling on it. Yeah, he was able to get there first. He took the win. I secured the top spot in the Runoff Races, and then I was able to get to Stage 3 that way. So running against another person was definitely the hardest challenge you had to go against this year. 
RELATED: American Ninja Warrior 2023 Finals Recap: Who Is Advancing?
What was going through your head when you secured the Safety Pass?
Coming back from last season, where I fell in the water every single round, I was really scared that I wouldn't be able to hit the buzzers this time. 'Cause I had what it took then, and I have what it takes now. And there's still always that chance that it doesn't go your way. The second I hit that qualifying buzzer, I was like, "OK, we're back, but I still need the rest of them. I would love that Safety Pass, just that guarantee that if I do make a mistake again, I have that chance to go again." And luckily, in [the Semi-Finals], I had the best time, I was able to win the Power Tower. And the second I got that Safety Pass, I was like, "OK, it's time, it's going down." 
You've cemented a mythic place in American Ninja Warrior history. How does it feel to be the first Champion to achieve total victory in years?
I'm the third person in 15 years to win the million dollars, it's just absolutely insane. An impossible goal that very few people have ever been able to do. The fact I'm in that exclusive club and all of my training has paid off, and I finally got to climb that tower, see the view from the top, and just achieve the dream of climbing that tower and achieving total victory was absolutely wild. And cementing my spot in history as one of the few people to win American Ninja Warrior is actually insane. 
A wonderful side effect is the $1 million. How does this change your plans for the future?
Yeah, I just turned 18, and after the lease on this apartment ends, I'm gonna be on my own. I had a lot riding on this finale. I said entering the season, "OK, if I win, I'm gonna stick around as long as I possibly can. I'm gonna skip college, I'm gonna make this my career." And if I don't, for the smallest chance that if this doesn't work out, I'm probably gonna try to figure out a life with getting a job, going to college, maybe moving back in with my parents.
Doing all the stuff that I wanted to avoid. I didn't want to live a normal life. I wanted to make this my career. I wanted to sit in this as long as I possibly can. Winning that million dollars helps me to have the freedom to keep doing the sport and to keep dedicating more of my life to doing this. Just have the time and the financial freedom to stick around, which I'm very happy about. 
Have any Ninjas reached out to you to get your insider knowledge about reaching the peaks of Mt. Midoriyama?
I've definitely had a lot of Ninjas reach out for my rope-climbing technique. 'Cause I'm one of the best, if not the best, at the rope climb. I have the world record for the 80-foot rope climb of 23 seconds. I got 26 [seconds] on the show, so it's a little bit slower. I've definitely been one of the best at that rope climb, and I've had a lot of people reach out. So it's weird because we're all competing against each other when we get to that point, but we still want one person to do it. Even if it's not us. It's all of us against the mountain, so it's OK to help the people out like that. 
RELATED: Where to Watch American Ninja Warrior on NBC
What advice would you give aspiring Ninjas?
Every single time that I had a goal throughout my life, I was told that I wouldn't be able to achieve it. I was told that I wouldn't be able to walk without braces. I was told that I wouldn't be able to be on the show. I was told that I wouldn't be able to succeed on the show, let alone win. I always had that goal, and I never gave up on it, no matter what people said. They always said that I wouldn't be able to do it, and I insisted that I would be able to.
I had that dream, and I was not gonna give up until I got there. And no matter what people say, if you have a goal and you dedicate everything to doing that, no matter how hard it gets, no matter how many times you fall in the water, if you don't hit a single buzzer in the season, you have to come back. Just put everything into that goal, and you can do it.