NBC Insider Exclusive
Create a free profile to get unlimited access to exclusive show news, updates, and more!
Sign Up For Free to View
Every Last Ninja Standing on American Ninja Warrior Through the Years
These are some phenomenal athletes.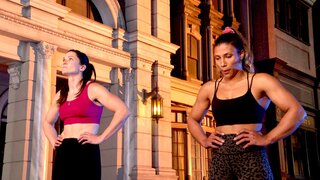 How many American Ninja Warrior winners have there been? Well, let's just say not every casual gym-goer can compete on the show. It takes an almost Olympian-level of discipline, focus, and athleticism to not only learn the obstacle courses but successfully complete them.
Only two Ninjas in the show's history have been crowned Champions. But even if you don't finish, each season of ANW still has a Last Ninja Standing, a.k.a the person who makes it the farthest (and fastest). And hey, that's winning in our books. 
So, who have the Last Ninjas Standing been throughout the years? We have a refresher for you, below.
Who are the American Ninja Warrior winners and Last Ninjas Standing?
Season 1
Last Ninja Standing: Levi Meeuwenberg
The first gravity-defying competitor to claim the title of Last Ninja Standing is Meeuwenberg, a free runner and former Sasuke competitor. Meeuwenberg retired from the competition after Season 4 of ANW. Today, Meeuwenberg boasts an impressive career as a stuntman. Meeuwenberg has appeared in numerous notable projects, such as NCIS: Los Angeles, The Bourne Legacy, and The Avengers
Seasons 2 and 3 
Last Ninja Standing: David Campbell
Campbell took the ANW world by storm after seizing the victory and title of Last Ninja Standing in not one but two seasons of the beloved reality competition. Campbell has become famous for being the first ANW competitor to have built a make-shift obstacle course in his backyard. Nowadays, Campbell is a musician and trainer for aspiring ANW competitors. Along with the beloved Brian Kretsch, Campbell has competed in every season of ANW.
Season 4 
Last Ninja Standing: Brent Steffensen
Ten-time ANW competitor Steffenson first charmed audiences in Season 4 of the competition, becoming famous for defeating the Ultimate Cliffhanger. Today, Steffensen is a stuntman, the perfect gig for a sky-flying competitor such as himself. 
Season 5
Last Ninja Standing: Brian Arnold
Arnold is a maintenance director and impressive ANW competitor with the honor of holding the Season 5 victory as Last Ninja Standing. Arnold has competed in ANW seven times but first made history when he became the first American to smash the Spider Flip and Hang Climbing, leading to his jaw-dropping win.
Seasons 6 and 9
Last Ninja Standing: Joe Moravsky
Moravsky dominated the ANW competition in Seasons 6 and 9, and he gave everything he had while tackling the tough obstacle course. Moravsky is regarded as one of the strongest ANW competitors of all time, making history for completing the most Mega Walls in Season 14. Besides competing in every ANW season since Season 6, Moravsky represented America in American Ninja Warrior: USA vs The World, USA vs. the World 2, and the ANW: All-Stars Special. Today, Moravsky is a weatherman and gymnastics/parkour coach in Connecticut.
Season 7
Last Ninja Standing: Isaac Calidero (Champion), Geoff Britten
History was made during Season 7 of ANW when Calidero became the first-ever Last Ninja Standing to earn the crown of Champion and receive the $1,000,000 prize. Caldiero is a professional rock climber who had the crowds on the edge of their seats when he and fellow Season 7 Ninja, Geoff "Popeye" Britten, both became Last Ninja Standing. During the nail-biting Final Stage, Caldiero earned a faster time, leading to the groundbreaking victory
Season 12 
Last Ninja Standing: Daniel Gil
Gil is a trainer, vocalist, and worship leader that became widely known as Kingdom Ninja in Season 12 of ANW. Gil had the crowd perched when he managed to not fail a single obstacle throughout the entire season. Gil remains the only ANW Contestant to accomplish that extraordinary feat.
Seasons 13 and 14
Last Ninja Standing: Kaden Lesback
The most recent ANW competitor to claim the honor of Last Ninja Standing is 17-year-old Lesback. Lesback soared through the competition in Seasons 13 and 14 of ANW, earning tremendous respect for his 100% rate on the course. Lesback is the only ANW competitor to win two seasons back-to-back.