NBC Insider Exclusive
Create a free profile to get unlimited access to exclusive show news, updates, and more!
Sign Up For Free to View
Inside Flip Rodriguez's Decision to Bring Back His Mask on American Ninja Warrior
There was an emotional reason behind the choice.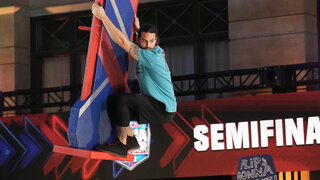 Flip Rodriguez had one of the most impressive Semi-Finals runs during American Ninja Warrior's July 18th episode. He successfully completed the course, conquering the tricky Kaleidoscope obstacle and making it all the way up the Spider Trap to the buzzer. 
Notably, Rodriguez started the run wearing his signature mask, which he's not had for several seasons now. As Rodriguez explained, he started ANW in Season 3 known as "the Masked Man." "The mask, for me, was like a security blanket," he said. "In a sense of, you can't see emotion. People's faces will tell you how much pain they're in. The mask was kind of, like, a way for no one to really see it [my pain]." 
In 2015, though, Rodriguez removed his mask on American Ninja Warrior in what was an emotional, memorable moment. "One season, the mask came off," he said. "I felt comfortable enough to talk about my story."
The next year, in ANW Season 8, Rodriguez bravely came forward about the sexual abuse he endured from ages 9 to 15. "How do you tell somebody that what's happening behind closed doors, you're afraid for your life?" he said. "Talking about my story helped me understand that vulnerability is a strength; it's not a weakness." 
Rodriguez is currently writing a book expanding more on what he's experienced. Titled The Man Behind the Mask, Rodriguez says, "In order for me to write this book, I had to re-live everything again. But I knew it was worth me going back to that dark place in hopes that it helps somebody else realize, 'If he did that, I can do it, too.'" 
Bringing the mask back to American Ninja Warrior Season 14 was a metaphorical gesture. It's a visual representation of everything Rodriguez has been through. "I'm wearing the mask at the start line to show the symbol of hope," he said. "And to be fearless. Twelve seasons in a row I've been on American Ninja Warrior. It reminds me of how far I've come. Whatever happens, there's always hope."
We will see Flip Rodriguez in Las Vegas for the National Finals! Watch American Ninja Warrior on NBC Mondays at 8/7c and next day on Peacock.