NBC Insider Exclusive
Create a free profile to get unlimited access to exclusive show news, updates, and more!
Sign Up For Free to View
American Ninja Warrior Has a $1 Million Winner This Year
Fans are pumped to celebrate the history-making Champion of Season 15 in one of the toughest competitions yet.
It's been years since fans have applauded a $1 million-winning Last Ninja Standing on American Ninja Warrior, but it's happening for Season 15. 
Yes, you read that correctly — ANW will crown a million-dollar winner during the Season 15 finale airing on Monday, September 11 at 8/7c on NBC and next day on Peacock. Season 15 has boasted one of the toughest competitions yet, with several seasoned Ninjas duking it out against fresh-faced competitors. New obstacles in the Qualifying rounds, a raised Mega Wall, and the intense head-to-head Semi-Finals round have made for one of the most shocking seasons of ANW yet.
It will all end with one of these Ninjas taking home $1 million, but with so many fierce contenders, it could be anyone. A reminder: To become Champion, a Ninja must scale Mt. Midoriyama, a 75-foot rope climb, in under an excruciating 30-second time limit. 
However, like these gravity-defying Ninjas, the question of who will become Season 15's Champion is in the air. You won't want to miss finding out which sky-flying Ninja takes home the gold! 
RELATED: Here's Exactly How American Ninja Warrior Works
Season 15 of ANW crowns the first Champion in years
Only an elite few have the honor of saying they've finished all four stages of ANW's final course, and even fewer can say they've done it within the 30-second time limit. That means one dedicated Season 15 Ninja will successfully ascend the grueling Mt. Midoriyama, a feat accomplished by only two competitors in ANW history. But this year, fans will see a new Champion rise to the challenge, with Mt. Midoriyama conquered yet again by the Last Ninja Standing. 
RELATED: American Ninja Warrior 2023 Finals Recap: Who Is Advancing?
"We keep making the course harder, and [the Ninjas] keep getting better," Arthur Smith told Deadline. "They keep training, and it's like the never-ending quest for us to push the limit."
Who will climb Mt. Midoriyama in Season 15 of ANW?
The Ninjas scaling Midoriyama will be determined by which Ninjas end up on top in Stage 3. The Ninjas racing in Stage 3 include Noah Meunier, Enzo DeFerrari Wilson, Hans Hertz, Nacssa Garemore, Austin Gray, RJ Roman, Jonathan Bange, Jera Boyd, Elijah Browning, Caleb Bergstrom, Ethan Bartnicki, and Daniel Gil. The brand-new Runoff Rounds paved the way for Ninjas Kyle Soderman and Vance Walker to get another chance at glory, so they will also race in Stage 3 in hopes of reaching Mt. Midoriyama.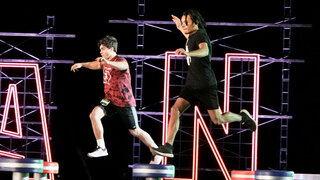 As if Season 15 of ANW didn't already have fans on the edge of their seats, the guarantee of a history-making winner makes the wait for the Finale even more nail-biting. 
"This season, the impossible finally happens," Hosts Matt Iseman and Akbar Gbajabiamila promise in a promo for Season 15. "By the end, a new Champion will be crowned. In our most unpredictable season yet with the most spectacular Ninjas we've ever seen, our new Champion could be anyone."