NBC Insider Exclusive
Create a free profile to get unlimited access to exclusive show news, updates, and more!
Sign Up For Free to View
Jesse Spencer's Casey Returned to Chicago Fire and Asked Brett a Huge Question
But how is she going to answer?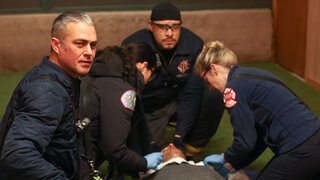 After returning to Chicago Fire for Season 11, Episode 18, Jesse Spencer (a.k.a Casey) gave fans another thrill when he popped up for this year's finale (Season 11, Episode 22). He was originally in the city just for business — Stella (Miranda Rae Mayo) needed help with a Homeland Security case — but by the end, things got very personal. And exciting. Here's what happened: 
Brett (Kara Killmer) was thrown off by Casey's return in Episode 18; she had no idea he was coming to town. Thankfully, she had a head's up this time, but she's in a completely different place now than she was a few weeks ago. Things are going well with Dylan (Christopher Allen), and she's laser-focused on trying to adopt teen mom Amber's baby. All that to say when she comes face to face with Casey again, she's happy to see him and feels at peace with their past. 
But we can't say the same for Casey. In Episode 18, we learn his life in Seattle isn't going as swimmingly as we thought. He confesses to Stella that something just isn't sticking there for him — and when Brett tells him she's dating Dylan, he lies and says he has a significant other as well just to keep up appearances. 
Cut to the middle of Episode 22: Dylan, realizing he and Brett are in two different places in their lives, decides to break up with her. Brett is fiercely determined to become a mother now, and while Dylan wants children some day, he's not on the same timeline as her. Brett is initially shocked by this news, but she and Dylan ultimately end their relationship amicably. There is no bad blood. 
Brett's breakup woes are remedied when she finds out Amber decided to take back custody of her baby and appoint her as legal guardian. This means Brett will be able to officially adopt the child, and she's over the moon with joy. 
And the surprises keep coming. It doesn't take long for Casey to catch wind of Brett's breakup, and at the end of the episode, he goes to her home and asks an important question. 
Casey gets down on one knee and proposes to Brett, saying he'd like for them, Andrew Darden (Corey Sorenson)'s two sons, and this little girl to become a family. 
"Sylvie Brett, we were meant to be," he says. "Will you make me and the three kids the luckiest family in the world? Marry me." 
Brett is overwhelmed with emotion, with tears filling her eyes. However, the episode ends before we find out if she says yes. Will she accept Casey's proposal? Fans will have to wait for Chicago Fire Season 12 to find out.