NBC Insider Exclusive
Create a free profile to get unlimited access to exclusive show news, updates, and more!
Sign Up For Free to View
Brett's Love Life Took an Exciting Turn in the Latest Chicago Fire
Could a boyfriend be in her future? After Season 11, Episode 15, it seems likely.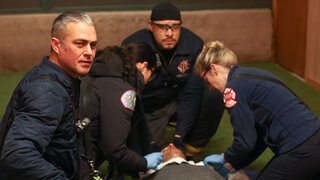 Brett's (Kara Killmer) love life on Chicago Fire has been a little bumpy ever since she and Casey (Jesse Spencer) broke up. She started seeing someone new, Dylan (Christopher Allen), but called things off out of fear she wasn't ready for something serious.
Lately, though, it seems like Brett's been missing Dylan—and in Season 11, Episode 15 (which aired March 1), we see her start to take action on that feeling. She makes a point to reach out to him and see if he's available to get together, but he's not super responsive. Rather, he invites Brett to his hockey game, which she feels is a cop-out to actually hanging out.
Nonetheless, she goes—with Violet (Hanako Greensmith) in tow—and her first interaction with Dylan is pleasant but not exactly encouraging. When she invites him to Molly's afterwards, he declines and simply says he'll "give her a call later this week." 
But Brett doesn't get discouraged. Instead, she attends another one of Dylan's games, and at the end, they have a conversation that suggests a relationship could be on the horizon. 
Dylan notices Brett's keen-ness on seeing him—and her apparent desire to not just be casual—so he asks her about it. 
"Do you wanna come over later? We can order [takeout] and watch the game?" Brett initially asks, to which Dylan says, "Can I ask you something? What changed? For you?" 
To this, Brett says, "I guess at some point it occurred to me that trying to force a relationship to be a certain way was kinda dumb. It's like when we intubate a patient, everyone's throat is a slightly different shape, so you have to let the tube go wherever it goes, and if you try and force it then you could puncture a trachea." 
Dylan adorably becomes confused by this comparison, but Brett brings it home and makes her intentions clear: She's down for anything and everything with Dylan—whether that's casual, dating, or something more. 
"I'm sorry, that's a terrible metaphor," she says. "All I'm trying to say is whatever happens, wherever this goes, I'm game." 
"OK then," Dylan replies, smiling. "Me too." 
What a fun, exciting development for Brett. It seems she's finally—finally!—open to the possibility of a relationship. And Dylan's a total catch. We're perched to see what happens next.  
Watch Chicago Fire on NBC Wednesdays at 9/8c and next day on Peacock.