NBC Insider Exclusive
Create a free profile to get unlimited access to exclusive show news, updates, and more!
Sign Up For Free to View
Hot Wheels™: Ultimate Challenge Judges Explain Why the Winning Car Came Out on Top
It was a tough competition, but the judges noticed key flaws in two of the builds.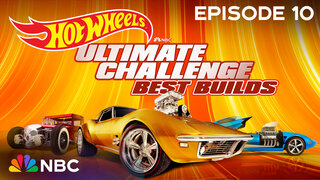 If the superfans working hard to transform a regular car into a life-sized Hot Wheels-inspired car in just a week were facing the titular Ultimate Challenge, then the judges of Hot Wheels™: Ultimate Challenge had their own difficult task as well. They needed to decide which of the three cars in the finale would be the winner — and would be made into an official diecast Hot Wheels toy car. In the final episode of Best Builds, the official Hot Wheels: Ultimate Challenge aftershow, host Rutledge Wood and judges Dalal Elsheikh and Hertrech "Hert" Eugene Jr. explained why Arushi Garg's Rally Resistance won out above the stiff competition. 
"All three of these cars could've been Hot Wheels and they could have been awesome," Wood said of Rally Resiiance and the other two cars in the finale, Nick Harrison's Blazin' Bird and "Jerzey Jim" Farrell's Superfanvan. But, there were reasons why Rally Resilience ultimately edged out Blazin' Bird and Superfanvan.
RELATED: Hot Wheels: Ultimate Challenge Judges Explain Why These Three Super Fans Made the Finale
Blazin' Bird was a Pontiac Firebird that Harrison modified to be an imposing low-rider with a black and gold metallic paint scheme and an actual firebird on the back. The judges praised the craftsmanship and the aesthetics, but it didn't have that extra something to set it apart. The judges said the colors of the car ultimately obscured a lot of the modifications Harrison made to it, unfortunately making the car seem less exciting than it actually was. 
 "Nick had this super cool Firebird that I think just needed more fire," Wood said. "I think with flames and a little different colors in there, could've told a different story."
"You have to really stand out and build something that literally no one has ever thought of," Eugene said of the competition. "And they built the bird that no one has ever thought of, and  the car it was attached to was gorgeous, but I think it fell short on the color."
Superfanvan had a key flaw, too. Farrell cut a Volkswagen Van in half and originally wanted to make the back half Formula 1-style, with open wheels. But, with some guidance from the judges, he pivoted to make the back wheels enclosed in a flaming hot rod-style configuration. It was the right move, but the change in direction cost Farrell and his team time that could have been spent making sure the front and back of the car were connecting visually as well as they could have been. 
"They could have spent more time defining what was happening in the back," Wood said. "There was that big void after the cab where they had cut off the original VW Bus, but because they had made the exhaust before they set the fender, suddenly there was like two and a half feet of space."
RELATED: All the Hot Wheels: Ultimate Challenge Finale Contestants Are Here to Win
Garg's winning Rally Resliance, a Nissan Skyline transformed into a big-wheeled rally car —  got nothing but praise, although the judges criticized aspects of the design during the building progress. The judges, along with Ted Wu, vice-president of global vehicle design for Hot Wheels, were skeptical about the big wheels. Garg did not heed their advice to go for smaller wheels, and she was ultimately rewarded for her conviction. 
"She did not come in with any predisposed notions of what a skyline build should look like," Elsheikh said. "She really stuck to what she believed in. If she had listened to us, it might not have been that exciting of a build."
Wood also highlighted Rally Resliance's "messaging of strength and being yourself and being unique," and said Garg's approach to the competition was the correct one in the end. 
"When I keep looking back at it, Aruhsi's love of her son and the way that he picks up a Hot Wheels and what he thinks of when he looks at it — I think taking that childlike approach rather than just being the path of being a car person or wanting to match up a movie that they like, that vision is ultimately what put her over the top," Wood said.  
Stream all episodes of Hot Wheels: Ultimate Challenge on Peacock and check out the official Ultimate Challenge after show, Best Builds.