NBC Insider Exclusive
Create a free profile to get unlimited access to exclusive show news, updates, and more!
Sign Up For Free to View
Hot Wheels™: Ultimate Challenge Judges Explain Why These Three Super Fans Made the Finale
Here's why Jim Farrell, Arushi Garg, and Nick Harrison's first cars earned them the chance to built a second and compete for the final prize.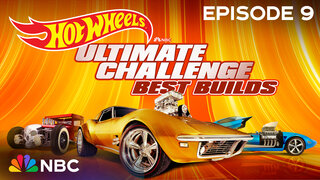 There is only one episode left of Hot Wheels™: Ultimate Challenge, which means there's only one episode until fans learn which of the three finalists will take home the ultimate prize — $50,000 and the honor of having their winning creation turned into an official Hot Wheels die-cast toy car. The first part of the two-part finale aired on Tuesday night, and so did the second-to-last episode of the official Ultimate Challenge aftershow, Best Builds, where the trio of judges explained why Jim Farrell, Arushi Garg, and Nick Harrison were chosen to come back for the finale. 
Harrison's Big Easy-inspired car, Mardi Gras Mania, notched him a win in Episode 7. On Best Builds, judge Hertrech "Hert" Eugene Jr. said Harrison made the final showdown because of the sheer craftsmanship involved in turning a Chevrolet Monte Carlo into a gold, low-riding, tribute to NOLA. And, Eugene said he admired how Harrison didn't let the classic design of the car stop him from doing something inventive with his build. 
"Any time someone is given a classic car on this show, they have a really hard time changing the silhouette and making it worthy of something being a Hot Wheels, and Nick wasn't afraid to change it," Eugene said on Best Builds. "He wasn't afraid to live his dreams and be creative and think outside of the box and completely flip the script on what a Monte Carlo should be."
Garg's Jaipur Jewel was the winner of Episode 4, and judge Dalal Elsheikh praised how much the car clearly conveyed Garg's story and her Indian heritage. "The interior was such a callback to her home. It made you just want to sit in there and have a cup of chai," Elsheikh said. It also got her into the finale, in part, because the Jaipur Jewel just looks like a Hot Wheels. 
"The Jaipur Jewel had so many Hot Wheels elements. Insane exhaust, insane wrap, that wing, that Ford v8 engine in the back, that insane mandala that's interactive," listed Elsheikh." They left no portion of this build untouched."
RELATED: Hot Wheels™: Ultimate Challenge Finale Guest Judge Jay Leno Is Looking for "Imagination"
Finally, Farrell's Power Charger, a wheelie-popping take on the Dodge Charger that meant so much to Farrell and his dad, was the winner of the series premiere, and host Rutledge Wood said it earned him a spot in the finale. 
"I still don't understand how, in a week, they were able to engineer this, build it, and make it work," Wood said of the Power Charger, specifically the hydraulics that allowed it to pop a wheelie while standing still. Contrary to Eugene's note about Harrison's willingness to change the silhouette of a classic car, Wood thought Farrell made the right call in mostly leaving the Dodge Charger's body alone. That's not to say he didn't transform it into a car worthy of the Hot Wheels name, though.
"They did cover it with metallic yellow paint with blue and green flames, and to me, from every angle that car screamed 'Hot Wheels.'" Wood said.
The penultimate Best Builds ends with a brief tease of the challenge ahead of all three contestants for next week's finale.
Tune in on Tuesday, August 8, at 10 p.m. ET/PT on NBC to see who wins, or check the episode out the next day on Peacock. New episodes of the official Ultimate Challenge after show, Best Builds, air after each new episode.