NBC Insider Exclusive
Create a free profile to get unlimited access to exclusive show news, updates, and more!
Sign Up For Free to View
Hot Wheels™: Ultimate Challenge Finale Guest Judge Jay Leno Is Looking for "Imagination"
"Hot Wheels are really a kids' idea of what a cool car should look like," Leno said. "It's fun to see."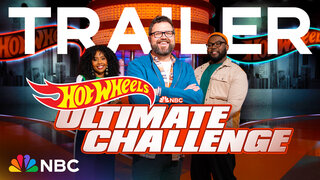 Jay Leno is, famously, a car aficionado. So, he's well qualified to serve as a guest judge on NBC's upcoming reality competition show, Hot Wheels™: Ultimate Challenge, for which he'll serve as the series finale's judge. Premiering on May 30, the series pits two fans against each other as they work to transform regular cars into epic, Hot Wheels™-inspired whips. Unlike host Rutledge Wood and most of the other judges, however, Leno did not grow up playing with the iconic toy cars. He has a good excuse, though. 
"Well, Hot Wheels came out when I was 18 years old. When you're trying to go out with girls — 'Hey, I've got a collection of tiny cars!' — that's not really going to impress anybody," the former Tonight Show host joked to NBC Insider at Hot Wheels: Ultimate Challenge's Los Angeles press event. Still, he says he understands Hot Wheels' appeal, both as a toy that "transcends value" and as an aesthetic, even if what looks cool on a car might not be the same as a cool-looking Hot Wheels minifig. 
RELATED: Where to Watch Hot Wheels™: Ultimate Challenge – Premiere Date, Celeb Judges & More
"Hot Wheels are really a kids' idea of what a cool car should look like," Leno explained. "They won't probably function as a normal car. You know, giant wheels, things like that. It's like when you go to a fashion show and the women come out with crazy hats and stuff. You couldn't really do that in real life, but it's fun to see."
The three main judges — Wood, Ford Motors designer Dalal Elsheikh, and car culture influencer Hertrech Eugene Jr. — all bring their own criteria to the judges' table, where each week they decide which of the two contestants pulled off the best car transformation. (Winners take home $25,000, and three of them will make it to the finale where they'll compete for an additional $50,000 and the chance to have their winning design made into an official Hot Wheels die-cast car.) The guest judges, the likes of which include Terry Cruz and Anthony Anderson, have their own perspectives, too.
"You look for imagination," Leno said of his approach. "What people perceive as aerodynamic is never aerodynamic. A Prius is aerodynamic, it's just not exciting to look at. You use your imagination of what you think something cool or exciting would be. One guy had a Firebird that had a big bird on the roof — an actual bird. And you think 'Well this is going to look stupid,' but actually, this is pretty cool. There's some real imagination there." 
Hot Wheels: Ultimate Challenge premieres on NBC on May 30 at 10PM ET/PT.