NBC Insider Exclusive
Create a free profile to get unlimited access to exclusive show news, updates, and more!
Sign Up For Free to View
All the Hot Wheels™: Ultimate Challenge Finale Contestants Are Here to Win
"Going into the finale, I came in there hot," one of the finalists in the NBC competition show said. "I wanted to win."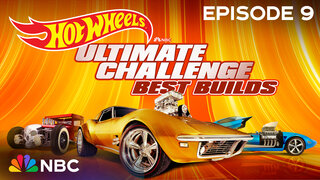 The name of the game show is Hot Wheels™: Ultimate Challenge, but the finale — the first part of which aired today, on Aug. 1 — is the ultimate ultimate challenge. Three contestants, each of whom won in their first episode when they went head-to-head with another superfan to transform a real car into a life-size Hot Wheels-inspired vehicle, have returned for the finale. It's a three-way competition, and the stakes are an additional $50,000 in prize money and the chance to have their winning car become an official Hot Wheels diecast. 
RELATED: Hot Wheels™: Ultimate Challenge Judges Ask the Ultimate Car Question: Can Vans Be Cool?
"I actually offered to forfeit the $50,000 if I won," "Jerzey Jim" Farrell, who won the series premiere episode with his souped-up Dodge Charger, told NBC Insider. "They can keep the checks. I don't need the money because I'm just going to waste it on buying another car. All I wanted was that 1:64. All I wanted was to walk down the aisle of a dept store with my kids and have them say 'That's the car that my dad built.' I want that feeling more than money could ever do."
Farrell faces stiff competition, though. His opponents are Nick Harrison, who wowed judges in Episode 7 with his Mardi Gras-inspired ride, and Arushi Garg, whose Jaipur Jewel was victorious in Episode 4.  
RELATED: On Hot Wheels™: Ultimate Challenge, Finding the Line Between Toy and Car Is the Real Challenge
"I had so much fun with that first build that I was like 'God, I hope I get picked for the finale,'" Harrison recalls, though the process of making the series, which was filmed in the United Kingdom, was tough for the Lousiana resident. "It was something so far away from my family, by the time we got the family, I'd been in the U.K. away from my family for like a month. It was hard being away from my family for that long, but I did not want to stop."
Garg had similar feelings; when she got the call that she'd be coming back for the finale, her mother was in poor health (she has since recovered). While Garg initially didn't want to leave her mom's side to compete in the finale, her mother said "No you have to do it. You have to go and chase your dreams and don't let anything stop you."
Still, Garg says she was "holding back" as the finale approached until she walked onto the stage. 
"The arena is very spiritual, in a sense," Garg said. "Once I was on the stage I knew I was competing and I wanted to win this. It was a whole sportsmanship mentality. Initially, I was just so grateful to be called back, but when I touched the stage I was like 'I have to win this.'"
RELATED: Hot Wheels™: Ultimate Challenge Finale Guest Judge Jay Leno Is Looking for "Imagination"
Farrell also said he felt the drive to win going into the finale. 
"The first one was an emotional journey," he said of Power Charged, his take on a 1969 Dodge Charger — a car that had great personal significance to Farrell and his father. "I went there to finish the story that my dad and I started 40-plus years ago. I had a lot of emotions on that show. It's why I cried a lot, a lot of my true emotions came out. It actually showed me a side of me I didn't know I had. 
"Going into the finale, though, I came in there hot," he continued. "I wanted to win."
Harrison, too, felt the competitive energy.
"I like to win," he said. "I am a very nice, jovial person, but when it comes to competition, I want to win."
Only one of these three superfans can be the ultimate winner, though. Find out what they are building and which of their three cars will be transformed into an official Hot Wheels toy in the two-part season finale, which features Jay Leno as a guest judge. Part 2 will debut at the same time the following week, on Aug. 8, and next day on Peacock. New episodes of the official Ultimate Challenge after show, Best Builds, air after each new episode.