NBC Insider Exclusive
Create a free profile to get unlimited access to exclusive show news, updates, and more!
Sign Up For Free to View
Every Super Mario Bros. Movie Poster To Get You Excited To Visit The Mushroom Kingdom
The Super Mario Bros. Movie is almost here and these posters are sure to get you excited for what's to come.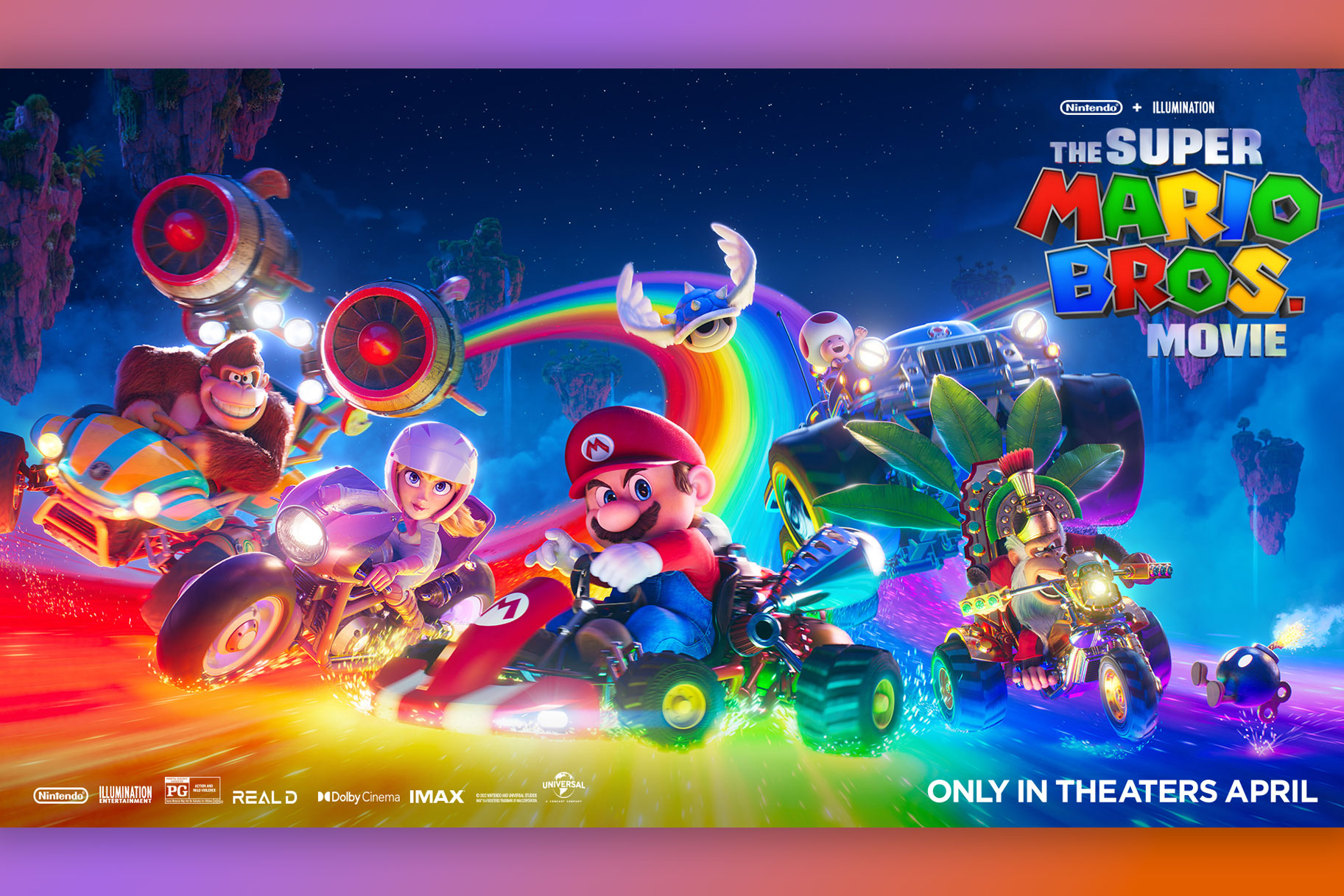 Has there ever been a plumber with as sweet a side gig as Mario? Ever since bouncing onto the old-school Nintendo Entertainment System back in 1985, our high-energy hero has been jumping, skipping and boppin' his way through danger in the never-ending struggle to stomp out the fiery forces of evil. 
Along the way, Mario has (literally) worn many hats, while bringing on board a passel of pals to help turn the tide in Nintendo's ceaseless battle against big, bad Bowser. With Luigi along for The Super Mario Bros. Movie, duty's summoning the bros away from their day jobs once again — only this time, as the stars of an epic new animated big-screen adventure from Nintendo, Illumination and Universal Pictures. 
RELATED: If The Mario Bros. Are Really Brothers, Are Their Full Names 'Mario Mario' And 'Luigi Mario'?
That kind of Hollywood power-up means a bigger-than-ever spotlight for Nintendo's family reunion, and team Mario's up to the promotional task with tons of amazing movie posters that colorfully capture Illumination's magical tour through the Mushroom Kingdom. Our hero has his hands full getting set for the movie's big April 5 premiere, which is why we've done the work of assembling each and every poster from The Super Mario Bros. Movie all in one place — while Mario and friends call one final huddle to review their Bowser-beating game plan. 
Check 'em all out in the super-sized lineup below:
Why not get off to the races with a high-octane number that shoots out the gate in classic Mario Kart style? The gang's all here in this one, coming together in a rare spirit of cooperation instead of competition — exactly the sort of team-building road rules they'll need to take Bowser down.
Unbothered. Moisturized. Happy. In his lane: This character poster is Mario to a tee, capturing him in his natural big-game habitat replete with pipes, Piranha plants, Banzai Bills and boocoodles of blocks (of course)! High above the Mushroom Kingdom is the perfect place for our hero to boost his Instagram clout by striking the classic fist-pumping Mario pose… So long, that is, as he keeps his wits about him. It looks like a long way down from up there.
Lassoed in lava and surrounded by Shy Guys: Luigi's character poster shows the scares that can happen when you're separated for two seconds from your older Super Mario bro. Fans of the Luigi's Mansion games won't have any trouble spotting our green hero's trademark fear and trembling even from miles away…which might just be the same tell that tipped Bowser's minions off to his location and got him into this mess in the first place. Hang in there, bro!
Race the rainbow! Princess Peach takes fate by the handlebars in her two-wheeled character poster, lapping the field in another fun callout to Nintendo's Mario Kart competitive lineage. Is the checkered flag in sight? Our intuition says "yes," because we're not sensing an ounce of distress in our Donkey Kong damsel's determined race face. 
No one knows toadstools like Peach's loyal attendant, so of course, Toad's smile always widens when he's left free to frolic among his namesake fungi in the oversized wilds of the Mushroom Kingdom. If anyone knows their way in a forest full of mushrooms, it's Toad: After all, the Mario franchise's main mycologist literally trusts his very noggin to a hat plucked right from the local flora!
Talk about an ape who mixes business with pleasure: Barrels pose no bother as Donkey Kong smashes and bashes his signature video game prop — all with just enough off-duty slack in that trademark "DK" necktie to let every naysayer know that it's always party time.  
Has there ever been a villain vainer? Bowser feels the allure of stardom in his shamelessly self-indulgent character poster, giving the greedy side-eye to an innocent Power Star while the castle made in his likeness — totally on-brand for such a bodacious baddie — looms in the fiery distance. Somebody save those penguins pronto before Bowser powers all the way up!
Not an enemy in sight… only lazy, languid vibes. Paused for some well-earned R&R atop a perfectly-picked toadstool perch, Princess Peach and Mario enjoy the Mushroom Kingdom's prettiest panorama as Toad points out its most striking architectural highlight. This is one time when it's sorta OK that our Princess can't be found in her castle. For Mario, having a pair of best friends at his side feels twice as nice.
Bowser and Kamek together? You just know they're brewing up a double dose of trouble. Bowser's brute brawn and Kamek's bad magic vie for the sulfurous spotlight as miles of misguided minions rally to the duo's dastardly cause. Mario better have a plan ready for this pair, because it looks like they've cooked up a whole legion of lava-loving followers.
This might be the one we'd hang on our own wall, because this kitchen-sink poster packs a powerful cinematic punch. Friend and foe alike put their best foot forward in a visually vivid Mario montage of everything that makes the Mushroom Kingdom so magically cool… and makes Bowser's lava-soaked lair so forbidding.
Better steer clear: Mario and his mustache are on a mission in this all-business image that shows why our guy is the hardest-working plumber in show business. 
Wouldn't you know it? — Luigi's gotten himself back in hot lava again. It's yet another haunted mishap for our 'fraidy-cat hero and his oh-so-shaky nerves, as Luigi tries in vain to shine a light on the reanimated Dry Bones flavor of skeletal baddies that represent the scariest side of the Koopa Troop. 
We'll just call it Princess Peach's royal welcome… or maybe even a warning. Surveying much and master of all she surveys, there's no way our Princess will give up her castle, her crown or her kingdom without putting up a royal fight. 
From Fire Flowers to Amazy Dayzees, Toad knows every petal of his Mushroom Kingdom's floral pals even in the faint twinkle of starlight. He might just be too giddy, though, to notice all his surroundings on this particular nighttime meadow jaunt. While Toad's got his back turned, Mario and Peach steal a precious moment of plumber-princess alone time back by the flickering campfire. 
Flex appeal: Donkey Kong always makes the most of his character poster poses, bulging a brawny bicep and shouldering a barrel while hundreds of his biggest fans (naturally) go bananas.
Not that we need such a roasting reminder, but here's the kind of hideous heat that Mario's getting ready to rumble with. Feeling invincible in his molten-baked element, Bowser brings the meanest of mean mugs to this character poster set at the fringes of his fearsome Lava Lair. 
It really is a splendid Nintendo place, isn't it? The full grandeur of the Mushroom Kingdom cascades over Mario's senses in a truly magical panorama poster — the kind that captures the same awe we know we'd be feeling if Toad were giving us a firsthand VIP tour. 
With an A-list voice cast featuring Chris Pratt as Mario and Charlie Day as Luigi, The Super Mario Bros. Movie stars Anya Taylor-Joy (Princess Peach), Keegan-Michael Key as Toad, Seth Rogen as Donkey Kong, Fred Armisen as Cranky Kong, Sebastian Maniscalco as Foreman Spike, Kevin Michael Richardson as Kamek — and last, but by no means least, Jack Black as the booming voice of Bowser. 
This is one video game crossover that's definitely more than a plumber's moonlighting pipe dream, so be sure to grab your tickets ahead of The Super Mario Bros. Movie's big debut beginning Wednesday, April 5.
Tickets are now available for purchase on Fandango.