NBC Insider Exclusive
Create a free profile to get unlimited access to exclusive show news, updates, and more!
Sign Up For Free to View
How Do You Make Your Own Freddy Fazbear? Viral YouTube Animatronics Expert Explains
Lee Romaire and his team had just eight weeks to get the Freddy's mascots ready for filming.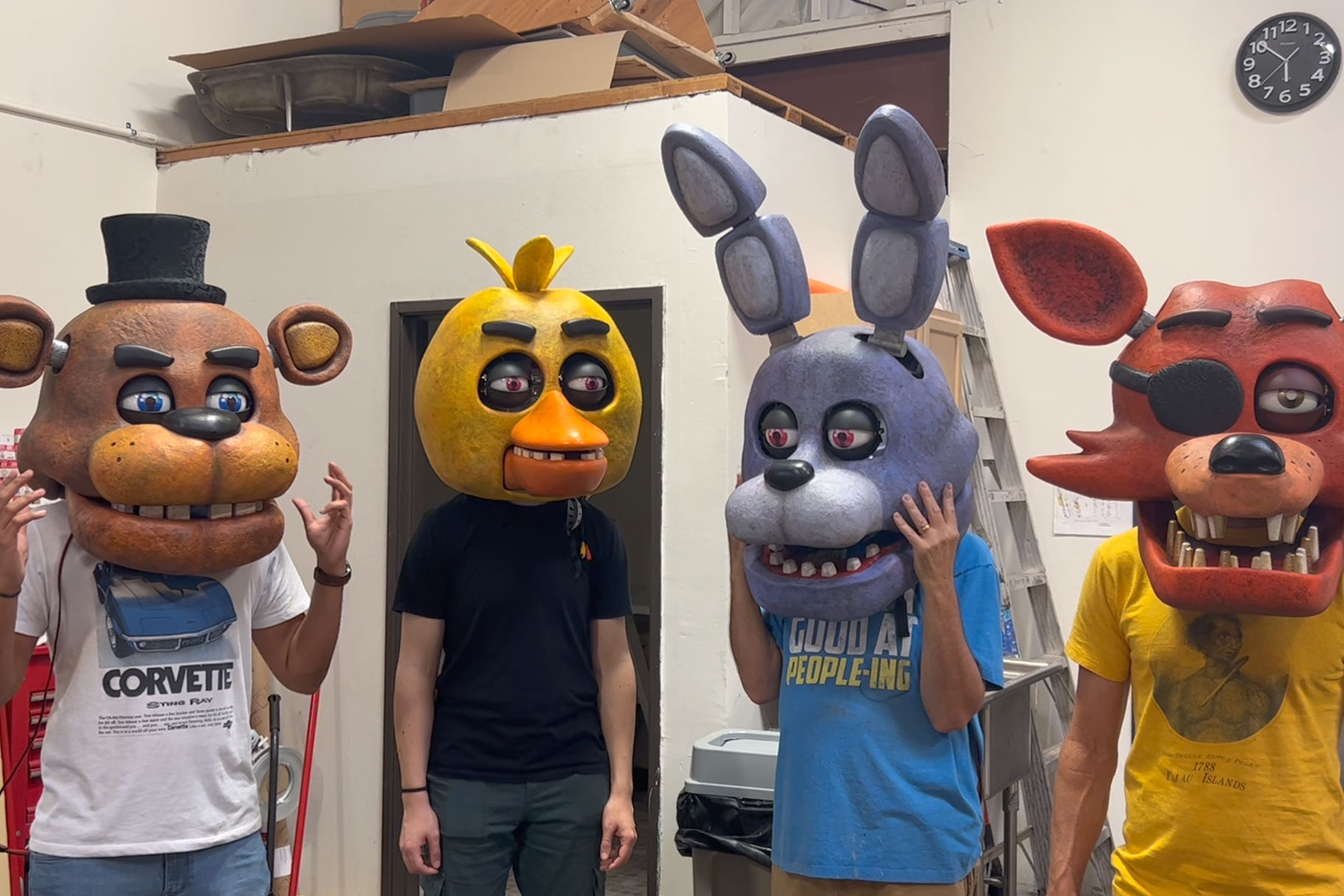 In early August of 2022, producer Jason Blum announced on X (formerly known as Twitter) that Jim Henson's Creature Shop had been tapped to bring Freddy Fazbear and his fellow animatronic buddies to life for Universal and Blumhouse's long-awaited Five Nights at Freddy's film adaptation (now playing in theaters and streaming exclusively on Peacock).
This was about six months before principal photography began, which means the pioneering puppet studio had at least half a year — though it was probably much longer than that — to get the haunted band members camera-ready. Which, they certainly did, because they look awesome.
RELATED: Five Nights at Freddy's Becomes Peacock's Most-Watched Movie of All Time
But now, imagine if they only had a total of eight weeks to pull it off? You might describe such a feat as being wildly impossible, but that's exactly what animatronic expert Lee Romaire and his team did for the YouTuber known as Socks. The digital creator built a fully-working, highly-detailed replica of Freddy Fazbear's Pizza in order to scare his friends and film the results.
"I don't know if a YouTube video has ever gone to this level of production, but I took it as something that potentially a lot of people could see," Romaire, an Emmy Award-winning industry veteran who owns and operates the Los Angeles-based Romaire Studios, tells NBC Insider over Zoom. "And so, I wanted to go for it. Typically, we do theme park animatronics that have to last years [and] this was the exact opposite. These had to last for a day."
It's only fitting that Romaire got the job. After all, he previously worked for the Jim Henson Company on feature films like Scooby-Doo, Stuart Little 2, and The Country Bears. 
"It was really the best experience I ever had in a shop," Romaire says. "As far as people go, there was just a way they work that I really liked and I wanted to emulate that when I started my own studio. [With] other studios, there's a tremendous amount of competition and it can get a little nasty. Jim Henson's [Creature Shop] wasn't like that and I'm still friends with most of those people that I worked with. I've worked with them after that [and] I've hired some of them in my own studio."
YouTuber's Five Nights at Freddy's replica goes viral
The resultant recreations of Scott Cawthon's bloodthirsty robots — Freddy Fazbear, Chica, Foxy, and Bonnie — were a mixture of 3D-printed animatronic heads (controlled by remote and fitted with night vision capabilities) and traditional full-body suits. 
"The people who wore the costumes were dancers [and] had no experience with these type of costumes," Romaire adds, "so we had to think in advance of all the things that could go wrong with this."
In an unusual reversal of the production timeline, the costumes were constructed before any performers were hired. "Normally, when we do a costume here, we're able to measure an actor," Romaire continues. "We couldn't [do that here]. We had no measurements, so we had to create a measurement based off of a body form that we built the suit on, and then they had to cast the actors based on those measurements."
Strangely enough, they used Kevin Bacon's body as the initial reference point. "We have friends who've worked on movies and between all of us, we have a bunch of different body forms that we go back and forth with," he reveals.
They took the Footloose actor's frame and "built it out, made it a little stouter," the animatronic maven explains. They then used clay to sculpt the look of the suits and, once satisfied with the overall design, built them out of light materials — mostly latex and foam — so the actors could walk around the space with ease.
RELATED: 13 PG-13 Horror Films to Watch Along With Five Nights at Freddy's
While the animatronics have rocked several different looks throughout the beloved video game franchise, the creatives behind the YouTube video requested the "dirty, hardshell look that the characters have in the first game," Romaire remembers.
This proved to be rather advantageous since this aged appearance allowed the builders to "hide imperfections that you would normally spend a lot of time fixing."  A second upside was that, due to the intense time crunch, the animatronics housed within the heads couldn't be super-extensive. All they really needed to do was blink and open/close their mouths. "We were able to eliminate a lot of the harder movements like ear movements," Romaire notes.
As someone who doesn't care much for confined spaces, the studio head declined to wear any of the full suits, but briefly donned the heads just to see what it was like. Romaire compares the experience to being inside a submarine. "The electronics, all the motors are buzzing around your head, so it's kind of loud. I certainly wouldn't want to do it all day, but to have it on for a little while was not that bad."
Since hitting the web last Thursday, Socks' FNAF video has amassed over five million views, which "may spark more people wanting to do this kind of thing," Romaire speculates. Even so, it'll take a sizable cache of Faz-Tokens to hire the services of a Hollywood-level studio. "I guess they just have to get sponsors to be able to pay for it."
Think you have what it takes to last until sunrise? The Five Nights at Freddy's movie is now playing in theaters — click here for tickets! — and available to stream on Peacock.