NBC Insider Exclusive
Create a free profile to get unlimited access to exclusive show news, updates, and more!
Sign Up For Free to View
How Adorable 6-Year-old Zoe Erianna Got 4 "Yes" Votes on AGT
"You are fearless," raved AGT Judge Simon Cowell about 6-year-old Zoe Erianna. "Every single person in this room loved this audition."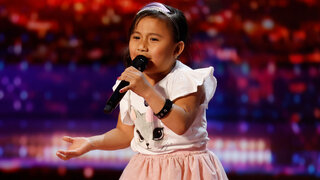 Zoe Erianna is a "Born" performer.
The little girl is also a Little Monster — and her captivating cover of a Lady Gaga classic on America's Got Talent earned the Judges' rapt attention.
The fab foursome isn't necessarily easy to impress, but Erianna had Simon Cowell, Sofia Vergara, Heidi Klum, and Howie Mandel grinning ear to ear. All four gave her a "Yes" vote, enabling the Act to advance, a big deal for Erianna.
Who Is Zoe Erianna?
Erianna is a singer, songwriter, and pianist from Drexel Hill, Pennsylvania. Now 6 years old, her family has nicknamed her a "modern-day Shirley Temple," who was America's top box office draw in the mid-1930s.
RELATED: The Beautiful Reason Howie Mandel Keeps Doing AGT — Even Though He's "Jaded"
Erianna's parents realized she had perfect pitch when she was 2, according to Erianna's personal website. During the pandemic, her singing videos were hits at her church's online services. She's taken piano lessons for two years and built an Instagram and TikTok fan base since.
How Zoe Erianna wowed before her Act on AGT 
Before she performed, Erianna gleefully said she was excited about meeting the magnetic and muscle-y host Terry Crews — and that she was not nervous. Just like Gaga, she came dressed to impress. She wore an a-meow-zing outfit: a pink tutu paired with a top embellished with a cute cat face. 
After introducing herself, Cowell asked her to name her favorite Judge.
"I like all the Judges," she said, "but I like Sofia the most."
Vergara was pumped. Cowell, not so much.
Asked if she thought she was going to win the contest, Erianna responded yes. She added that she'd use her winnings to buy "a big golden convertible and a big pink Barbie Dream Camper."
What was Zoe Erianna's Act on AGT?
Erianna performed her version of Lady Gaga's "Born This Way," a rousing and affirming tune about loving yourself.
She started out still and quiet and gradually built her vocals.
RELATED: This Is Why Simon Cowell May Be Quieter Than Usual During AGT 18 Auditions
As she exuberantly belted "hold your head up high" and  "I was born this way," she underscored the message by pointing directly at each Judge. They sat up and took notice.
How the AGT Judges reacted to Zoe Erianna
Sofia Vergara: "Zoe, I am your favorite judge, and you're one of my favorite contestants ever."
Heidi Klum: "I love your stage presence. I love how you flick your hair and how you talk to all the people. You're pointing everywhere. Very well done."
Howie Mandel: "Do you like Lady Gaga?" he asked. She said yes. "You're like an adorable baby version of that — you're Goo Goo Gaga."
Simon Cowell: "You are fearless, literally fearless. So brave, so talented, great voice. I love the fact you remembered all the hand movements. Every single person in this room loved this audition."
When it was time to vote, it was a chorus of Yes! Yes! Yes! Yes! Zoe Erianna had four great reasons to hold her head up high.