NBC Insider Exclusive
Create a free profile to get unlimited access to exclusive show news, updates, and more!
Sign Up For Free to View
Who Is Don Ramsey on Chicago Fire — and Should Fans Be Worried About Him?
Should viewers be concerned after Season 11, Episode 19?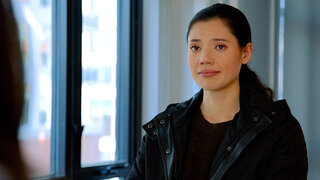 Ritter (Daniel Kyri) is one of the most beloved characters on Chicago Fire — but in Season 11, Episode 14 (which aired February 22), he accidentally got embroiled in some drama that spawned a new villain. And that villain later popped up in Season 11, Episode 19 (which aired May 3). 
But what happened? And do viewers have cause to be concerned for 51? Read on for more details. 
Season 11, Episode 14 of Chicago Fire started off like any other: There was a fire, and 51 went to check it out. However, when Ritter went to canvas the damaged building, he found no victims — until he opened a closet and discovered a man and a woman seemingly in the middle of a dalliance. 
The woman took off immediately, and when Ritter tried to question the man — Why was he there? Did he want the medics to clear him for smoke inhalation? — he took off. He also left Ritter with a warning: "I'm not leaving 'cause I was never here. If you tell anyone otherwise, you'll regret it." 
Who is Don Ramsey, played by David Lee, on Chicago Fire? 
Why was this man so concerned about being connected to the fire scene? After doing some digging, Ritter learned his identity: Don Ramsey (David Lee), the Chicago city treasurer. The woman he was caught with in the closet was definitely not his wife, which explains why he was so cage-y at the scene. 
Ritter doesn't care about this guy's extramarital affairs, though. In fact, when Herrmann (David Eigenberg) asks Ritter who the man at the fire scene was, Ritter plays dumb. Still, Ramsey is livid to even be called an "unidentified adult male" in the public fire report, so he goes to 51 to confront Ritter. "If anyone finds out I was the unidentified man, I will ruin you, your Lieutenant, and this whole firehouse. Do you understand?" he says. 
Don Ramsey (David Lee) returns to Chicago Fire in Season 11, Episode 19 
In Season 11, Episode 19, just when we thought Firehouse 51 was home free from Don Ramsey, he makes a return. This time, it's because Carver (Jake Lockett) gets injured in a chemical fire that Ramsey inadvertently caused. It turns out, a chemical company that cuts corners has several building contracts in Chicago. Those cut corners mean potentially-hazardous chemicals in some of these buildings — which Ramsey knows all about and turns a blind eye to. In fact, he shuts down every investigation into this company before the information can get out.
Once 51 connects the dots and realizes Ramsey is to blame, they plan to expose him — but ever the politician, he gets ahead of it. Ramsey holds a press conference and acts like he's the one who just found out about the chemical company's misdeeds (instead of being in bed with them). He vows to do a thorough investigation to make the city safe, which makes all our firefighters roll their eyes. They know the truth. 
But is this the end of Ramsey? Are Ritter and company going to let him get away with shirking responsibility for the chemical fire?  
To find out what happens next, watch Chicago Fire on NBC Wednesdays at 9/8c and next day on Peacock.