NBC Insider Exclusive
Create a free profile to get unlimited access to exclusive show news, updates, and more!
Sign Up For Free to View
Everything You Wanted To Know About Law & Order Star Hugh Dancy
From Hannibal to Downton Abbey: A New Era, meet Hugh Dancy, the actor behind Assistant District Attorney Nolan Price.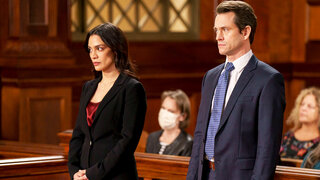 British actor Hugh Dancy joined Law & Order in 2022 as Assistant District Attorney Nolan Price. The theatre veteran is a familiar face to many Americans — even those who might not be able to put a name to his very familiar face.
Dancy Is Married To Claire Danes
Danes — who earned one of her earliest on-screen credits on Law & Order in 1992 — met Dancy on the set of the 2007 movie Evening, where she played the protagonist, Ann, as a young woman and he played her (possibly bisexual, definitely alcoholic) college friend Buddy.
Mamie Gummer — co-star Meryl Streep's daughter, who played a younger version of her mother's role in the film — has said she always knew the pair were made for each other.
"I was there when it was happening and it's something that I will never forget," she told PEOPLE at the time of their low-key, 2009 wedding. "I'm incredibly happy for them. They are perfect for each other."
They reunited on screen in the eighth and final season of Danes' hit series Homeland in 2020, in which he portrayed John Zabel, a foreign-policy adviser to the president.
The couple has two children, Cyrus Michael Christopher, 10, and Rowan, 4, and announced in December that they are expecting a third child.
From Prince Charming To Downton Abbey
Though Dancy got his start in London theater and made his first film appearance in the war movie Black Hawk Down, he originally set audiences' hearts aflutter in 2004 in the Cinderella-inspired Ella Enchanted as Prince Charmont, Ella's (Anne Hathaway) love interest. That same year, he played Sir Galahad in the Antoine Fuqua-helmed King Arthur (in which future Dancy co-star Mads Mikkelsen played fellow knight of the round table Tristan).
He continued to play the love interest in a series of other romantic films, including in: 2007's The Jane Austen Book Club; Confessions of a Shopaholic and Adam in 2009; and Hysteria in 2011.
For many audiences, his turn as Will Graham in NBC's cannibal-themed killer series Hannibal was his break-out role. On the cult hit show — which aired for three seasons starting in 2013 — Graham was an FBI profiler who became the patient, frenemy and then pursuer of Mikkelsen's psychiatrist Dr. Hannibal Lecter, a Renaissance man whose passions included brutal and elaborately staged murders.
Since then, Dancy has voiced multiple roles on Robot Chicken, played a cult leader in the series The Path, and joined Emma Thompson and Mindy Kaling in 2019's Late Night as a writer and sometime standup comedian who romances both Kaling's and Thompson's characters.
Last year, he played director and film producer Jack Barber in Downton Abbey: A New Era, who made a movie at the castle and while flirting with Lady Mary (Michelle Dockery). He told the New York Times that the role was a welcomed change. "I had played increasingly dark characters," Dancy said. "So, I was actually quite happy to play somebody who is basically not."
Starring in Hannibal With an American Accent
Many of Dancy's roles these days require an American accent — like Graham in Hannibal, for which fans are still holding out hope for a fourth season.
Dancy told Variety in 2014 that, because the FBI profiler had an ambiguous background, he didn't have to nail down a regionally-specific American accent.
"I feel like I had a slight get-out-of-jail-free card in that he's, by definition, a guy who's not located in one spot," Dancy said. "He's a very fluid individual, and that's been reflective in his upbringing, so I didn't have to hone in and say, 'He comes from the suburbs of Boston.'"
Dancy has told the Late Show host Stephen Colbert during a 2022 interview to promote his Downton Abbey role that two words can trip him up if he has to say them with an American accent: "Carnegie Hall" and "hovering." 
Want more content like Law & Order? From television's most prolific crime storyteller Dick Wolf, comes a new series Blood & Money. Each episode chronicles true stories of notorious, ripped from the headline murder cases and trials motivated by greed.  
Watch Blood & Money on CNBC Tuesdays at 10/9c & Saturdays at 9/8c on Oxygen True Crime.