NBC Insider Exclusive
Create a free profile to get unlimited access to exclusive show news, updates, and more!
Sign Up For Free to View
What We Know About Dante Torres, Chicago P.D.'s New Recruit
The mysterious rookie, played by Benjamin Levy Aguilar, is already a fan favorite.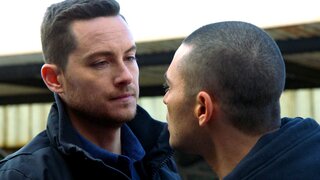 We definitely haven't seen the last of Dante Torres (Benjamin Levy Aguilar) on Chicago P.D.  
After the rookie cop made his debut in Season 9, it was announced in July that Aguilar was upped to a series regular for Season 10. And we saw him officially join the Intelligence Unit in Season 10, Episode 1 titled "Let It Bleed." But what do we know about the mysterious new character and the actor who plays him? Read below to find out.
Who is Dante Torres?
Torres was introduced on Chicago P.D. in Season 9, Episode 18, titled "New Guard," as a new recruit assigned as Halstead's (Jesse Lee Soffer) partner. It quickly becomes clear that Torres is extremely guarded, and he reveals little about himself. But he has the natural instincts to become a good cop and is a strong asset for Halstead.
However, based on intel from the chief, Halstead suspects Torres may be a gang member sent to infiltrate the Intelligence Unit—particularly as he uncovers more details from Torres' past. By the end of the episode, it's revealed that Torres was in a gang as a teen but went to juvie after beating up his mom's abusive husband and sending the man into a coma. While in jail, a 14-year-old Torres burned off his gang tattoos. So while he had a tough past, Torres is no longer affiliated with any gangs. Instead, he's motivated to become the kind of cop he didn't see growing up. 
We don't see Torres again until the Season 10 premiere when he was brought on as an undercover cop to help the Intelligence Unit with a drug case. By the end of the episode, the new Chief Patrick O'Neal tells Voight, "You can get that kid you like, Torres, signed up here permanent," indicating that the young cop will soon become a full-time member of the team.
Who plays Torres?
He's played by up-and-comer Benjamin Levy Aguilar. One Chicago fans may remember him from the Season 7 premiere of Chicago P.D. in which he played a completely different character named Franco Chavaro. Chavaro was a person of interest in the murder of infamous corrupt cop Brian Kelton (John C. McGinley).
In an interview with KTLA 5, Aguilar explained how it was initially his dream to play professional soccer before he became an actor.
"I think that growing up in Guatemala, it's a country where everything revolves around soccer," he said. "It's part of the culture and gave me the right path when I was little."
However, a career-ending injury halted his sports journey. That's when his mom suggested acting.
"It was the first time we ever talked about it, and I remember her being like 'What about acting?'" recalled Aguilar. "And I remember thinking, like, 'Oh, yeah, like movies…OK.' We called the airline that same day, while in traffic, and called the airline and booked a flight [to Hollywood] for the next week."
Aguilar recently starred as Rex in the Netflix miniseries The Woman in the House Across the Street From the Girl In the Window. Another fun fact about the actor? According to Wolf Entertainment's Twitter account, he's expertly trained in martial arts, specifically in KravMaga and Israeli Military tactics, which helped him in his role as Torres.
"For [Episode 918], he had to re-learn many of the techniques he had previously been taught to look more like an authentically trained #ChicagoPD officer," the account tweeted.
To keep up with Aguilar, you can follow him on Instagram @benjaminlevyaguilar.
Watch Chicago P.D. on NBC Wednesdays at 10/9c and next day on Peacock.