NBC Insider Exclusive
Create a free profile to get unlimited access to exclusive show news, updates, and more!
Sign Up For Free to View
Where Is the Original Night Court Cast Now?
What an iconic show and group of actors!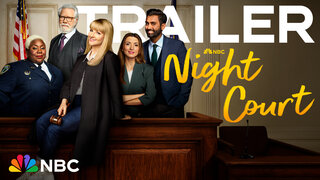 The original version of the hilarious legal comedy Night Court ran on NBC from 1984-1992 and was made legendary by its ultra-talented actors who held the courtroom together.  
With Judge Harry T. Stone (Harry Anderson) at the helm, viewers never knew what case would come through those courtroom doors once the sun went down. The revolving lineup of quirky cases and unique characters led to countless hysterical moments, thanks to the mythic cast of Night Court — so it's no wonder the reimagined 2023 series has become so celebrated. The original cast of Night Court served as an inspiration to the revamped sitcom, with many nods to the O.G. series and its cherished characters.  
RELATED: These Original Night Court Set Pieces Are in the New Show—Did You Spot Them? 
We've lost some of those iconic actors since Night Court's smash run, with many going on to perform in many memorable roles afterward. Below, learn more about the original Night Court cast and what they've done since the 1992 finale.  
Harry Anderson played Judge Harry T. Stone
Harry Anderson played the iconic main character Judge Harry T. Stone on Night Court. His other popular roles included journalist Dave Barry in the sitcom Dave's World, which ran from 1993-1997, plus a recurring role on Cheers. He also played himself in the classic Night Court episode of 30 Rock. His last role was in the 2014 film A Matter of Faith.
Anderson passed away in 2018 at the age of 65.
John Larroquette played Prosecutor Dan Fielding
After his legendary role on Night Court, John Larroquette had his own sitcom on NBC fittingly titled The John Larroquette show, which ran from 1993-1996.
Currently, he is reprising his role as Dan Fielding in the 2023 reimagining of Night Court on NBC.
"Let me really be honest, I am 40 years older than when I began that part, so getting in his shoes was difficult because my feet are swollen," Larroquette teased in an interview with TV Insider. "Luckily, I had Melissa [Rauch] to play against, and it fell into place easily." 
Markie Post played Public Defender Christine Sullivan
Aside from playing Christine Sullivan, Markie Post was known for playing Georgie Hartman on the sitcom Hearts Afire from 1992-1995. She also had a prominent sitcom role in The Fall Guy as bail bondswoman Terry Michaels from 1982 to 1985, and later played recurring character Barbara "Bunny" Fletcher on Chicago P.D. for the series' first four seasons.
Post passed away in 2021 at the age of 70. 
Richard Moll played Bailiff Bull Shannon
After his tenure as Night Court's beloved bailiff Aristotle Nostradamus "Bull" Shannon, Richard Moll became well known for his voiceover work. Moll provided the voice of Two-Face in Batman: The Animated Series and The New Batman Adventures.
RELATED: Who Is the Night Court Bailiff Now? 
He also voiced the heroic bodyguard Norman in the 1993 animated series  Mighty Max. Moll's film roles include But I'm a Cheerleader, Casper Meets Wendy, Scary Movie 2, and the 1986 horror film House, which earned him a Saturn Award nomination.
RELATED: Night Court's Richard Moll Dies at 80: John Larroquette Honors Him with Tribute
Moll passed away in October 2023 at the age of 80.  
Marsha Warfield played Bailiff Rosalind Russell
Marsha Warfield had recurring roles in The John Larroquette Show and Dave's World after Night Court ended. Her most recent role was that of Toni Wilson in the police procedural 9-1-1 in 2021. 
Much to fans' delight, Warfield made a surprise appearance during the Season 1 finale of the new Night Court, reprised her role as Roz in a delightful cameo. After getting into a bachelorette-related mess, Roz found herself face-to-face with Dan Fielding, the udge handling the case.
Following the guest appearance, Warfield spoke with NBC Insider about the original series' legacy.  
"It's not a remake. They're taking it in their own way, and I say, 'Great!" Go for it,'" Warfield said. "They still maintain the Night Court quirkiness as well as the Night Court heart. I think a lot of people don't realize how much heart is in that show, and always was." 
Charles Robinson played Clerk Mac Robinson
After Night Court ended, Robinson made appearances in many other hit shows, including The Bernie Mac Show, How I Met Your Mother, Charmed, My Wife and Kids, and My Name Is Earl. His film credits include Beowulf (1999), The House Bunny (2008), and Pee-wee's Big Holiday (2016). 
Robinson passed away in 2021 at the age of 75. 
Originally published May 10, 2023.