NBC Insider Exclusive
Create a free profile to get unlimited access to exclusive show news, updates, and more!
Sign Up For Free to View
What Happened to Mason Locke on Chicago Fire?
Revisit this fascinating character's story arc, from a Colorado prison to Firehouse 51.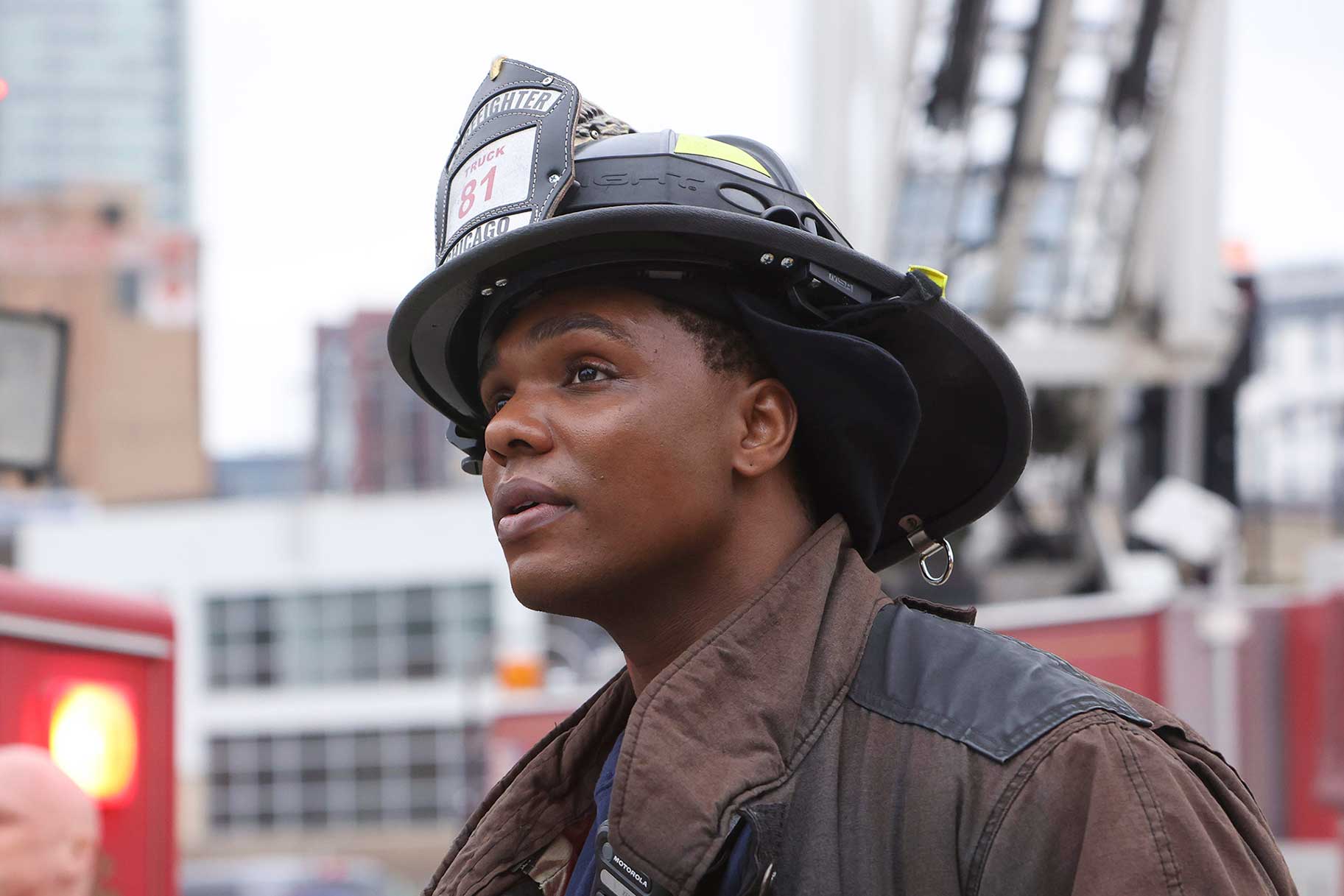 Chicago Fire has had a lot of compelling, beloved characters come in and out of the show over its 10 seasons. One particular character that stayed in viewers' hearts was Mason Locke (Chris Mansa), a talented fighter who came to Chicago after serving time in a Colorado jail. 
Locke made a quick appearance in Season 9 and then had a longer arc in Season 10. Ultimately, however, he left Chicago. Revisit his short but impactful time on the team, and why he made the decision to depart. 
Mason Locke's Journey on Chicago Fire
The Fight to Get Locke Into Firehouse 51
Audiences first met Locke in Season 9, Episode 12 ("Natural Born Firefighter). Christopher Herrmann (David Eigenberg) was saving him and another woman from a fire, and Locke had some well-informed ideas for getting out of the building. "Are you a firefighter?" Herrmann asked. "Not anymore," Locke said. 
Afterward, Herrmann approached Locke about his talents, asking, "You ever think about applying with the CFD?" Locke replied, "No, I can't." Herrmann pushed for more information, telling him he was too talented to not apply, so Locke added, "I was a firefighter, in prison. And the CFD won't hire felons." 
Mason Locke Joined the St. Paul Fire Department
Not ready to give up on Locke's talent, Herrmann teamed up with Stella Kidd (Miranda Rae Mayo) to confront Deputy Commissioner Gloria Hill (J. Nicole Brooks) about overturning the policy. Hill was stern that she couldn't do anything, so Kidd pleaded: "He put his life on the line fighting wildfires for 80 cents an hour and some time knocked off his sentence. We met him on a call where he helped save the life of a woman when he could have run out the door. He has CFD material written all over him and he can't even apply. We just want to give him a fair shot." 
"Some people can't be firefighters, no matter how bad they want it," Hill told them. The pair left the meeting feeling defeated, but luckily it wasn't the end of Locke's journey. 
Although the Deputy Commissioner wouldn't allow Locke to apply for the Chicago Fire Department, she called Kidd and told her that she'd arranged an interview in St. Paul for Locke.
Herrmann and Kidd broke the news to Locke at Molly's, and he reacted in shock. 
"Are you kidding? This is unreal. I can't believe you did this for me," Locke said. 
Locke Earned a Spot on Kidd's Team
In Season 10, we learned that Locke had been able to expunge his criminal record, therefore qualifying him for the CFD. Herrmann told this to Kidd, who had open spots on her team, but she was worried about bringing him on.
Locke ended up doing a ride-along with Kidd's truck, however, and he caught a mistake that ended up saving the mission. Kidd then decided to give him a chance. 
"Mason, you are the missing piece," Kidd told him, noting that his generosity and kindness with the firefighter who made the mistake was similar to what Matthew Casey (Jesse Spencer) had brought to the team. 
Locke's Innovative Fire Rescue Strategy 
Locke quickly proved his skills, helping Firehouse 51 with tough missions. In Season 10, Episode 19 ("Finish What You Started"), the squad responded to a call about a jet engine that fell from the sky onto a school building. A group of students were caught in the resulting fire as the building began to collapse, and the team could not find a safe way to get in or out. 
Locke suggested a strategy he'd learned fighting wildfires in Colorado. With Kidd's go-ahead, he sawed through the building's structure so that one of the walls fell and released everyone inside, saving the entire class. "All my years in the CFD, I've never seen anything like that," Herrmann said, congratulating Locke on the rescue. 
Mason Locke Departed Chicago
Sadly, the beloved new face didn't stay with 51 for very long. In Season 10, Episode 22 ("The Magnificent City of Chicago"), Locke attended Kelly Severide (Taylor Kinney) and Kidd's wedding as his last celebration with the team. 
In Season 11, Episode 1 ("Hold on Tight"), Kidd told Chief Wallace Boden (Eamonn Walker) that she received a text from Locke saying he was happy to be back out west fighting wildfires. Although fans didn't get too much of a goodbye from the character, it made sense that he returned to the kind of work he was truly passionate about.