NBC Insider Exclusive
Create a free profile to get unlimited access to exclusive show news, updates, and more!
Sign Up For Free to View
What Happened to Harry Stone on Night Court?
His on-screen daughter (played by Melissa Rauch) carries on his legacy.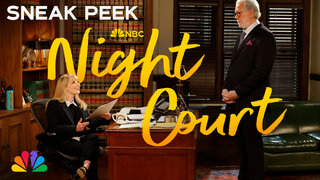 A new version of Night Court is currently airing on NBC. Not only does it feature Melissa Rauch as the main character, Judge Abby Stone, it also has John Larroquette reprising his original role of Dan Fielding. But what happened to the iconic lead from the OG series, the zany Judge Harry T. Stone (Harry Anderson)? 
This new Night Court follows the story of Judge Abby Stone, the daughter of Harry T. Stone. In the Season 1 premiere, Abby took on the job as the new Judge of the night shift at the Manhattan Municipal Court. Although the daunting gig would intimidate and overwhelm many, Abby is determined to keep a positive attitude.
Like her father, Abby is known for being kind-hearted and always gives people the benefit of the doubt. So when she shows up at the door of her father's old colleague, former prosecutor Dan Fielding, he lets her in right away as soon as he learns she's Harry Stone's daughter. (You can watch this in the clip, above.) 
Who was the original judge on Night Court?
Harry T. Stone (played by Anderson) served as the judge in the original Night Court, a role his daughter, Abby Stone, takes on in the new series, which premiered in January 2023. 
What happened to Harry Stone on Night Court?
In the new Night Court's first episode (Season 1, Episode 1), it's revealed that Judge Harry T. Stone has passed away.
"I was sorry to hear about your father. We lost touch over the years, but he was a great guy," said Dan.
"I know. He felt the same way about you," said Abby in an emotional moment.
As for the actor Anderson, he unfortunately passed away in 2018 at the age of 65. He was survived by his wife and two children from a previous marriage, according to the New York Times.
How do I watch the new Night Court on NBC?
The new Night Court airs Tuesday at 8/7c on NBC. Episodes will be available for streaming the next day on Peacock.