NBC Insider Exclusive
Create a free profile to get unlimited access to exclusive show news, updates, and more!
Sign Up For Free to View
How They Made That Early 2000s Twisted Metal Music: From Limp Bizkit to a "Demonic Clown Horn"
To bring the musical side of Peacock's video game adaptation to life, showrunner Michael Jonathan Smith tapped fellow Cobra Kai vets Zach Robinson and Leo Birenberg.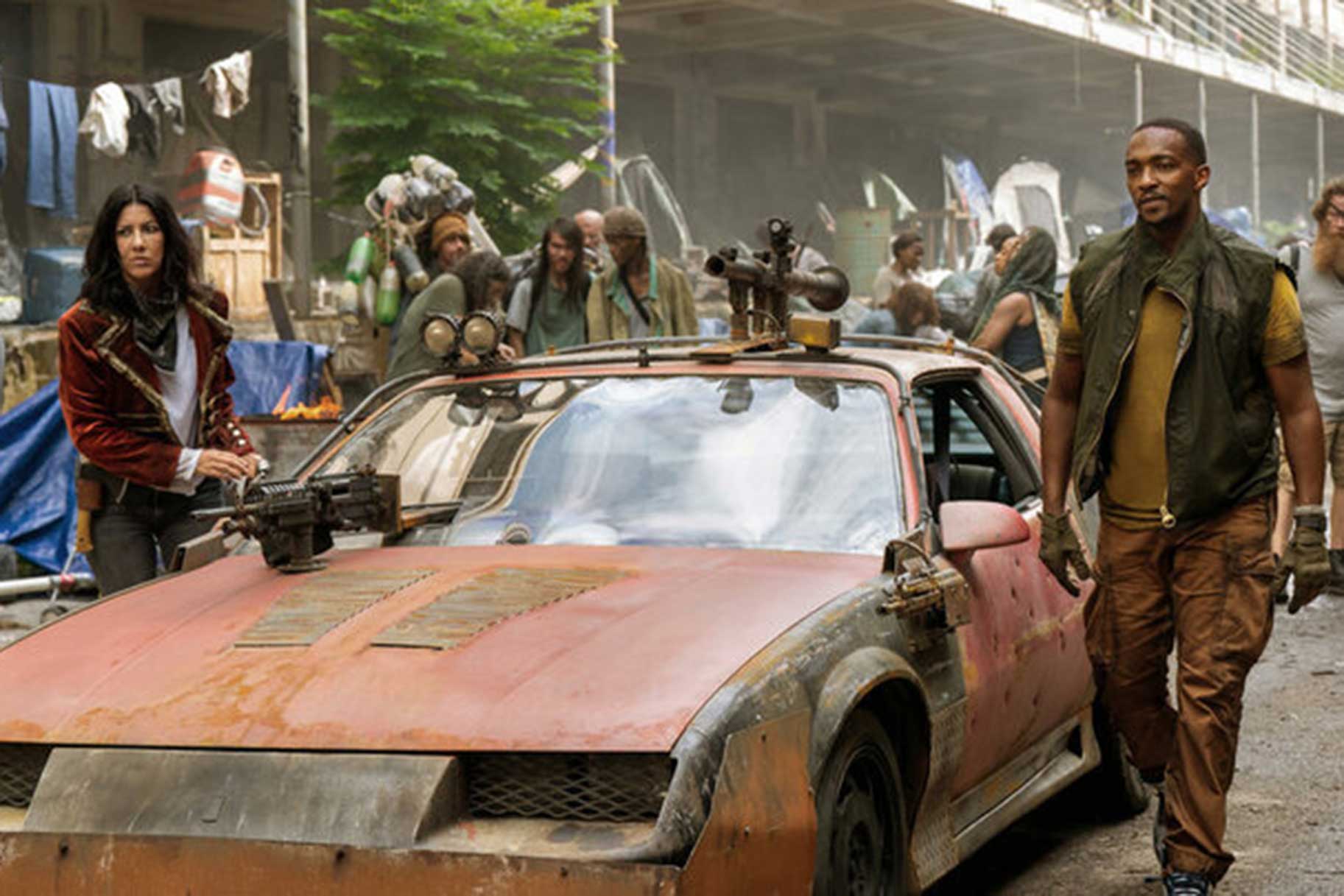 "Accidents happen all the time in this line of work," composer Leo Birenberg says over a Zoom call with NBC Insider. 
Mind you, those are "accidents" of the musical variety, but the term is rather fitting, given that our discussion concerns Twisted Metal, a TV show centered around the core concept of smashing one vehicle into another.
RELATED: Twisted Metal Costume Designer Breaks Down Wild Looks For John Doe, Sweet Tooth & More
"A lot of the good stuff is usually an accident," adds Birenberg, who scored the video game adaptation (all 10 episodes are now streaming on Peacock!) alongside his usual collaborator, Zach Robinson. The pair are best-known for their work on Netflix's Cobra Kai, where they first met Twisted Metal's eventual showrunner, Michael Jonathan Smith.
When the two found out that "MJ" — as he's endearingly referred to by his peers — would be adapting the beloved PlayStation franchise for the small screen, they appealed directly to him for the composing job as longtime fans of the demolition derby property. "Zach and I are '90s kids," Birenberg explains. "We played a lot of Twisted Metal in our youth."
"We straight up asked him," Robinson admits. "We were just like, 'Can we do this?' And he said, 'Yes.' So it worked out. We should do that more often."
***WARNING! The following contains spoilers for all of Twisted Metal!***
Does the Twisted Metal TV show feature any music from the games?
Long story short: no. "I think we just wanted to capture that energy level throughout and make sure that if you took one of these tracks and dropped it into the game, it would feel at home," Birenberg says.
"We're also just big fans of video game music," echoes Robinson. "It's an influence on a lot of projects that we do — the energy, the aesthetic, the melodies. So we would never have approached this show without that in mind, even though we weren't listening to the soundtracks to see what we could take from [them]. We always knew the energy that we provided was going to be pretty faithful because it's very inspiring to us, that type of music — especially of that era."
How Twisted Metal composers scored an early 2000s apocalypse
While most composers are brought onto a project once it has entered the post-production phase, Birenberg and Robinson were given early access to the scripts in order to gauge MJ's overall vision for the series, which Robinson describes as a mixture of "post-rock and then a little bit of new metal because we're frozen in the early 2000s."
Taking into account that the society of Twisted Metal mythos collapsed in 2002, the duo looked at "post-grunge" bands like Korn and Limp Bizkit for inspiration. "Those guys have a very slinky, low, almost out-of-tune sound with tons of distortion and there's a crunch to it," Robinson continues.
As such, they sought out musicians like bass player Jacob Umansky, who brought a "propulsive and percussive" sound to the soundtrack, the composers note, "especially in the action scenes where we would take those instruments and that palette and put it in more of a modern scoring environment with big, cinematic drums. We wanted to make it feel big, especially in some of these car fights; they have to feel ginormous."
RELATED: Twisted Metal Stars, Creators Break Down Wild Season Finale: "Fast & Furious On Steroids"
They also tapped two drummers: Gee Anazalone of DragonForce (for "some of the death metal tracks" for the Holy Men-centric Episode 8) and Dan Mayo, "who does a lot of found percussion drums run through effects," Robinson explains. "He'll take barrels and car rims — things like that — and then drum on them, but then run it through effects."
"We always like when we can find a performer who we can connect with in that way and be like, 'Wow! What a good match for this concept!'" Birenberg adds. "'Let's get someone else involved who can make it feel like it's music being played and not just film score box stuff.'"
Breaking down the character themes for Twisted Metal
Since they were able to start on the project so early in production, the composer dyad whipped up a number of preliminary tracks "just as a vibe palette setter," although a number of these "proof of concept" cues actually ended up in the final score as one of those happy "accidents" Birenberg mentioned earlier.
John Doe's theme, for instance (a track titled "Wide Open Road"), was among them. "At the very end of Episode 10 when John is starting to remember everything and there's a montage of him remembering outside of his old home, that score cue is like the very first thing we ever wrote," Robinson reveals. "We found a home for it at the end of the show."
"Wide Open Road," he continues, is meant to reflect Doe's eternally upbeat worldview. "He's always kind of an optimist, so it ends up working out and we we got to evolve it throughout the show. There are twists on that theme where we make it a little more dissonant or crunchy."
Quiet's theme ("Sanctuary City") also proved to be an unintended discovery. Originally written for use in Episode 3, the track was ultimately moved up when the composers realized it would work much better "near the end of 101," Birenberg says.
"It's a little out of the palette. In a way, it's more synth-y," Robinson notes, later adding: "A lot of the time, we don't just go sit down and say, I'm going to write this theme. Here I go!' It's not really like that. A lot of the time, we organically start writing material to picture, if we have the opportunity, and then we say, 'Oh, we like that nugget there. Let's use that.'"
Sweet Tooth, meanwhile, ended up with two distinct sonic markers. The first was "Chased by a Clown," which came in different variations: a "straight ahead" rendition as well as a "carnival"-inspired tune meant to reflect the clown's...well, clownlieness.
His second theme — although it was technically more of a sound effect — was created with "a clown bicycle horn that we ran through a bunch of processing and dropped way low, so it sounds demonic," Birenberg adds. "There's a big reveal of him in the back of the truck in 101 and you hear that sound for the first time. Then it's kind of sprinkled out throughout [the season]."
Birenberg goes on to describe Agent Stone's cue as "kind of this red-blooded American acoustic guitar mixed with all the chaos of the electronics. It's very guitar [heavy] with acoustic strumming."
For Robinson, the best thing about a show that takes place on the road is that "every episode introduces a different character, a different little sub-world in this universe." Thanks to all of the different "clans and tribes" found throughout the Divided States of America, the composers were able to play around with a multitude of different styles.
"A Trucker Viking's Funeral," the track used for Granny's blacktop burial at the end of Episode 4, is basically a "mix of post-rock with Skyrim," Robinson says. "It has a dulcimer that sounds very fantasy and then it turns into this metal send-off of a big male choir."
Has Twisted Metal been renewed for a second season?
As of this writing, Twisted Metal has not been renewed for a second season. With that said, the entire industry is pretty much on hold at the moment with the ongoing WGA and SAG-AFTRA strikes. But overwhelming audience support for the show could very well tip the scales in favor of renewal. According to a recent report from Deadline, Twisted Metal set a Peacock record for "most-binged comedy premiere" during its first two weeks on the platform.
"We're super pumped about the reception," Birenberg says. It feels like it really just struck an awesome pop culture chord."
"In the post-Last of Us world, we expect a lot more of our video game adaptations," adds Robinson. "So I'm glad that people are responding well to it."
RELATED: Twisted Metal Sound Editor Had to "Completely Amplify" Original Video Game Effects for Peacock Series
Even without a firm word on a potential pick-up, we ask the composers how they'd like to see the music grow and evolve in a sophomore season, particularly one centered around the Calypso-hosted vehicular tournament teased in Episode 10.
"It's gonna need to be violent, that's for sure," Birenberg muses. "I think watching the vehicular combat, we'd be able to mix the themes of whoever's fighting. It'll be like Cobra Kai with cars."
"It's already quite loud, so we're gonna have to figure out how to make it louder," Robinson says.
The most exciting thing for them about a Season 2 would be the arrival of even more characters from the games like Axel, Mr. Grimm, and Dollface — all of whom make small cameo appearances in the finale.
"There are so many cool characters," Robinson concludes. "And there's so much lore. I didn't realize how much lore there was … Every character on the show is like a main character [in the games] and I'm interested to see if Quiet might turn out to be a character [from the games] that we don't know about. Because she's the only one that I feel like I haven't seen in the games."
Where is Twisted Metal streaming?
All 10 episodes of Twisted Metal are now streaming on Peacock. The show currently holds a fresh 70% rating on Rotten Tomatoes.
Want more original Peacock content? Be sure to check out Bel-Air, Killing It, A Friend of the Family, Poker Face, Joe vs. Carole, Mrs. Davis, MacGruber, and Based on a True Story.