NBC Insider Exclusive
Create a free profile to get unlimited access to exclusive show news, updates, and more!
Sign Up For Free to View
The Most Emotional Moments From This Is Us' Thanksgiving Episodes
You'll need so many tissues.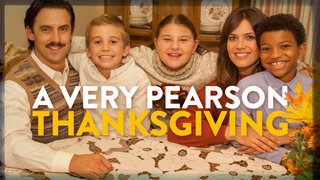 Fewer things go together more seamlessly than This Is Us and Thanksgiving.  So in the spirit of the season, let's reminisces on some of the best moments from This Is Us' Thanksgiving episodes. 
As the first This Is Us Thanksgiving episode ever, "Pilgrim Rick" explores how the Pearson family's holiday traditions came to be, and the meaning they still hold in the present. It's no surprise that some of the most touching moments are born from the effort Jack (Milo Ventimiglia) makes to save the day from ruin.
First, there's the spilled cranberry sauce. Then, the flat tire on the way to grandma's—and just when things can't get worse, they get stranded at a nearby lodge. After reaching a breaking point under the immense pressure to present a perfect family image, Rebecca (Mandy Moore) finally tells her mom off.
All the mishaps lead to a Pearson family heart-to-heart, where everyone reveals how much they dread going to grandma's for Thanksgiving. Instead, they spend the night at the lodge, roasting cold hotdogs on the fire with cheese and saltines, watching the Police Academy 3, and listening to Jack tell stories in a silly pilgrim hat. 
In the present, Olivia (Kevin's not-quite girlfriend) is invited into the Pearson family holiday bubble and shares a beautiful moment with Randall's (Sterling K. Brown) biological father William (Ron Cephas-Jones) as they discuss his imminent death. The conversation encourages Olivia to share an intimate kiss with Kevin (Justin Hartley). 
During another pivotal moment, Randall discovers his mother Rebecca was in contact with his biological father during his childhood and kept it from him. He then confronts her during their traditional "What I'm Thankful For Yarn Game," and a dramatic confrontation ensues. 
Throughout "Number Three," we see present-day Randall and his family navigate the complicated role of foster parents after Deja's (Lyric Ross) mom shows up unannounced to tell them that she will be fighting to regain custody. This messy interaction leaves everyone reeling and overwhelmed for the rough Thanksgiving ahead. 
We also see another gut-wrenching moment, when Randall's dad, William, recalls following Rebecca home to potentially re-enter Randall's life. However, he makes the heartbreaking decision to let Randall live a stable life without distractions. 
In another flashback, we see Randall and Jack share an intimate moment at the Vietnam Veterans Memorial, where Jack opens up about his traumatic experiences in the war and how much he relates to Randall's feelings of not belonging. 
As if this episode couldn't be anymore devastating, the goodbye scene between Deja, Beth (Susan Kelechi Watson), and Randall is a tearjerker for the ages. Watching Deja be reunited with her biological mom is bittersweet as it takes a massive emotional toll on Randall, and he finally understands the tough situation Rebecca was in as an adoptive parent. 
Anyone who remembers this iconic Thanksgiving episode knows that there's a lot going on. Watching various members of the Pearson family navigate six defining Thanksgiving experiences spanning many years brought deep insights. 
Miguel (Jon Huertas) makes his official move to the Pearson family dinner table after his divorce and Jack's death. 
While Beth and Randall volunteer at a soup kitchen, Toby (Chris Sullivan) and Kate (Chrissy Metz) get started on Thanksgiving dinner. However, the cooking is interrupted when Beth and Randall's daughter Tess gets her period for the first time and ends up having a meaningful moment with Kate, where she opens up about her sexuality. 
This episode serves audiences some serious backstory for Jack's brother Nicky (Griffin Dunne), as we see them navigate another tough Thanksgiving with their dad in a flashback. One of the best scenes of the episode is watching Nicky win money by betting against his father's favorite football team (boo, dad!), and treating his brother to a fancy shrimp dinner instead of putting up with their dad's negativity. 
Then there's the present-day car scene, where Nicky gets emotional after hearing Randall explain the meaning behind a Leonard Cohen song—a speech that Nicky originally gave Jack back in the day. This beautiful moment reassures Nicky that his brother Jack loved him even when they were estranged. 
Sadly, this is also the episode where Rebecca and Randall have an honest discussion about her declining  health, and it was one of the saddest moments in This Is Us history.
In flashbacks from this episode, we see the holiday-related origins of the tumultuous relationship between Rebecca and her mom. However, with Jack by her side, Rebecca is able to get through their first Thanksgiving hosting Rebecca's parents. Despite some bumps in the road, it's heartwarming to watch Rebecca's mom finally give her approval by revealing the secret ingredient to her famous sugar pie. 
Let's not forget the painfully awkward game of Thanksgiving Taboo, where it becomes clear to everyone in the room that there are some major romantic feelings between Rebecca and Miguel. 
Then, there's the family meeting Rebecca calls to inform everyone that Miguel and Kate will be in charge of making decisions for the family in the wake of her Alzheimer's diagnosis. Shortly after this crushing discussion, Kate and Rebecca share an incredibly tender moment where Rebecca acknowledges that they are best friends and finally tells her the secret ingredient to her mother's sugar pie. Full circle. 
Watch every episode of This Is Us on NBC.