NBC Insider Exclusive
Create a free profile to get unlimited access to exclusive show news, updates, and more!
Sign Up For Free to View
Chrissy Metz and Chris Sullivan Break Down Katoby's Big Fight at the Pearson BBQ
"It's been little cuts, and then you finally bleed out," Metz says.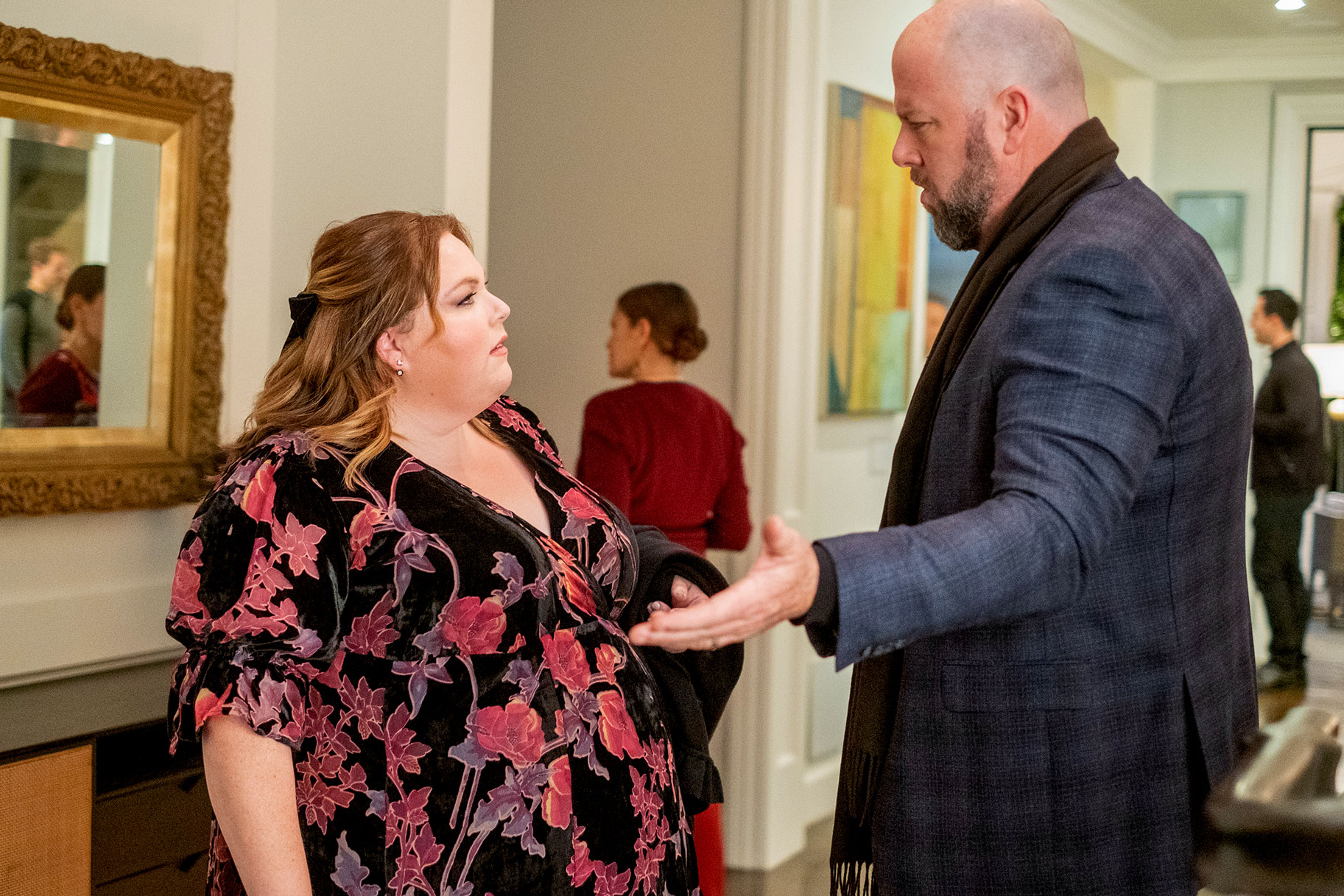 This Is Us Season 6, Episode 11 was not a good one for Kate (Chrissy Metz) and Toby (Chris Sullivan). Tensions between the couple have been building for a while now. We know the long distance brought on by Toby's San Francisco job is straining their relationship, but that's not the only thing. Recent episodes have revealed Toby's dishonesty about everything from fixing a leak in their house to secretly turning down a job in Los Angeles. And Kate hasn't been innocent, either; she can't see past the physical miles Toby's job is putting between them and, as a result, is ignoring the benefits—like more money to support their son, Jack, who is visually impaired. 
Everything came to head in Season 6, Episode 11. The believed-to-be-fixed leak in Kate and Toby's ceiling burst, throwing a wrench in the barbecue planned for Rebecca (Mandy Moore) and Miguel's (Jon Huertas) anniversary. The whole family tries to help, including Toby, who puts baby Jack in his room—but he doesn't fully lock the child protection gate. So Jack gets out, leaves the house—because Kate's taught him how to open the door—and walks to the park, where he eventually falls and hurts himself. Thankfully, Rebecca finds him before more damage is done, but the incident causes Kate and Toby to have a major fight on their front lawn. It's intense, and the episode ends with Kate telling Kevin (Justin Hartley) and Randall (Sterling K. Brown) she isn't sure if her relationship with Toby will endure. 
"It's been little cuts, and then you finally bleed out," Metz tells NBC Insider. "She feels like she's taking care of their family. He is too, but he's not physically there. It's not the same thing. He's a great provider, but Kate feels like a single parent." 
Metz says Kate and Toby's fight in Season 6, Episode 11 is when "all of these small things came to a head."
"She realized in that moment, there's a disconnect," she explains. "Whether it was there the whole time, it's there now and it's glaring and it's very apparent."
Sullivan says Toby's anger in the episode is really a mask for more intense emotions. "Anger, in all its forms, is a defense mechanism against sadness," he says. "Whenever I witness anger, what I'm actually seeing is an emotion that has come up to protect a person from something. I think Toby has a deep sadness that he's tapped into. But his anxiety, his sadness, he's yet to fully communicate those in a healthy way." 
The fight we witness in this episode isn't exactly healthy communication. Kate and Toby don't see eye to eye on how to parent baby Jack; Kate thinks Toby is overly cautious about his limitations, and he thinks she isn't cautious enough.
"When Kate says to Toby, 'You only see [Jack's] limitations,' you go back and think, 'Wow, maybe he really did,'" Metz says. "And it wasn't because he doesn't love his child. We have our own issues and projections. And are we good enough parents to actually parent the child?"
A promo for Season 6, Episode 12 teases more heartache for Kate and Toby. It looks like this is when we'll see their marriage fully dissolve, so get ready. This Is Us airs Tuesdays at 9 p.m. ET on NBC. Catch up now on NBC.com.