NBC Insider Exclusive
Create a free profile to get unlimited access to exclusive show news, updates, and more!
Sign Up For Free to View
Chrissy Metz Unpacks Toby's Big Lie in the This Is Us San Francisco Episode
It's the "straw that breaks the camel's back," Metz says.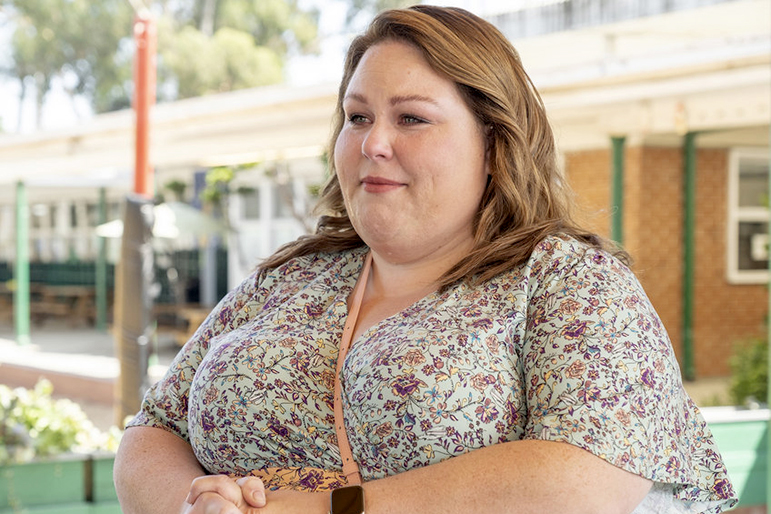 This Is Us Season 6, Episode 9 was an emotional one for Kate (Chrissy Metz) and Toby (Chris Sullivan). In an effort to work on their marriage, Kate agrees to visit Toby in San Francisco. But the second she lands, it's clear this isn't going to be a great trip. Toby and Kate just aren't on the same page anymore. He's meticulously planned out their weekend, while Kate just wants to see where the days take them. For Kate, this is a test-the-waters weekend, but Toby is more serious, at one point taking Kate to a house he wants them to buy. (The implication? That Kate should quit her job and move with the kids to San Francisco.)
Everything comes to a head at a party Toby's boss is throwing. Kate feels out of place immediately upon arrival, but she's a good sport, talking to Toby's colleagues even though she knows nothing about the work they do. But she can't keep her happy facade going after learning Toby was offered a job in Los Angeles and turned it down—without consulting Kate. She storms out of the party, the shock and betrayal palpable on her face.
Remember: One of Toby and Kate's major problems right now is being long distance. A job in L.A. would have been a solution. For Toby not to mention this offer at all is suspect at best—and a betrayal at worst. 
To Metz, she calls it the "straw that broke the camel's back." 
"I think any time there's any trust that's sort of cracked open and changed, it's hard to repair that," she tells NBC Insider. "I don't even know if it's even possible. I think you try and you try and you try, but it's something that's always in the back of your mind that you're thinking about."
She continues, "It's a wound that's opened up by dishonesty.You're trying to salvage a relationship, but you can't. You can't lie about those things, and whether he was trying to protect her or not—and I'm sure he regrets not telling her—it's not OK." 
This is just one of many things that leads to the dissolution of Kate and Toby's marriage—a dissolution we'll see play out in future episodes.  
"It's not either one of their faults," Metz says. "[Their breakup] is done after a lot of understanding and communication. It's done with love. They might not necessarily be on the same page in some regards, but Toby will eventually come around and understand." 
Watch This Is Us Tuesdays at 9 p.m. ET on NBC (and catch up on NBC.com) to see how this all plays out.