NBC Insider Exclusive
Create a free profile to get unlimited access to exclusive show news, updates, and more!
Sign Up For Free to View
Here's How The Voice Auditions Work in 2022
Everything is now virtual.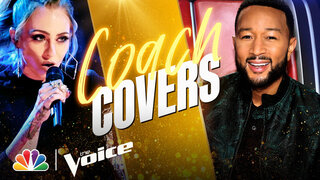 The Voice fans may think the Blind Audition is the first time Artists sing for the show, but the journey to that point is actually quite detailed. Contestants have to go through several rounds of auditions and interviews to get in front of the Coaches' revolving chairs. In other words, they have to audition for the Blind Audition.
The woman who helms those early try-outs is Michelle McNulty, the supervising casting director for McNulty Casting, Inc. Her team is responsible for finding the talent who ultimately competes on The Voice, and they've gotten the process down to a science. 
"To think about where it started and what Season 1 looked like," she tells NBC Insider. "And then to where we are now, it's so mind-blowing to me. When we did our first season of auditions in some cities that we went to, there were 1,000 people there. Or even 500 in some of our smaller cities. There were not that many! And then going into Season 2, where it was literally thousands and thousands—5,000 people and 15 rooms going at one time of auditions happening. It's crazy how big it's gotten."
Of course, with COVID-19 guidelines, auditions look a little different these days. The process is now done totally online, and that's broadened the pool of singers who can audition for the show. Below, McNulty outlines the audition timeline for The Voice and gives an update on where things stand for Season 22. 
Where are The Voice auditions 2022 cities?
There are no physical cities holding The Voice auditions currently. Everything is done virtually, which McNulty says has its benefits. "I actually think some of the virtual has been really great for us," she says. "Because when we were going out and traveling, people were having to spend so much money on getting to us. Now, people can actually just do this from the comfort of their home. It's really helped us find some people that might not have had the money or the means or the ways to get to one of our audition cities."
What is The Voice audition process like in 2022? 
McNulty laid out the process for NBC Insider from the first time her team hears someone sing to a Blind Audition: 
"If you're going through our open call process or even if my team reaches out to you, what'll end up happening is: Somebody from my team will contact you. From there, we'll ask to have them send multiple songs. If we like what we hear from there, we'll send them to a casting interview where we kind of get to know them a little bit more. And then from there, there's a potential of us asking for additional songs or an additional interview. From there, we have to ultimately present to the producers and network executives. There are definitely cuts along the way. And then after that, we give them a call and say, 'Congratulations, you made it to a Blind Audition.'" 
Where can I start The Voice audition process, and can I audition for The Voice 2022 right now? 
The link to the virtual open call is here. However, McNulty and her team are no longer taking submissions for this season of The Voice. "We're in the final stages of casting for Season 22," she says. "We've done our pitch and we have a bunch of singers that I actually was just on a phone call with. We're in the process now of finalizing that cast for Season 22." 
As you wait for The Voice to premiere, be sure to watch American Song Contest Mondays at 8 p.m. ET on NBC. The Eurovision-style show sees 56 Artists from across the U.S. (each representing a state, territory, or Washington, D.C.) competing for the title of Best Original Song. Don't miss it!