NBC Insider Exclusive
Create a free profile to get unlimited access to exclusive show news, updates, and more!
Sign Up For Free to View
Chrissy Metz Says She Was 'Broke' and 'Broken' Before This Is Us: 'I Am Now Healed'
She and her costars reflect on how the show has changed them.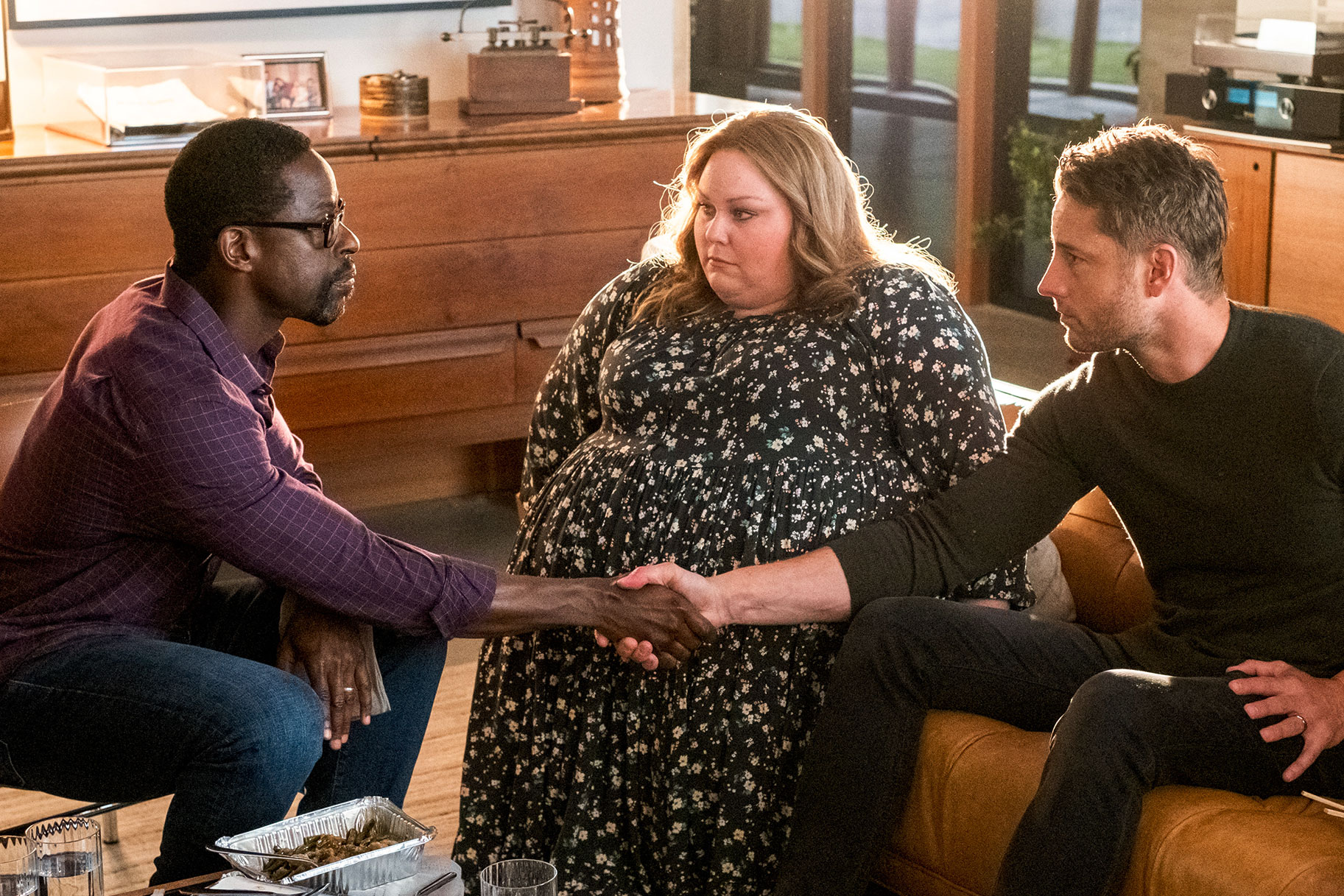 Think back to a job you had for more than five years. You probably were a different person ending it than you were starting it. No one knows this phenomenon better than the cast of This Is Us, who have lived and breathed the show for six seasons. They've poured their hearts, souls, and time into the characters we know and love—and the storylines that've made us feel a little less alone. An experience like that—one that traverses multiple years—changes you. Below, the This Is Us cast reflects on their time filming the series now that the finale is here. (These quotes were given at the 2022 PaleyFest in April.)
[Before the show] I think I was in a place as an actor where I had done pretty big shows and been a part of some things that I had great satisfaction in making. And then I kind of pulled my hands off the wheel a little bit. I felt like I wasn't quite driving what was next. And this beautiful script popped up. And I read it and I just loved it.
...I had this idea of letting go a little bit and just experiencing what was happening in the moment...Then, as I've gotten older, I realized I just want to slow things down...Where you just slow it down so you can really soak it in. And you're 'gonna come across some challenges and come across differences. But if you can embrace any of that stuff and know that you're living very in the moment that may not ever happen again, then you're truly living. 
I had never been on television before. I had done episodes here or there, and I remember when we got picked up [for a season], I was like, "How do we do 13 episodes of television?" It was so unfathomable to me. So the idea that now we're 'gonna be ending on 106 episodes is so wild. I didn't think that I would be playing a 70-year-old woman for a big chunk of six years. I didn't think I would be spending so much time in age makeup...But Dan [Fogelman, the show creator] saw something in me that I didn't see in myself. And I will be forever, forever grateful. You just need that one person to believe in you and see something in you and give you the opportunity, and that's what Dan did with this show. It changed my life, it changed all of our lives.
For me, not only as an actor but as a person, [I spent] my life feeling like an outsider and being on the outside. And Miguel is kind of on the outside of the Pearsons, and he was finally welcomed into the Pearson family. I feel that way about these guys. I've never felt as welcomed as an actor or as a person than I have on this show. It's very cathartic and very special. I'll go to my grave knowing this was the best job I've ever had in my life.
I remember reading the script while I was still shooting People Vs. OJ [on FX], and I remember thinking to myself, "This is one of the best scripts I have ever read in my life." ...To have a character who we put out into the world that's been loved like this, that's overwhelming. There's the positive and the negative. The negative is that you sort of lose anonymity. But everywhere you go, you get love. And I couldn't trade that.
I don't read a lot of things. I shouldn't tell people that, huh? And when I first was sent the script [for This Is Us], I looked at the sides like any actor going on multiple auditions. I did not look to read the script until they said they were really interested and wanted to know if I could come to L.A. or if I'd like them to submit the tape that I did in New York. And I said, "Let me go home and read the script." I read the script and every page I turned there were these audible sounds coming out of my body. And my friend was there with me, she was like, "What is going here?"...I picked up my phone immediately and said, "I will be in L.A. in the morning."
That is what Dan's script did for me. I think my life changed at that moment. It was like I had encountered something that was so beautiful and just so special and so exciting. Everything from that moment pushed me forward. It was the energy of the thing that just kept pushing me forward. I remember after reading with Sterling, after the chemistry reading, walking out and calling a friend. And she said, "What do you think? Do you think you got it?" And I said, "I don't know, but I know that everything I could have gave I gave there." And that felt good. Even being a part of it at that level felt good, so the honor of being part of it 106 episodes later is beyond.
I remember reading this monologue that I had to do. And I thought, "I got to figure out a way to get in the room," because one of my friends just gave me the script. He's like,"Have you read this thing?" And I read it and said, "I got to figure out a way to get in there." I don't know how I'm 'gonna get into the room, but I have to get in the room. I got in the room somehow. And I remember when I was reading it, the guy [Kevin] was about ready to explode. And I thought maybe there's something wrong with me because I think this is hilarious. I thought it was hilarious, and I was like, "Well, I have to do it the way I want to do it in." ... I tricked a couple people into hiring me.
...The dedication that has continued throughout the entire series in every single scene with every single one of [the actors]. In every writer. In Dan's mind, Dan's heart. Every single phone call and text. It is unbelievable. This is something that just doesn't happen, and I cannot believe that I'm a part of it. 
[Before the show] I was broke. And broken...[But] through Kate's healing, I am now healed. Having someone choose me as Dan did and take a chance on a person who, first of all, didn't have a damn résumé. They were like, "We're 'gonna test her a couple times 'cause can she even act?" And rightfully so, 'cause I had nothing on my résumé...[The show] gave me an opportunity and a platform to act. Because as a big girl from a small town, you just didn't have that opportunity. And to bring people into my life, into my sphere, and to have people being healed through the character, through playing the character which I'm healing from is like, you can't even. I couldn't dream it.
The magic in the format that Dan placed these stories in has taught me to zoom out and take a look at the bigger picture. Because when I came to this show, I was very self-focused. On my own pain, my misery, self-pity, all these things. And I had no faith that everything was 'gonna be OK. And I mean that pretty seriously, actually...This show taught me how to navigate some of my life's most difficult scenarios. Even difficult conversations. How to have it with my wife, how to have it with my mom, how to have it with my brother. All of these interpersonal relationships this show has, it's provided me with a handbook for living that I didn't have before. 
The series finale of This Is Us airs Tuesday, May 24 at 9 p.m. ET on NBC.