NBC Insider Exclusive
Create a free profile to get unlimited access to exclusive show news, updates, and more!
Sign Up For Free to View
Terry Crews' Art Portfolio: All About His Amazing Drawings
What can't this man do? Watch Terry Crews as Host of America's Got Talent on NBC.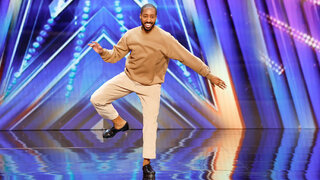 Terry Crews is a multi-talented man!
While you likely know the actor from his stint as Host on America's Got Talent, he has another major trick up his sleeve (besides pec-popping and flute playing). What else could Crews possibly be incredible at, you ask? Illustrating, as it turns out.
Terry Crews' art portfolio 
Crews has a passion for art, more specifically painting and drawing. He's been working on his craft since as early as 1997, even receiving portrait commissions from his football teammates when he played professionally. Recently, he has drawn an elaborate cover for Ad Age magazine (see here), and the work is impeccable. He also went on Jimmy Kimmel Live to share his hyper-realistic sports-related paintings (see here), and we can honesty say we're blown away.
As for other endeavors in his career, Crews has written a book called Tough, which was released in 2022. The memoir chronicles the emotional process he went through while achieving fame. In a vulnerable interview with The Hollywood Reporter, Crews opened up about how his mindset about life has changed as he began to get older and wiser.
RELATED: Terry Crews Has a Hidden Musical Talent He's (Almost) Ready to Share
"It was the internal success. It was feeling good about myself because I was just me. As entertainers, you're perfectionists, but you'll never do anything perfect. So you're always feeling disappointed about a performance. You're totally insecure all the time. But I became secure in just [thinking], "Did I do my best?" And the answer was yes. Then I became very, very satisfied with that, and it started to grow," he explained to the outlet.
RELATED: The Story Behind How Terry Crews Started Pec-Popping Is Hilarious
"This is the thing: Your thoughts determine your feelings. What I had to do was start changing the way I thought about myself, and then I felt better about myself. But what was happening before was that I was thinking bad thoughts about me. I thought, "I'm not any good." A lot of performers suffer from imposter syndrome where things are good, but you don't see it as good, you see it as: You're a fake and maybe you're just lucky; you're not really talented; you didn't really earn this," he continued.
Crews added, "I had to tell myself, wait a minute, I did earn it. I started to change those thoughts, and then I changed the feelings, and all of a sudden I felt great about just being me, and it didn't matter what other people thought or said or whether I was working or not. It was wonderful."