NBC Insider Exclusive
Create a free profile to get unlimited access to exclusive show news, updates, and more!
Sign Up For Free to View
Jesse Lee Soffer and Patrick John Flueger Are 'Smiling So Weird' in New P.D. Photo
These two have jokes! Watch the 200th episode of Chicago P.D. this Wednesday on NBC.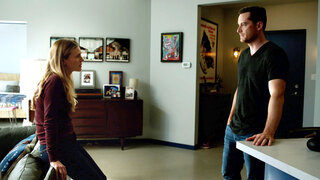 Jesse Lee Soffer, Patrick John Flueger, and Marina Squerciati are super pumped for the 200th episode of Chicago P.D.!
On February 20, Squerciati posted an epic picture of herself, Soffer, and Flueger sitting together on a subway line in Chicago during filming. Bundled up in winter gear, Squerciati slyly smiles towards the camera while Soffer gives a slight smile and Flueger gazes to the side, appearing to be lost in thought.
"The 200th episode of CPD pulls into the station THIS WEDNESDAY!! 🚊 I'm so excited for you all to see it. I have NO CHILL; IT IS EPIC. #WATCHWITHME #chihards #onechicago #whoswatchingwithme #burgess #burzek #chicagopd #200thepisode #dickwolf #wolfpack #jesseleesoffer #paddyfluger" Squerciati captioned the post.
"Why are paddy and I smiling so weird," Soffer cheekily added in the comments, dropping Flueger's nickname.
There's no doubt that the 200th episode of Chicago P.D. is going to be intense. In an interview with Entertainment Weekly, Flueger discussed the vigorous process of shooting some of the scenes.
"The green line and the brown line were right to our right just zooming by. It was insane. When the train on the show was static, we were actually in a tunnel on a now-defunct line. When the train was moving, we've got four or five guys just manning two-by-fours under the train, pulling on them," he told the outlet. "There were no bathrooms in the tunnel. One of the guest stars, no joke, used a coffee cup."
In other exciting news, Soffer is directing Season 10, Episode 16 of Chicago P.D. after his exit from the show. In an interview with NBC Insider, Flueger opened up about how he feels about having his co-star back on set.
"He's got incredible ideas, he's able to offer them to actors and to the writers and to camera people in a way that displays diplomacy that I think you have to have when you're directing TV that maybe you don't have to have when you're directing movies," Flueger said of Soffer's talent. "I just think he's got that in spades. He's just got a way of getting what he wants, when he really wants it, and when he knows it's right. But also offering those suggestions and those opinions in such a way that it doesn't put people off." 
Watch the 200th episode of Chicago P.D. on NBC this Wednesday, February 22, at 10/9c and next day on Peacock.