NBC Insider Exclusive
Create a free profile to get unlimited access to exclusive show news, updates, and more!
Sign Up For Free to View
Patrick John Flueger and His Girlfriend Are on the Most Romantic UK Vaca: See Pics
The actor deserves a getaway after the what Ruzek wen though during Chicago P.D.'s Season 10 Finale.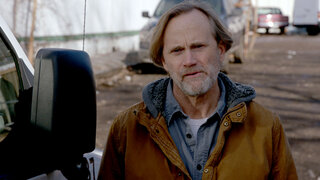 Patrick John Flueger (Adam Ruzek) is living his best life!
On June 5 the Chicago P.D.  posted on his official Instagram page and shared some gorgeous vacation pic with his girlfriend Reem Amara. In the snapshots, the two posed for a selfie in front of the historic Stonehenge monuments on a bright, sunny day, both sporting big grins.
"Stonehenge!!!! Swipe for a true progression of joy• •guys I love me some history. It's my f-ing favorite thing. I've been obsessed with Stonehenge since I was very small….I finally saw it in real life 🤯 DUDES! 😮 🇬🇧 #PaddyAndReemsKingUKongAdventure," he captioned the post. 
The actor also shared snaps of a bed and breakfast they stayed at while in the English countryside.
"Best BnB of all time?!?! Probably…. @theoldrectorysomerset," he said. "Caroline and her dear friend Mary are so fun! Everyday I woke up to true laughter :) Caroline runs a happy and magical ship. I've never been in a place that could only be described as whimsical. This is that place. 🇬🇧 if u are in the area, do yourself a favor and stay here #PaddyAndReemsKingUKongAdventure."
He posted another series of photos which included an adorable pic of Amara kissing the Chicago P.D. on the cheek.
"Verified London Calling 🇬🇧 British Bulldog In Britain #PaddyAndReemsKingUKongAdventure," he said.
The trip must have been a nice stress relief for Flueger, as the fate of Ruzek was left in the balance following a dramatic Chicago P.D. Season 10 finale. In the midst of an intense undercover operation, the cop was shot by Callum, the young son of a suspect at the center of the Intelligence Unit's case.
Ruzek was left on his own to bleed out, but Voight found him just in time and he was rushed to Chicago Med for emergency surgery. That was the last time fans saw Ruzek during the heart pumping episode. So is he dead? It's a huge cliffhanger to be addressed in Season 11.
"He's with this young woman that I think he cares for and can see needs help, and she has a young son that I think he cares for," Flueger told NBC Insider when talking about Ruzek's feelings about the case. "He has been told nothing but lies his entire life other than what he hears from his mom, who only has so much power to tell him the truth. That duality is not fun [for Ruzek], especially when he wants to go home, when he's got a daughter, and he's got [Kim Burgess] that he's rekindled his romance with."
In another recent interview with NBC Insider, he also opened up about how his character is changing emotionally. "I feel like he's always kind of kept how he feels pretty close to the vest and [was] kind of taking a step back over and over and over again. I don't know if that makes him strong or if that makes him weak, but [therapy] was like someone was actually asking him, "What was going on with you?" I think he's tried harder than he gets credit for," he said.