NBC Insider Exclusive
Create a free profile to get unlimited access to exclusive show news, updates, and more!
Sign Up For Free to View
See Why the 'Incomparable' NOIVAS Got a Four-Chair Turn in 21 Seconds
Watch The Voice on NBC Mondays at 8/7c and Tuesdays at 9/8c and the next day on Peacock.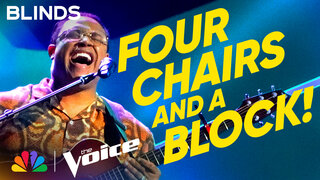 The Voice Season 23 is officially here. And a night of jaw-dropping Blind Auditions on March 6 finished strong with a Four-Chair turn for NOIVAS, the powerhouse vocalist who performed a chilling rendition of Sam Cooke's "A Change Is Gonna Come."
The playful rivalries have already begun amongst Coaches Blake Shelton, Kelly Clarkson, Niall Horan, and Chance the Rapper as they recruit talented Artists for their teams. Shelton didn't shy away from playing the Final Season card as he began to form the last-ever Team Blake, with his rival Coaches delightfully rolling their eyes. Newbies Horan and Chance were forced to get creative to keep up with veterans Clarkson and Shelton, and Chance wasn't afraid to pull out his Block when he needed it most.
One of the last Blind Auditions of the night came from NOIVAS, who had all four of the Coaches' red chairs spun within 21 seconds of starting his set. 
NOIVAS' haunting vocals and passionate acoustic arrangement catered perfectly to Cooke's classic. Clarkson was quick to hit her buzzer, with Chance following close behind. But as the red chair newbie realized Shelton was going for his buzzer, he hilariously blocked him. Amid the chaos, Horan also hit his buzzer, resulting in NOIVAS' much-deserved Four-Chair turn.  
"Let's go!" Chance applauded. "That's how you do that! You are an incomparable talent. I would love to give you the platform to show yourself to the world. I think you're a voice of this generation that deserves to be heard." 
Chance then revealed that he was the Coach responsible for blocking Shelton. "Did you know it was me?" Chance asked his rival Coach.
"Yes, because of your smile from ear to ear when you looked at me," Shelton jokingly responded. "I'm really taking it in this season. So, even the Blocks, I appreciate that, because you're threatened by me. So I'll take that as a compliment."
"You've made that song yours," Chance told NOIVAS. "I would love to have you represented on my team."
NOIVAS then revealed that Chance inspired him to explore rapping after he heard his music in 2016. With a connection like that, Shelton could quickly see where this was headed.
"Oh, God..." Shelton teased.
"It's going down!" Chance joyfully affirmed. 
But Clarkson wanted NOIVAS for Team Kelly, and she wasn't afraid to make that known. "I think the key thing will be having a Coach that's familiar with a show like this," Clarkson countered to NOIVAS. "And knowing how to navigate, and I would say that I don't-"
But before Clarkson could continue, Chance shut that down quickly. "I don't like the way that this is starting to feel like a competition!" Chance teasingly protested while getting up from his chair. "No, no, no! You only have one choice." 
Chance then hilariously stomped over to Clarkson's corner, erasing her name and replacing it with "Chance." He then repeated this gesture to Horan and the blocked Shelton, giving NOIVAS four enticing potential "CHANCEs" at victory. "Make the right choice, my boy! I'm gonna give you all the space. I want you to win this show. I want you on Team Chance."
With a pitch as strong as that, it was no surprise when NOIVAS became the next member of Chance's crew of Artists. The powerhouse vocalist has already blown the Coaches away with his angelic sound and mesmerizing energy, and we can't wait to see what he brings during the next stage of the competition.
Watch The Voice on NBC Mondays at 8/7c and Tuesdays at 9/8c, and the next day on Peacock.