NBC Insider Exclusive
Create a free profile to get unlimited access to exclusive show news, updates, and more!
Sign Up For Free to View
Melissa Villaseñor's Miley Cyrus Impression Will Stun You
The Saturday Night Live alum also showcased her jaw-dropping imitation of country icon (and Cyrus's godmother) Dolly Parton.
Melissa Villaseñor showcased a range of uncanny impressions throughout her six seasons on Saturday Night Live: Lady Gaga, Kathy Griffin, Owen Wilson, and Dolly Parton are just a few of the celebrity voices that she nailed with her talent for mimicry. As it turns out, equally jaw-dropping is Villaseñor's impression of Dolly Parton's goddaughter—a singer you might've heard of by the name of Miley Cyrus.
Villaseñor unleashed her killer impression of the "Flowers" singer and former The Voice Coach (from Seasons 11 & 13) on the December 2022 premiere of That's My Jam's Emmy-nominated Season 2. The comedian guested alongside fellow SNL alums Rachel Dratch, Ana Gasteyer, and Fred Armisen, competing in musical challenges for charity. 
Kicking off a round of "Wheel of Musical Impressions"—previously a popular feature on The Tonight Show Starring Jimmy Fallon—Villaseñor gave the wheel a spin. Her challenge: Sing "Uptown Funk" by Mark Ronson ft. Bruno Mars in a "medley of impressions."
Villaseñor proved extremely up to the challenge, kicking things off with her incredible Miley Cyrus as her fellow competitors' jaws dropped in disbelief. "Wow, she's amazing!" Gasteyer exclaimed to Fallon.
RELATED: SNL's Longest-Running Cast Members
With seemingly effortless ease, Villaseñor then switched into a Julie Andrews impression before pivoting to the Dolly Parton voice that first dazzled viewers on SNL's "Weekend Update." She closed with a strong Christina Aguilera, to thunderous applause.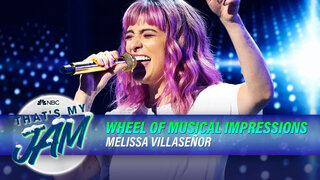 While the That's My Jam episode wasn't Villaseñor's first appearance on an NBC show, Saturday Night Live wasn't either. In 2011, Villaseñor competed on America's Got Talent, where her (literally!) career-making impressions of Drew Barrymore, Shakira, and more got her to the semi-finals before losing to jazz singer Landau Murphy, Jr.
"You showed us everything," AGT Judge Mandel told her at the time. "You showed us phenomenal, right on voices and impressions. You showed us great comedy and you yourself are adorable to watch and you are a star and we all loved it." 
Villaseñor joined SNL five years later, where she was the first Latina cast member.