NBC Insider Exclusive
Create a free profile to get unlimited access to exclusive show news, updates, and more!
Sign Up For Free to View
Celine Dion's Cher and Rihanna Impressions Are Her Greatest Vocal Triumphs
If you thought Celine Dion singing in her own style was magical, just wait until you see her do Cher.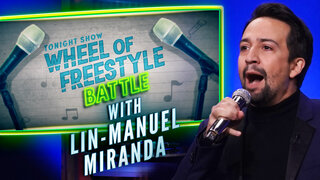 Anyone remotely familiar with Celine Dion knows she has a singularly powerful voice. That said, fans know her voice isn't the only quality that makes her a star; she also has a (frankly, underrated) sense of humor. 
Dion brought both her pipes and her quirkiness to The Tonight Show Starring Jimmy Fallon in 2016, where she played a round of "Wheel of Musical Impressions." And she delivered on every front: stunning vocals, hilarious quips — it was a home-run appearance.
"Wheel of Musical Impressions" is simple. Players "spin" a wheel and are given a popular track and the direction to sing it like another Artist. Dion was served some incredible prompts: Rihanna! Cher! Michael Jackson! She nailed them all, naturally.
Here's what happened: 
Celine Dion does spot-on vocal impressions of Cher and Rihanna
Dion made the audience laugh before the game even began. As Host Jimmy Fallon explained the rules, she seemed a little hesitant (keyword being "seemed").
"I know your show, I know...it's just that I...," Dion told Fallon.
"You'll be perfect," Fallon assured her, as she nodded doubtfully and turned her microphone upside down.
It soon became clear that Dion had zero reason to be nervous, as she launched into an astounding impression of Cher singing "Frère Jacques." 
RELATED: Ariana Grande Does a Britney Spears Impression That Will Shock You
"And she's my friend!" Dion said in a dead-on imitation of the "Believe" singer's voice. She went on to give Fallon a serious assist — and some friendly competition — during his spin on Drake's "One Dance" as sung by Michael Jackson.
Dion then got on her feet to deliver "Row, Row, Row Your Boat" in the style of Rihanna's "Work." And her Sia impression must be seen to be believed. In lieu of the face-obscuring wig that's Sia's trademark, Dion blocked her eyes with a stuffed panda from Fallon's desk as she served up a version of "Hush Little Baby" Sia-style. 
RELATED: Niall Horan Singing "My Heart Will Go On" Is So Magical
Adding a slight rasp to her vocals, Dion couldn't resist taking it up high to tackle the chorus on Sia's 2014 hit "Chandelier," covering her face with her hair for added comedic value. It was a triumph! 
Watch all this go down in the video, above.