NBC Insider Exclusive
Create a free profile to get unlimited access to exclusive show news, updates, and more!
Sign Up For Free to View
What Is Melissa Rauch and John Larroquette's Height Difference on Night Court?
The two Night Court actors are on opposite ends of the tallness spectrum.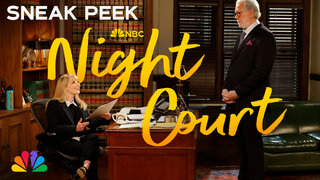 There are many things to appreciate about the new Night Court. Please see: the whacky cases, the witty one-liners, and the incredible characters—including Melissa Rauch's Abby Stone and John Larroquette's Dan Fielding. 
You may have noticed these two actors have a bit of a height difference when they're in scenes together. Below, we beak down the details. 
What is Melissa Rauch and John Larroquette's height difference on Night Court?
How tall is Melissa Rauch?
Melissa Rauch is 4'11."  
How tall is John Larroquette? 
These characters' heights aren't their only differences, either. While Fielding is cynical and people-repulsed, Stone is bubbly and always gives those around her the benefit of the doubt. However, even though Fielding stands over a foot taller than Stone, she is not intimidated by him and is determined to help him change his ways.
"Let me really be honest, I am 40 years older than when I began that part, so getting in his shoes was difficult because my feet are swollen," Larroquette told TV Insider about reprising his role of Dan Fielding. "Luckily, I had Melissa to play against, and it fell into place easily."
"[Dan] got out of the law system and found somebody he fell in love with and who fell in love with him," [Larroquette] added. "He was content and matured. And then his wife passed away, and he retreated back into this dark cave. Dan is pulled back into the light by Harry's daughter."
Rauch expressed the same sentiment when discussing the dynamic between Stone and Fielding. "I think that throughout [the season], we see that although Abby is bringing Dan into the court and she's filling a position, she's sees that he's in need of help. And Abby is someone who [is] a helper. She wants to pull out the best in people," she said in an interview with NBC Insider.
"She sees he's hurting and sees that he's a bit lost. And so this outreach, as much as she's filling a position and would like him to come and join her, she's also noticing that this would be really good for him. I think that the two of them really need each other in different ways and they help each other in different ways," she added.
Watch Night Court Tuesdays at 8/7c on NBC. Episodes will stream the next day on Peacock.