NBC Insider Exclusive
Create a free profile to get unlimited access to exclusive show news, updates, and more!
Sign Up For Free to View
Mariska Hargitay Reveals What She Learned From the 'Beautiful' Richard Belzer
Law & Order: SVU's leading lady talks about the incredible way Belzer acted on set.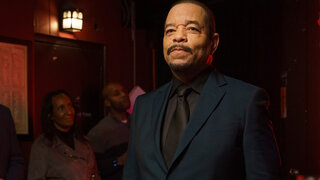 Amid news that former Law & Order: Special Victims Unit star Richard Belzer passed away on February 19th, Mariska Hargitay has revealed what she learned from the beloved actor, who played the endlessly sardonic Detective John Munch from 1999 to 2016.
Hargitay stopped by TODAY to chat with Host Savannah Guthrie about her latest SVU directorial pursuit, Season 24's "King of the Moon" with guest stars Bradley Whitford and Nancy Travis. While opening up about the delights of directing, the conversation led to another longtime SVU cast member: Belzer.
"What a heart and soul; he was family and taught me so much about taking risks and creativity and trust," Hargitay said. "And he brought so much joy to the set, and boy, did this man love children. He was, you know, this sorbic, quick-witted, brilliant mind, and yet he would melt in the sight of a child. He was just such a beautiful and complex [person], and it was such a privilege to know him."
Hargitay and Guthrie reflected on Belzer's legacy, with Guthrie pointing out the tribute Hargitay posted the day following his passing. "Goodbye my dear, dear friend. I will miss you, your unique light, and your singular take on this strange world," Hargitay captioned the thoughtful Instagram post. "I feel blessed to have known you and adored you and worked with you, side by side, for so many years. How lucky the angels are to have you. I can hear them laughing already. I love you so very much, now and forever."
While Munch hasn't appeared on SVU screens since Season 15, his character came up in Episode 14, "Dutch Tears." Fin (Ice T) updated viewers about his former partner, and we learned Munch received a happy ending. "See, I had a partner years ago, an old homicide detective… He retired," Fin revealed. "I guess he just ran out of gas. Last I heard, he moved back to Baltimore, met a divorced female rabbi, and he bought back his old cop bar. It's 1:30 a.m. He's probably cracking a joke to some barfly. That skinny bastard had a punchline for every second of the day."
As a driving force within the squad for many seasons, Belzer will be sorely missed. Rest in peace, Richard.
Watch Law & Order: SVU on NBC Thursdays at 9/8c and the next day on Peacock.