NBC Insider Exclusive
Create a free profile to get unlimited access to exclusive show news, updates, and more!
Sign Up For Free to View
Kelly Clarkson and Michael Bolton Just Did an Incredible Spontaneous Duet
We didn't see that awesome performance coming! Check your local listings for The Kelly Clarkson Show.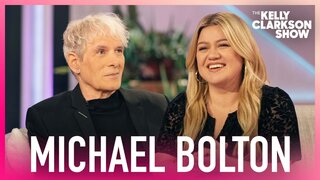 Kelly Clarkson brought the one and only Michael Bolton on The Kelly Clarkson Show on February 7 and surprised the audience with an unplanned performance.
"You've worked with so many big Artists; who do you still wanna work with? Who's somebody if you're doing an album, you're like, 'Man I'd love this person on there.' anybody?" Clarkson inquired to Bolton.
"Well, I've written for a lot of Artists, as well. And there is one Artist in particular I would really love to sing with," Bolton responded before pointing to Clarkson herself.
Flattered, Clarkson grinned from ear to ear as the audience erupted in cheers. "Stop! You're full of it! You're on my show, they made you say it!" she blushed while giggling.
"Wait, I mean, I will sing right now with you," she said.
"I just happen to have the perfect song for you," Bolton said while giving her a sly glance.
"I am ready, if it's from your catalogue, I'm ready," Clarkson said eagerly before Bolton described the song choice as a "powerful duet."
Then on cue, the band started playing the dreamy synth chords to Bolton's classic hit "How Am I Supposed to Live Without You."
Clarkson and Bolton immediately jumped into the chorus together.  "Tell me, how am I supposed to live without you? Now that I've been loving you so long, how am I supposed to live without you? And how am I supposed to carry on? When all that I've been livin' for is gone," they sang in perfect harmony in an improvised moment.
This isn't the only time Clarkson has had amazing duets with some mega stars. Recently, she had on Pink, and they performed some of her pop hits together, lke "What About Us" and the emotional "Who Knew." Other fantastic collabs include a show-stopping rendition of "9 to 5" with Dolly Parton herself, and a heartwarming version of "Austin" with fellow The Voice Coach Blake Shelton.
To see which stars Clarkson sings with next, be sure to check your local listings for The Kelly Clarkson Show.