NBC Insider Exclusive
Create a free profile to get unlimited access to exclusive show news, updates, and more!
Sign Up For Free to View
Blake Shelton's Latest Career Update Will Surely Make Fans Sad
The Voice Coach is taking a few pointers from country superstar George Strait.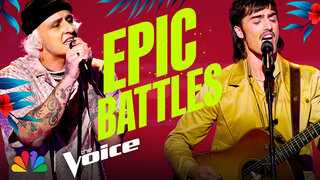 Blake Shelton is a booked and busy family man. In fact, his departure from The Voice after Season 23 is partially due to his other projects aside from the red chair. Outside co-hosting Barmageddon with Carson Daly on USA Network and opening a new Ole Red restaurant on the Las Vegas strip, Shelton has been gearing up for the Back to the Honky Tonk Tour with special guests Carly Pearce and Jackson Dean. The tour will run from February 16th to March 25th, and Shelton has revealed he may retool the way he tours once this latest comes to a close.
In a Q&A session for the opening of the Las Vegas Ole Red, Shelton discussed his future music career and revealed he is re-thinking the size and frequency of his tours. But this maneuver isn't coming without some credibility, namely from fellow country music superstar George Strait.
"I thought I was getting away from The Voice so that I would have more free time, but you're making me feel like maybe not," The Voice Coach teased. "George Strait is my hero on lots of different levels, one of which is how little he tours. And it's like, I want to do everything like George Strait."
For those unaware, Strait is known for his non-traditional touring style, ditching back-to-back performances in favor of choosing a select number of widely-anticipated stadium shows. Potentially opting for this touring lifestyle could support Shelton's goals to spend more time with family. 
Shelton announced his Voice departure in October 2022 with a heartwarming message to fans. "I've been wrestling with this for a while, and I've decided that it's time for me to step away from The Voice after Season 23," Shelton said in a statement. "This show has changed my life in every way for the better, and it will always feel like home to me. It's been a hell of a ride over these 12 years of chair turns, and I want to thank everyone at The Voice from NBC, every producer, the writers, musicians, crew and catering people; you are the best."
He continued, "It takes a lot of work, passion, and adult beverages (Ha!) to pull off a live show twice a week. I've made lifelong bonds with Carson and every single one my fellow Coaches over the years, including my wife Gwen Stefani! I have to give a huge shoutout to the singers–the 'Voices,' who come on this stage season after season and amaze us with their talent, and a special thanks to those who chose me to be their Coach. Lastly, it's about y'all, the fans, who watch and support these Artists, us Coaches, and everyone at The Voice who are chasing their dreams. It would not happen without you!"