NBC Insider Exclusive
Create a free profile to get unlimited access to exclusive show news, updates, and more!
Sign Up For Free to View
James Spader Reveals Why The Blacklist Is Ending After Season 10
After a decade on the air, it's time to say goodbye to Reddington and the Task Force.
Following a decade on the air and hundreds of masterful James Spader monologues, The Blacklist is officially coming to an end. 
"After 10 years, hundreds of Blacklist cases, and more than 200 episodes produced, we're honored to reach our conclusion," said showrunner and executive producer John Eisendrath in a statement. "It's been incredibly fun to create the strange, devious, and delightful Blacklisters to challenge Raymond Reddington and our FBI Task Force each week. We would like to thank everyone at NBC and Sony, our extraordinary crew who make the impossible happen every day, our endlessly inventive writers and producers, and our remarkable cast who brought life to these characters. We appreciate our dedicated fanbase who came along for this wonderful ride and are excited to share this final season with them." 
Lisa Katz, NBCUniversal Television and Streaming's president of scripted content said in a statement: "It isn't often that a series resonates so deeply with an audience that it airs for 10 seasons, but The Blacklist proved to be a perfect combination of highly talented producers, stellar writing, a cast that never failed to deliver, and a crew that always rose to the occasion. A huge thank you to our partners at Sony, everyone from the past decade who made this show an integral part of NBC's storied history and, of course, a special nod to James Spader, whose performance remains nothing short of spectacular."
RELATED: Red's Relationship with Agnes Keen on The Blacklist, Explained
So, why exactly is The Blacklist ending? We answer below.
Why is The Blacklist ending with Season 10?
In an interview with NBC, Spader revealed exactly why he believed the show had to end with Season 10. "I think if the show went beyond this year, it would turn into a very different show," Spader said.
"And I think that the thing that has been nice about this show was that we've never really had a really clear paradigm for the show," Spader continued. "Tonally the show shifts a lot from episode to episode, and I think that even the show has taken strange turns, and I suspect that the show, if it went much further, would just become something that would be less recognizable to me."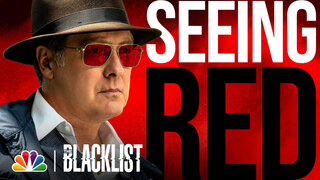 Since The Blacklist's first season, Spader (who's also an executive producer) instantly hooked fans as the enigmatic fugitive Reddington, who secretly helps the FBI Task Force take down hundreds of the world's most skilled and elusive criminals, a.k.a, his infamous Blacklisters. While enjoying the action-packed final season, fans have seen the Task Force celebrate 200 Blacklisters behind bars, welcomed new Task Force members, and witnessed Red finally face many of the demons haunting his past as vengeful Blacklisters returned in hopes of settling the score.
RELATED: Why These Fan Favorites Returned to The Blacklist a Week Before the Finale
Naturally, Red was victorious against each former foe. But Congressman Hudson (Toby Leonard Moore) proved to be the harbinger of the Task Force's downfall once he gathered enough incriminating evidence. Red took the blame for all illegal fanfare, but after coming forth, the Task Force was shut down with one final objective: arrest Raymond Reddington. 
Ahead of the intense series finale of The Blacklist, Red is on the run and the Task Force agents are tasked with bringing in their longtime colleague. How will it all unfold? Find out by watching the two-hour series finale on Thursday, July 13 at 8/7c on NBC. It will later stream on Peacock.